Text by Loader Monteith
Loader Monteith has carefully restored High Sunderland, the 1957 modernist icon designed by Peter Womersley for internationally-renowned textile designers Bernat and Margaret Klein, which required sensitive and complex restoration after weather and fire damage in 2017. 
The architects and their clients saw the accident as a positive opportunity to restore and enhance the Category A-listed woodland retreat in the Scottish Borders to its original Womersley vision, with invisible, sustainable upgrades.
In deftly adding many environmentally-friendly systems to High Sunderland's skeleton, Loader Monteith has set a high standard for the impending future of modernist restoration work across the world.
High Sunderland was Womersley's first private residential commission, nicknamed 'The See-Through House' for it's long glazed elevations. Bernat, a textile designer and Margaret, a talented knitwear designer, lived at High Sunderland until they passed. It was the heart of their professional and personal lives. The couple built their careers, hosted fashion shows, exhibitions, and raised their family at the woodland retreat.
High Sunderland was sold for the first time in 2017. While undergoing basic repairs, it suffered extensive structural damage caused by a small fire. Steel roof trusses, insulation, and much of the original timber panelling were all destroyed by the fire and extinguishing water, while the main living room and master bedroom were damaged by smoke.
The new owners recognise High Sunderland as a project of national importance and view themselves as custodians, rather than owners, of the home. They saw the devastating accident as a positive opportunity to accurately restore and enhance the modernist icon.
A friend of the clients at Historic Environments Scotland suggested Loader Monteith, a Glasgow-based practice known for working on a range of conservation and sustainably-focused projects across the UK, to carry out the extensive restoration project.
An intense period of damage appraisal ensued, led by Loader Monteith's conservation specialist, Iain King. In researching the project, Loader Monteith found original construction details in a 1959 Swiss periodical, giving the studio unique access to Womersley's vision for the house.
Womersley and the Kleins had aspirations for High Sunderland to be as close to living in nature as 20th-century technology would allow, something Loader Monteith wanted to give back to the house with as many invisible modern environmental additions as possible.
To increase the thermal performance of the house, Loader Monteith packed insulation into a new warm roof, for which they studied the profiles of Womersley's other residential projects to find a sympathetic design for the new slightly pitched roofscape.
On the new roof, a timber-clad cube hides an Air Source Heat Pump which provides an efficient, low-carbon source of heat for the building. A new wet underfloor heating system in the main lounge area adds improved thermal insulation.
This incorporates floor surface temperature control to protect the original solid hardwood timber floor, and room temperature control to avoid overheating and energy waste. Much of the lighting and wiring was updated  in line with current electrical safety standards.
Conservation and rebirth projects often centre on the contrasts between new and old. However at High Sunderland, Loader Monteith and their clients have truly celebrated the rich history and heritage of the home, its architect, and its owners.
This presented a challenging, sobering task for the architects; how much of the house should be preserved, and how much of Bernat and Margaret Klein, the real lifeblood of the home, should be memorialised too?
In replacing damaged cabinetry, Loader Monteith found brush strokes where Bernat cleaned his paint brushes, scratched and burnished into the timber over decades of painting with the same view to nature. Loader Monteith worked closely with a local joiner to preserve these delicate details, highlighting their commitment not only to the architecture, but the personality and use of this over time, and the role it has played in the Kleins' creative pursuits.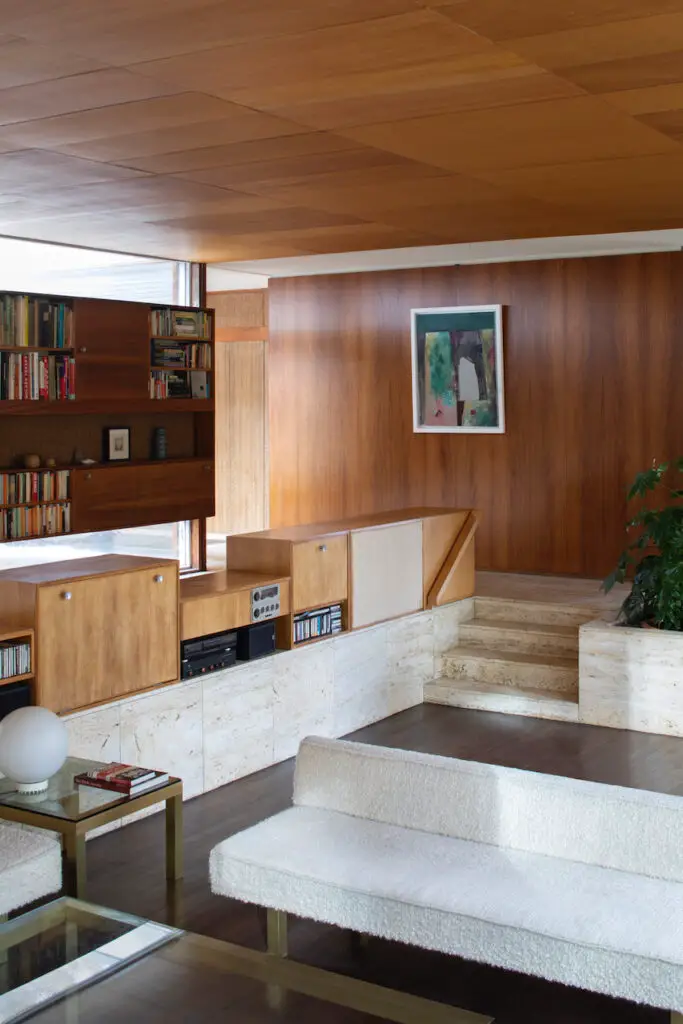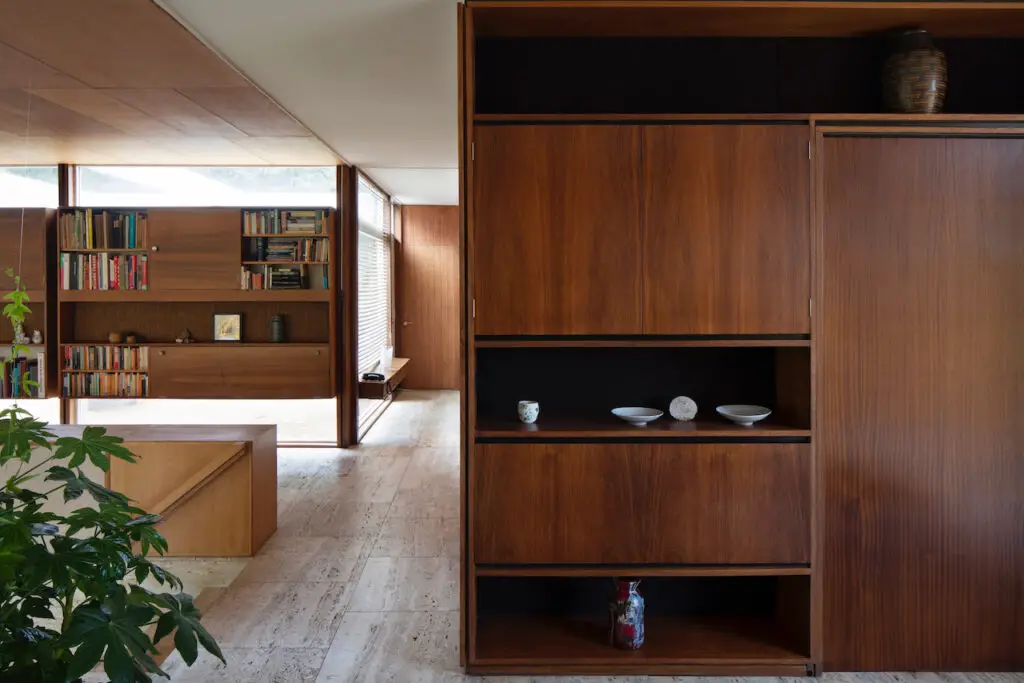 Loader Monteith has demonstrated restraint, respect, and unparalleled care throughout the project, conserving wherever possible, and replicating and camouflaging wherever necessary. High Sunderland is a careful demonstration of the technical expertise required to sensitively upgrade and improve iconic historic buildings, so they can remain to be celebrated and enjoyed for generations to come.
This is an extremely unique project that gives more than just original aesthetic back to the home; it has been improved and executed by a dedicated client-architect partnership.
Photos by Dapple Photography