One of the main aspirations in realizing this project was for the L-shaped contemporary home design to rest effortlessly within its surrounding nature. Sagan Piechota Architecture and Ground Studio Landscape Architecture, nailed it. 
Clever architectural ploys seamlessly connect inner and outer spaces of the modern two-story family home from almost every area, making the most out of the surrounding nature, which is largely comprised of old growth oaks, views of the valley and rolling hillsides. Taking name after its location, the 5100 square foot property is situated in the Santa Lucia Preserve of Carmel Valley, California.
The Carmel Valley residence boasts energy efficiency in details such as its solar roof, high efficiency plumbing, and LED lighting all through the home.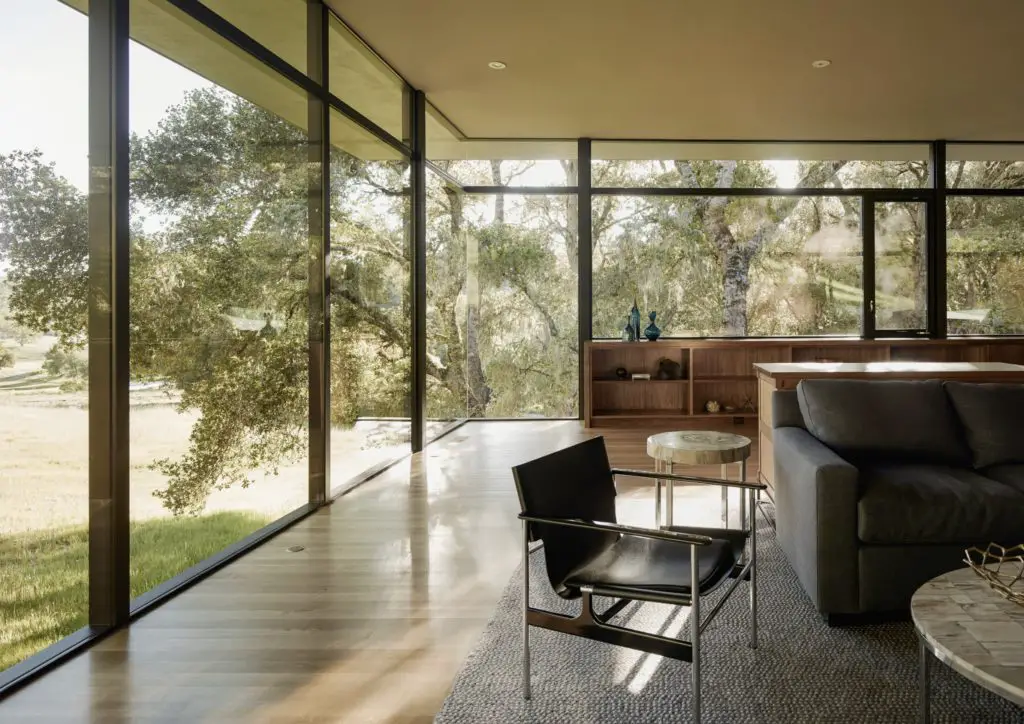 The region is known to encounter warm and dry summers but thanks to operable window coverings, heat from the sun can be utilized during the colder months while heat is reduced during the summer. In addition, the window coverings allow to either minimize or maximize natural light as well as privacy.
The modern style homes exterior utilizes natural cedar, which really sets the home in tune with the surrounding nature. Wooden steps lead up to a deck before the homes entrance, which has been designed to accommodate the surrounding landscape; perfectly shaped holes allow the existing old growth oaks to keep existing as they were, seamlessly connecting the landscape.
For a heightened indoor to outdoor connection, Fleetwood Windows were called upon for the special production, installation as well as engineering of the homes floor to ceiling windows with stunning results.

What's really special about the Carmel Valley Residence is how the design has created vistas to truly thrive in the indoor to outdoor connection experience. More parts of the house capture views the rolling hills and the broad valley than not. Outdoor lounging areas seem like they could be rooms inside, conveying a heightened sense of the indoor/outdoor connection.
Inside, the color palette reflects the natural tones outside. Wood and light tones fill the interior accented by darker lines and, in some cases, furniture. The modern house architecture creates style as well as fluidity through a spacious plan and expansive windows, ensuring natural light pours in from all angles.
All in all, the modern home design conveys a modern sensibility while presenting itself as a stunning, comfortable family home.