David collects mid-century designs and is the owner at "Boomerang For Modern", a vintage store in San Diego. Today, he will guide us through his collection and passion for mid-century modern design.
MCH: Hi David, tell us a bit about your collection and yourself.
D: In 2009, my architect friend, Jonathan Segal purchased a parcel in San Diego's "Little Italy" community and had it subdivided into three. He built his home on the largest and offered me one of the smaller ones, which I chose the smallest of the remaining two. He designed the home with my input and let me design my kitchen and bathrooms.
The footprint of the house is 24'x25' and there are three interior floors and a fourth floor roof garden with great views of downtown and the bay. The house has won numerous local and national awards for its innovative design solutions.
MCH: You have some great pieces, how long have you been collecting mid-century modern designs and how this passion started?
D: I started collecting mid century modern in the late seventies, even if Cara Greenberg hadn't yet coined the term.
[tabs type="horizontal"]
[tabs_head]
[tab_title] Related Books [/tab_title]
[/tabs_head]
[tab]
[one_third]
[/one_third]
[one_third]
[/one_third]
[one_third_last]
[/one_third_last]
[/tab]
[/tabs]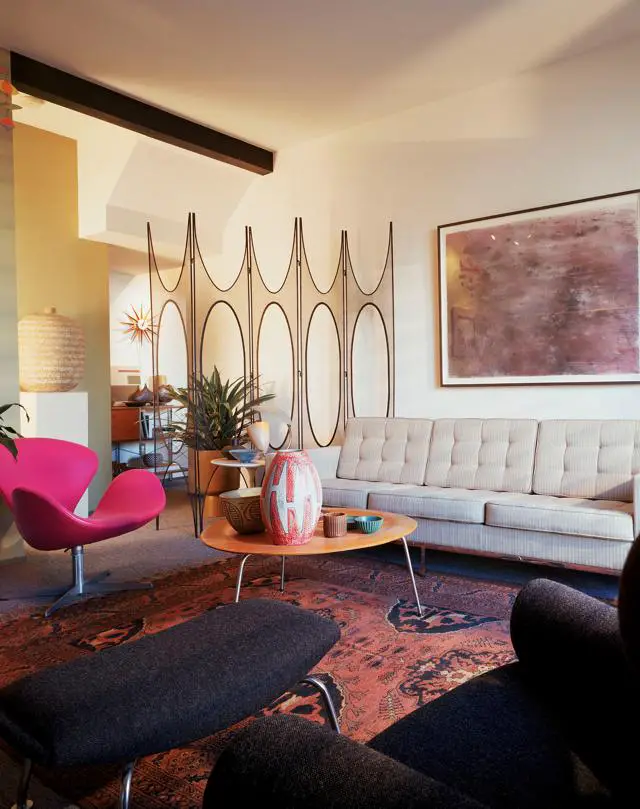 In the living room: Noguchi dining table, Laverne "T" dining chairs, Henningson "PH Contrast" lamp
I had grown up with colonial so the shapes, materials and colors were very new and refreshing to me. I loved the hunt in thrift shops, garage sales and swap meets and there were really great things to find then.
Though, I wish I had been better informed then as I know I must have passed on many things I'd kill for these days. So obviously, this is not a fad or trend for me, I'm in for good.
READ ALSO: Before and After: Karen, John and their Eichler Home
MCH: How does it feel to live surrounded by such iconic furniture? Do you treat them in a special way or just use them as common furniture?
D: We live very easily with our collection. They are all carefully chosen with a focused eye for comfort as well as design. We definitely use the pieces as they were intended but do treat them with respect.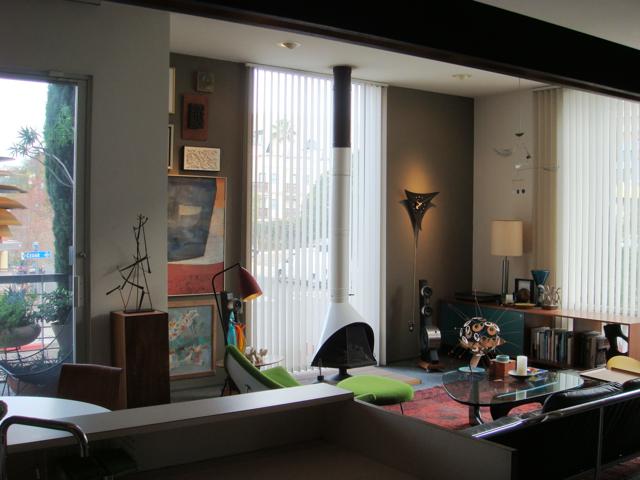 On the Noguchi Coffee Table: Jerome Kirk "Firecracker" kinetic sculpture
MCH: Which item do you like the most and why?
D: It has to be divided between the incredible 10' by 3' weaving by John Smith and the kinetic tabletop sculpture by Jerome Kirk. The weaving was salvaged from a 1960's bank building and used as a "display only" piece in a dark, creepy, immense used furniture warehouse in LA.
I used to stop by every time I made a shopping trip to LA. For years and years, they refused to sell it but one day I stopped by and they were closing for good.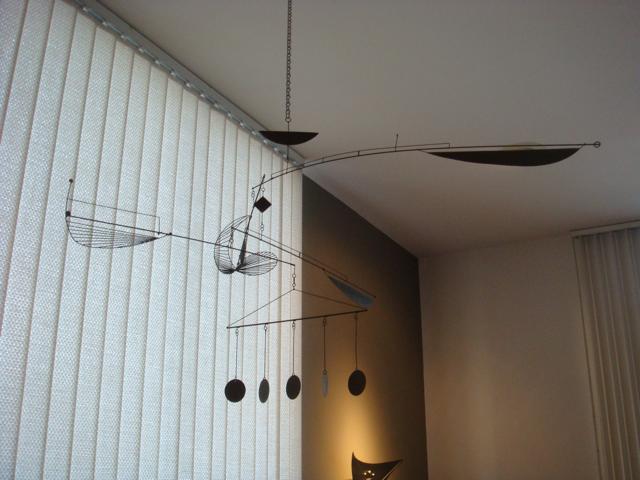 Above: early sixties mobile by "Diakonov"
It was their last day and I was finally victorious. The kinetic sculpture came via a local art dealer. I contacted the artist who lived in Berkeley who wrote me the kindest letter letting me know of its provenance. He also sent along a book with this sculpture pictured inside.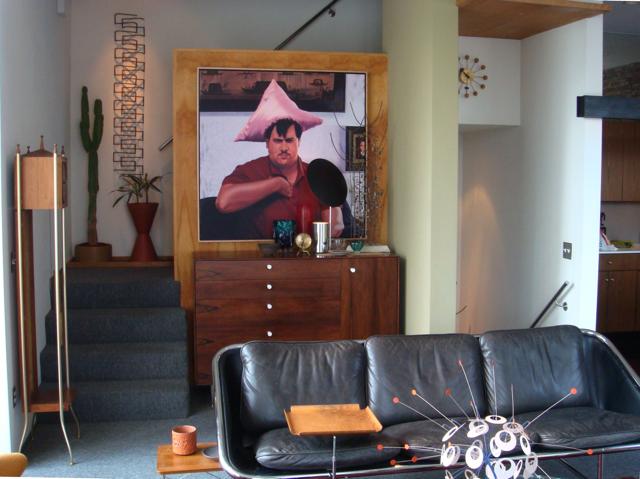 Above: George Nelson Sling Sofa
MCH: Where do you source the pieces of your collection?
D: Most of the collection has come via referrals to local estates. By way of my business, I'm lucky enough to get many wonderful things directly from their original owners.
In the bedroom: Nelson CSS wall unit with a Swag-Leg chair. On the wall, a Nelson Spool clock 
MCH: Is it difficult to keep mid-century furniture in a good status?
D: Just like any piece of good furniture, regular cleaning, oiling, vacuuming is usually all they take. I have restored a few things but try to use a light touch and don't overdo it.
I like the fact that they are indeed old and have a history. I don't want to erase that character. Though, tattered, stained and abused don't cut it in our house.
READ ALSO: Long Dune by Hammer Architects – Danish Simplicity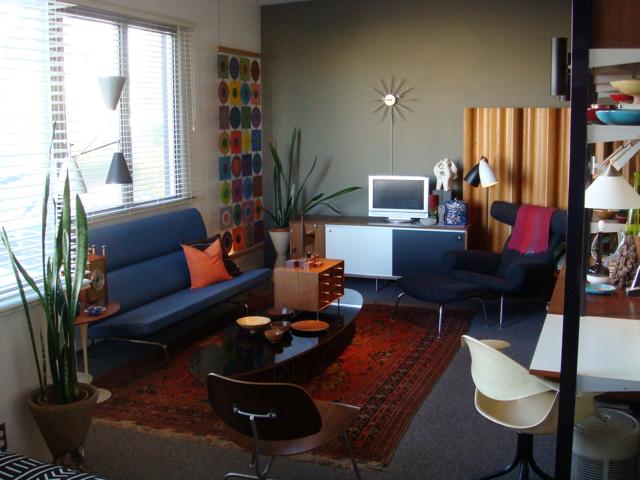 Above: Higgins Rondelay painted glass screen. Surfboard table, Sofa Compact and screen all by Charles Eames
MCH: Is there any designer/architect from the mid-century period that inspires you?
D: Being a good Californian, how can I not be totally inspired by the work of Charles and Ray who have done SO much to bring good modern design to so many.
MCH: If you had an unlimited budget, which piece would you like to own?
D: Why not go for the top…a Noguchi Chess table with its original chess pieces of course.
Do you live in a mid-century or modernist-inspired contemporary house and want to be featured on MidCenturyHome? Contact us with some photos and a short description of your house at: info@midcenturyhome.com
Above: Van Keppel-Green, Richard Shultz and Harry Bertoia