Simplicity and elegance do wonders when the fusion between the two is just right. Case in point, The Bridgford House. Built in 1954 by influential Australian architect Robin Boyd, the stunning midcentury modern home enjoys a natural flow throughout its' single story interiors. Situated at Black Rock's Beach Road, the Bridgford House is an embodiment of Australian modernist movement.
Architect Boyd designed the home for a family who had much respect for their home, carefully maintaining it throughout the years. Thanks to their dedication and care toward the home, The Bridgford House remains in exceptional condition.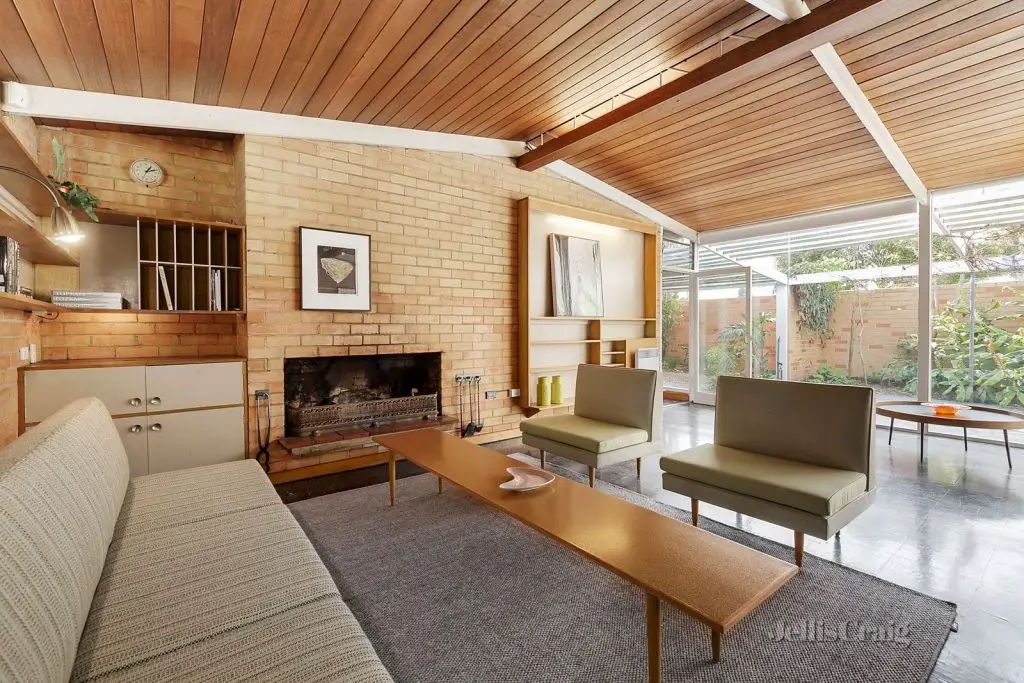 Hardwood-lined ceilings bestow a natural ambience in the interior space, counterbalanced by exposed brick walls. Extending from inside to the outdoors, a seamless indoor/outdoor connection that is typical to midcentury modern style is evoked.
Unique bespoke shelving throughout the home's interior gives the home an elegant touch through simplicity. Assumingly custom made, the shelves vary in shape and size depending on the space they have been placed in and according to functionality. The graceful wooden shelves give storage a stylized appearance, removing clutter from sight.
The home's master bedroom follows the hardwood-lined ceilings and bespoke shelves principle, with the additional hardwood-lined wall on one side. A light shade of beige tones the other end of the bedroom, lighting up the space. Thanks to a large window behind wooden shelves, plenty of natural light pours in from the courtyard, which the master bedroom looks out over to. A door to the outdoor space asserts a connection between inside and out.
This midcentury modern homes interior design bears all the amenities for entertaining even the larger groups of guests. In the living room, a generous couch stretches across the room, fronted by two more stylish couches across a long, lean coffee table. The color palette adheres to the natural tones throughout the rest of the home: the interior decor is largely made up of grey, grey-green and wooden tones.
Thanks to its Half Moon Bay beach position in close proximity to the beach, The Bridgford House drinks in the seabreeze while remaining in its own privacy.