Text from Brave New Eco
This project began in 2015 with the small scope of a new wheelchair-friendly bathroom design. Emboldened by the initial design process the clients, Claire and Hayden, decided to consolidate their long term plans for the house into a full scale renovation. The family of four had bought their dream inner-suburban home in an ideal location – tucked down the end of a cul-de-sac that snaked around Cruickshank park in Yarraville. The house is a familiar post-war cream brick 1950's Bungalow with big park views. Their design brief was one that was wholly aligned with the BNE approach:
"To create a beautiful, sustainable, thoughtful, wheelchair-friendly family home that meets many people's different needs. To restore and protect all of the original fittings where possible and to reuse what can be re-imagined. A super kitchen for the domestic chef, great living spaces both inside and out and lots of storage" – Claire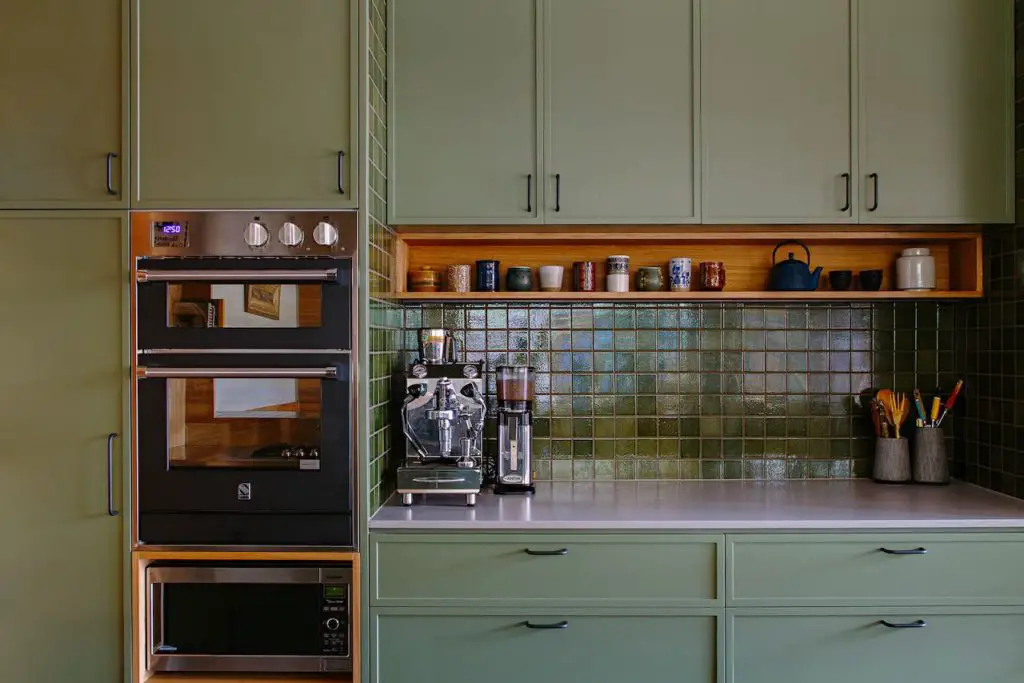 Claire and Hayden loved the proportions and quirks of the house. In good original condition, it contained an oversized front room, once used for ballroom dancing by the first owners. Overlooking the lofty gum trees of the park and opening onto a suntrap crazy-paved patio at the front, the home embodied the modernist design ideals they are so fond of.
With two young sons under 10, they needed a robust and uber-functional space. Owen, their eldest son, uses a wheelchair for mobility, so the house was designed for ease of movement and to facilitate various daily activities. This home needs to work a bit harder than most, providing a space for entertaining, play, places to store specialist equipment, to work from home, foster creative projects and to support the people that provide daily care for Owen.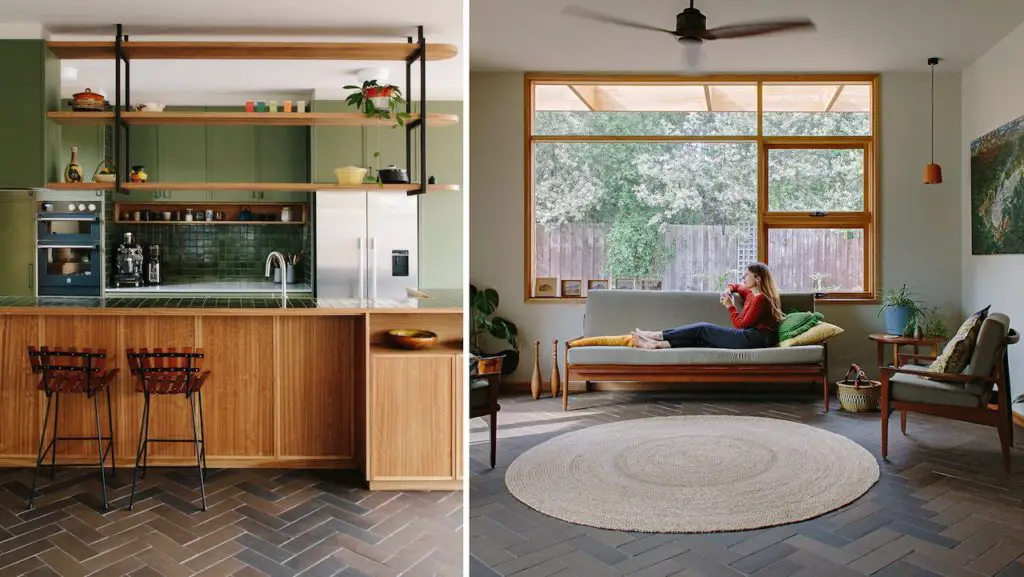 Brave New Eco collaborated closely with Claire and Hayden, to understand their family's functional needs and to create an environment that was a consolidation of the many narratives that inform their life. The outcome is a deeply optimistic, nostalgic and playful environment, speaking volumes of the character, tenacity and good taste of the people that inhabit it.
Brave New Eco collaborated with Greensolar Designs to resolve the design – a sustainable, passive-function, double-storey extension containing a kitchen, dining and sitting room opening to the north and east. Upstairs a "parent's zone" with bedroom, study and ensuite looks out to treetops in every direction. The extension was clad in recycled red and cream brick and leads on to timber decking and a pergola connecting the house to a converted garage workshop studio.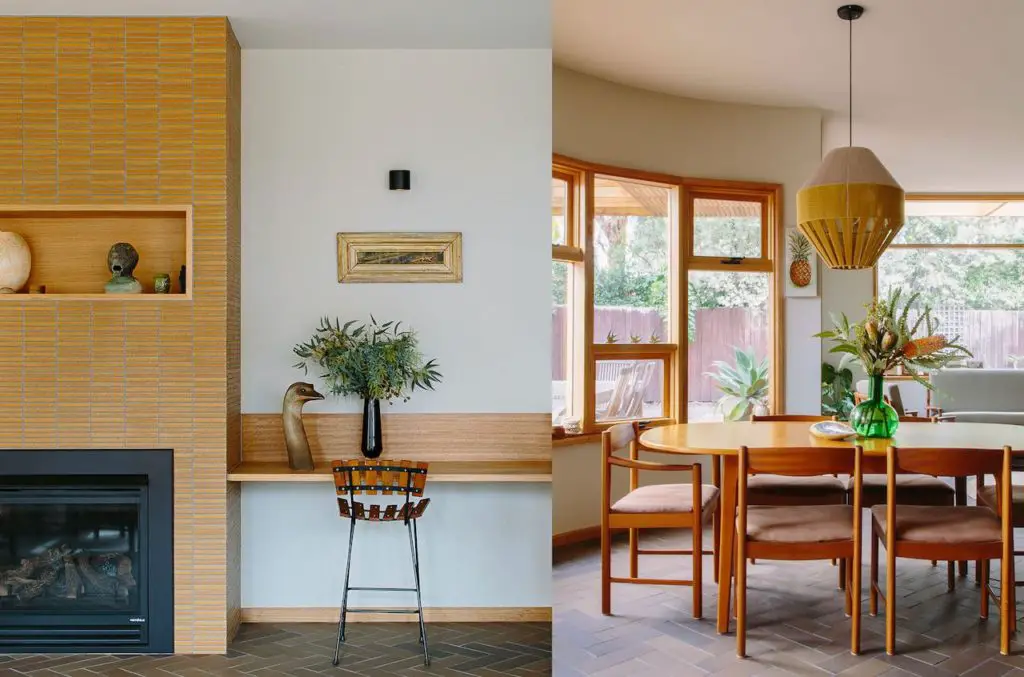 In the open plan kitchen/dining, a rich retro palette of browns, oranges and yellows is combined with soft greens for a warm organic effect. Herringbone patterned terracotta tiles in tones of earthy brown were handmade in New Zealand and provide a warm surface underfoot as they absorb the winter sun. A large sliding door in sunny 'margarine yellow' separates the old part of the house from the new.
A single space heater warms the extension and, next to it, a built-in desk is designed for Owen to use. The deco style curved front patio corner was replicated in a curved series of windows into which an oval dining table fits snugly. Above it, Pop and Scott's "Starburst Dreamweaver" pendant never looked so at home.
The olive green kitchen hides it's utilitarian heart behind beautiful surfaces. Mossy green tiles are used for the splashback and the high benchtop, concealing the serious work zone with an integrated stainless steel bench, triple sink and cooktop. Overhead shelving is suspended in aged bronze finished steel and D handles were custom made to match. Rounded blackbutt timber shelves speak to the curved forms found throughout the house. Every drawer and cupboard system was custom designed for the items it would store and each space is in full use.
The moment you step into the front entrance the home states its intention not to be bland with a joyful paprika coloured entranceway. The entrance opens out to a wide hallway lined with storage and a solid Australian hardwood staircase.
A schoolhouse style red and blue laundry features salvaged laboratory taps and vintage bakelite red cupboard pulls. A custom-designed hardwood tilt-down drying rack sits over the bench, and a double-sided linen press is accessible from both the laundry and the hall.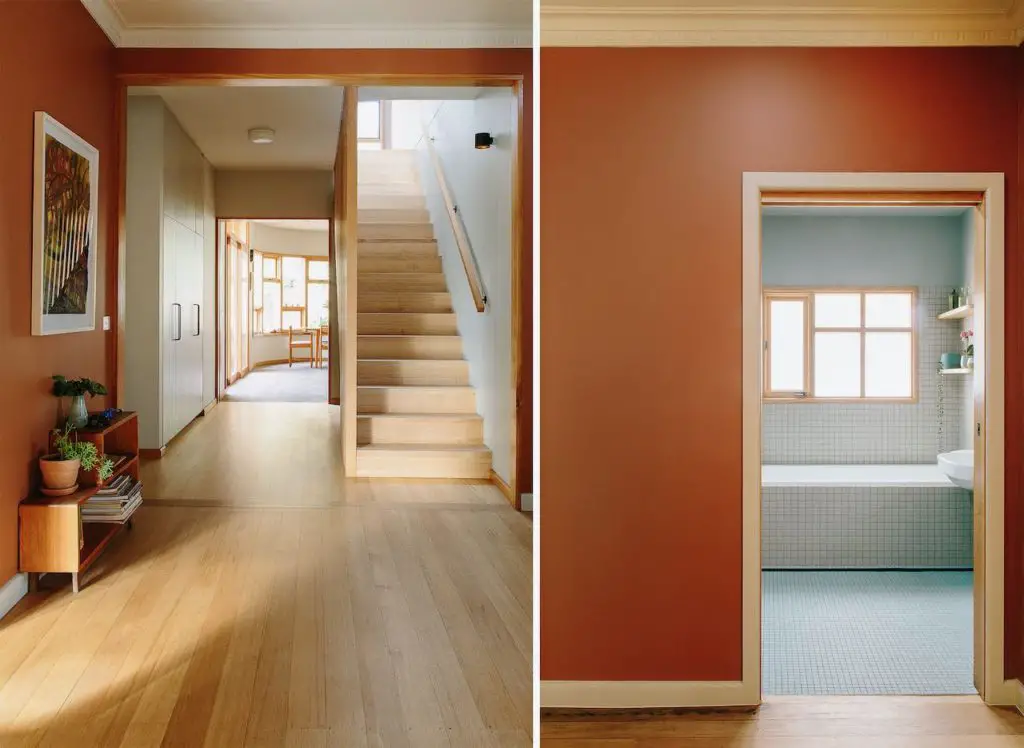 The 1960's pool inspired main bathroom used mixed shades of matt blue mosaic tiles. Beautiful raw brass tap-ware was purchased in 2015 and quietly aged in storage, adding a touch of luxury. The curved edge of the hardwood vanity eliminates hard corners in the small space so carers can move around the bathtub easily. The vanity is designed for Owen's chair to tuck under with the semi-recessed basin accessible from all sides. Claire says of the new bathroom:
"Our son now has a very lovely bathroom that he can access in a shower chair. He can transfer easily from his bedroom out of his wheelchair through all the widened doorways and wheel straight into his shower. It's great! Plus the bathroom also works as a great family bathroom without a 'medical' or 'disability' flavour that often accompanies these kinds of bathrooms"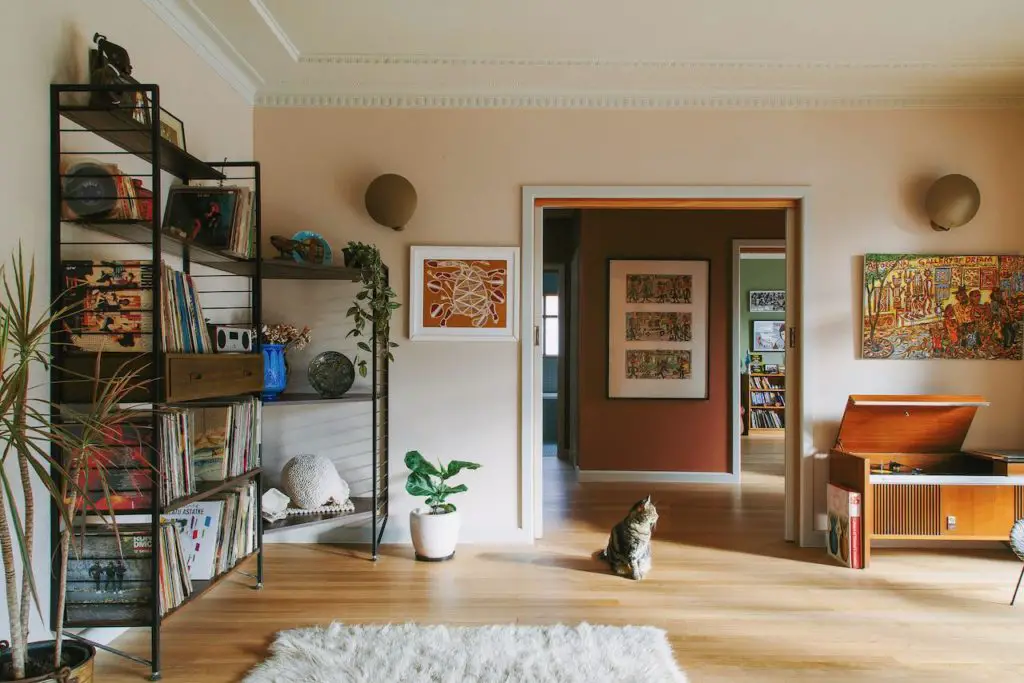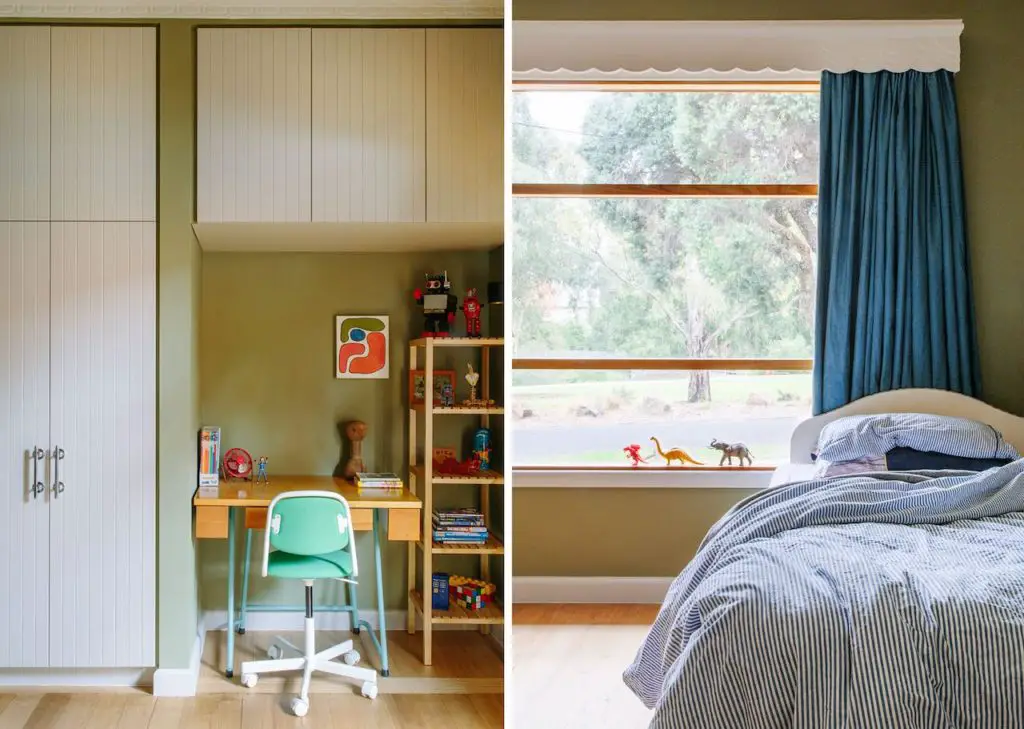 Inside the original rooms a brutalist relief wallpaper, anodised metal sun-disk style wall lights and curtain relief plaster pelmets were among the quirky and unique features the clients wanted to preserve. The wallpaper was painstakingly repaired and painted over in mauve and soft pink tones taken from the twin tiled fireplaces.
Pelmets and lights were removed and refurbished in an exercise in patience by the owners and the dedicated trades of Macasar builders. Claire and Hayden's collection of vintage kitsch, mid-century, and industrial objects had been stored for years waiting for their forever house. Claire, who worked for many years in fashion, has a keen eye for colour and form and Hayden had amassed a vast collection of industrial relics and objects in a nearby junkyard. The eclectic colour scheme was intuitively drawn from both the existing home's materials and the owner's belongings.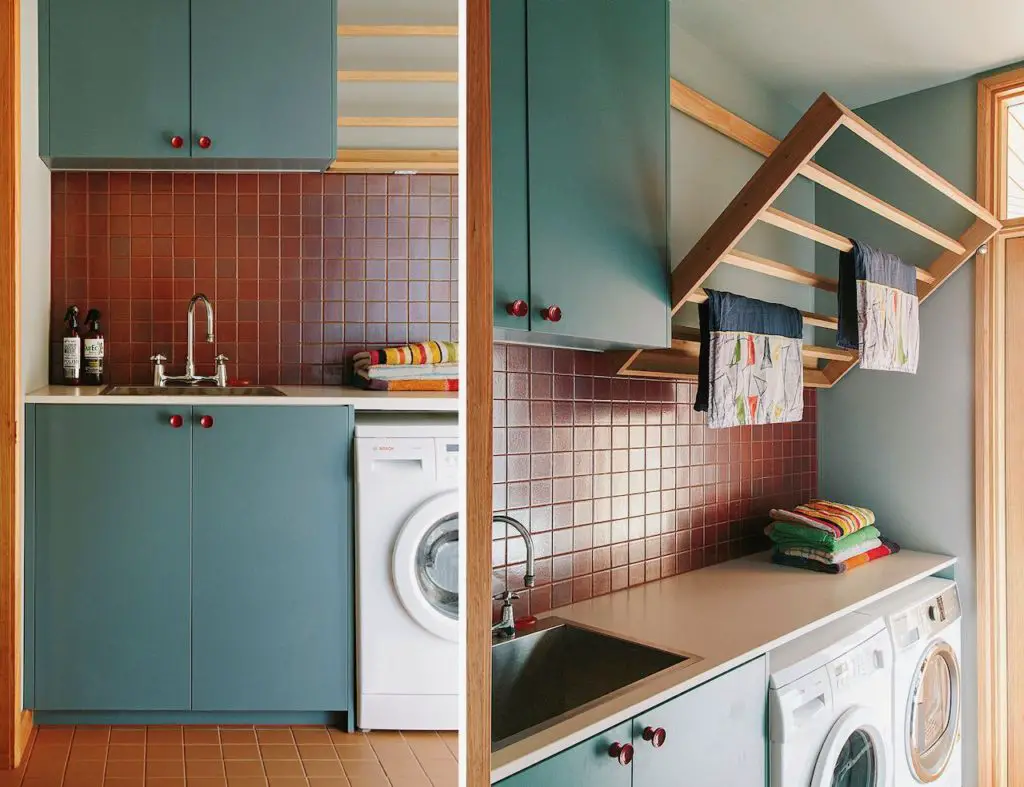 Timber double-glazed timber windows were designed to be derivative of the original steel framed windows, that were beautiful but beyond restoration. Hardwood ramps were added to the front and back, the original bricks cleaned and sandstone paving restored. A 5-kilowatt solar array and evacuated tube solar hot water system was installed on the new roof. A custom-made angled hardwood front door was made with textured glass side panels to light up the entranceway.
The clients summary of their favourite aspects of their new home is:
"The kitchen and the new living space are so functional and tranquil. The kitchen has so much attention to detail, great appliances, its a delight! The joinery is exceptional. Both the bathrooms are really functional, easy spaces and so beautiful. We are really happy with our bold colour scheme and everybody who visits love the colours throughout, we feel enveloped by warm earth tones. The old living space has new life and is even prettier than before. Upstairs is great and feels like a getaway. Everything is easy, everything is beautiful and feels organic. There is lots more light coming inside, it looks amazing. There is much more space for everyone in our family to escape and good spaces for us to come together as well. It's hard to pick a favourite – but the best thing is the gorgeous home we now inhabit, which we feel very connected to, proud of and thankful for. The outcome was beyond our initial expectations but as the project evolved, we grew with it".