This solitary modern house in the mountains really stands out among contemporary architecture homes. Situated on the outskirts of Nagano, Japan, on a sloping mountain ridge, at the foot of the Yatsugatake Mountains, it cuts razor-like into the craggy environment in which it sits.
To achieve this, the architects, Kidosaki, turned to one of our favourite elements of the mid-century modern architecture: the platform.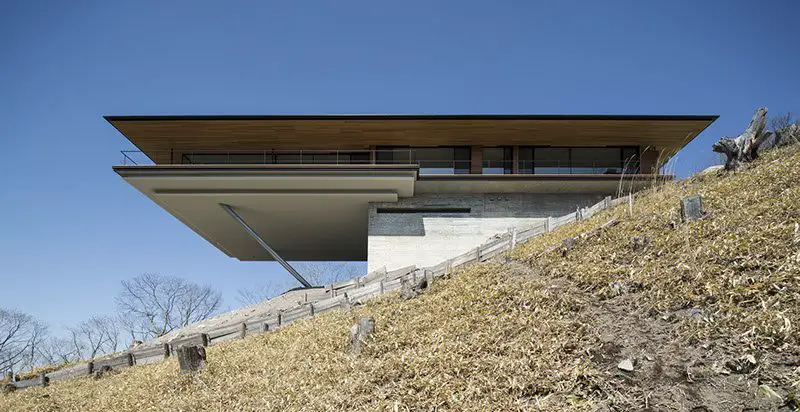 We covered another house that used this form in Coldwater Canyon, Beverly Hills. In that article, we highlighted the platform's provenance in Richard Neutra's pathbreaking design for the Lovell Health House.
But as can be seen by each of these successor houses, the platform can be applied in distinctly different ways: whereas the Beverly Hills platform seems to have been born out of expediency, squeezing into a small lot in crowded LA, this one is much more of an aesthetic flourish, with the house jutting out of the hillside so as to provide the most perfect uninterrupted view contemporary architecture can offer.
The result is also a house whose form is beautiful for its simplicity. This is made especially evident at night, where the light shining out from its floor-to-ceiling windows produces an uninterrupted band of light in a sea of darkness.
READ ALSO: Japanese and Modernist Architecture Come Together in Kidosaki's Yokouchi Residence
Moving briefly to the interior, the home benefits from some really excellent contemporary home design. The most obvious contemporary element is the prevalence of sparse surfaces: the kitchen's chrome worktops, the marble walls, and the overall sparseness of the furnishings. There is very little adornment anywhere in the house, all the better to minimise the obstacles to that amazing view.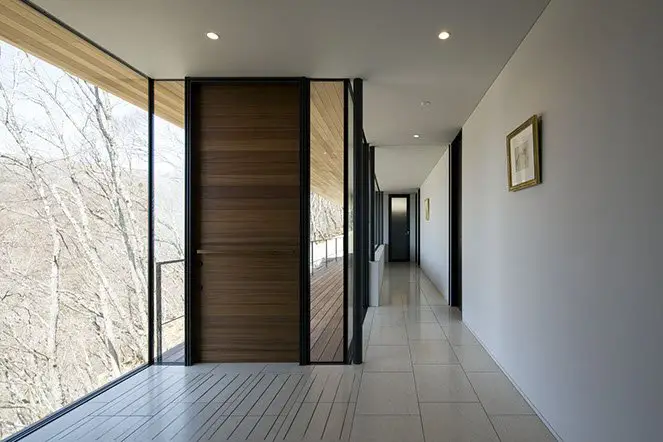 After all, more than anything, it's the spectacular location that makes this such an impressive house. No surprises, then, that the owner spent years to find it, taking up residence in Tateshina to search for the ideal site.