Situated in the mountainous region of Atibaia, Brazil, Casa de Árvore is a lofty modern style tree house. Originally built in the 1980s, Candida Tabet Arquitetura took what was once a small abandoned house and turned it into a fabulous weekend retreat. Completed in 2019, Casa de Árvore stretches over 300 square meters and accommodates five suites, living and dining areas, washroom, terrace, kitchen, pantry as  well as laundry room.

The daughter of the original owner was a young Arts School student who made use of the home's clean white walls as canvases to paint on. Now all grown up, married and with two children, her wish was to transform the shack into a comfortable weekend retreat for her family and friends.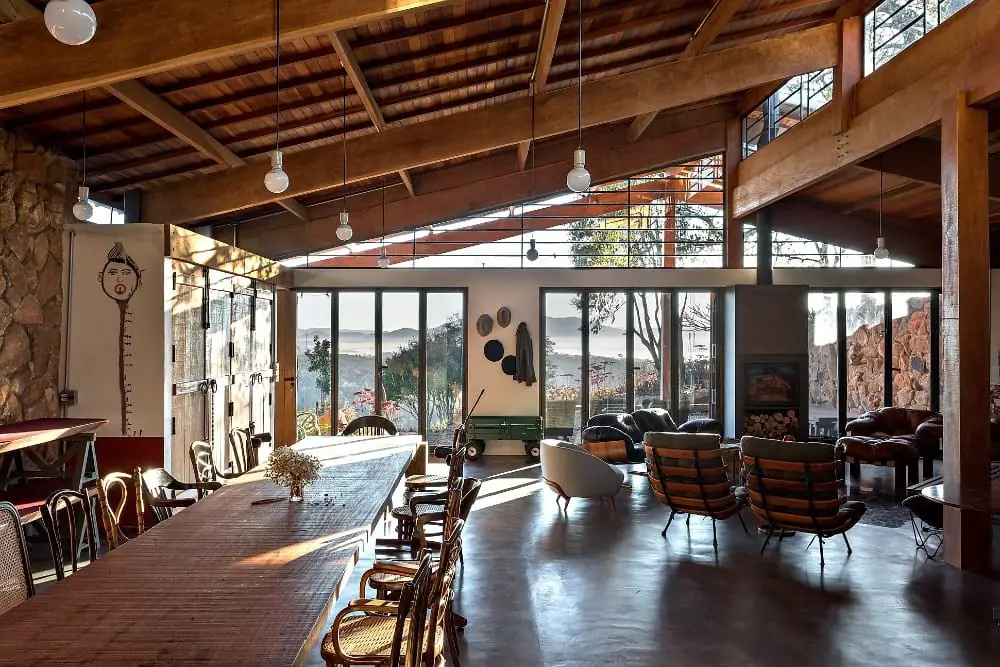 The red exterior is the first thing that strikes when viewing the hillside contemporary home design. Thanks to the home's perched position, far-reaching mountain views unfold from almost every angle. 
Floor to ceiling windows open to a large terrace from inside the large open plan living and dining areas, displaying the stunning views while forging a seamless indoor to outdoor connection.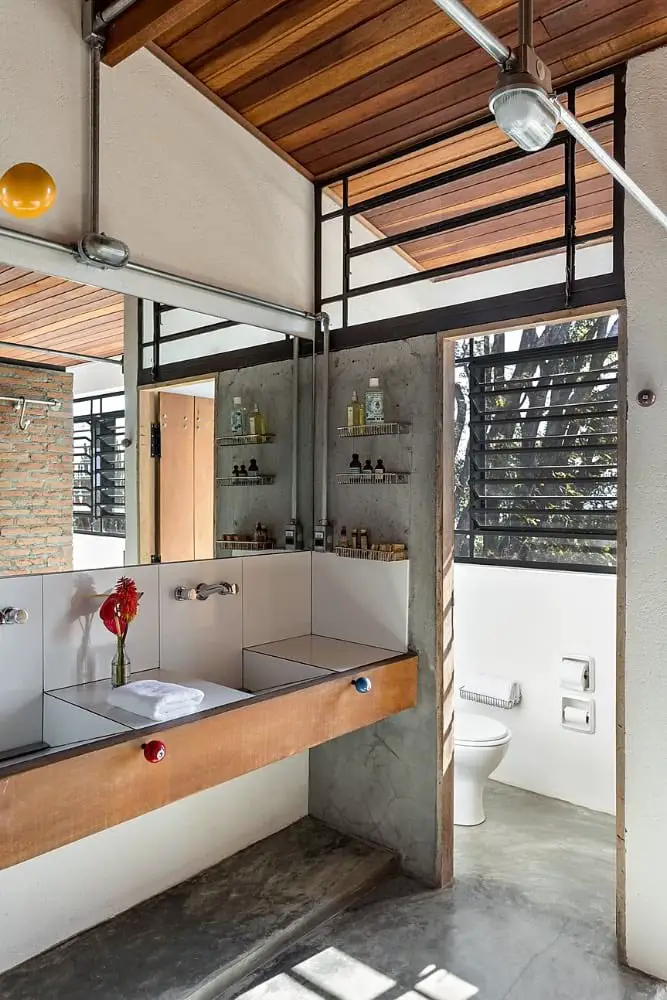 The interior makes use of natural materials to support this connection. Walls of stone and wood paneled ceilings resemble the materials found in the surrounding landscape. Stretches of windows all around the house make sure natural light floods in from all sides.
The materials were selected for their charm as well as efficiency and insulation. The mud-brick walls as well as pitched roofs made of ceramic tiles absorb less heat in Brazil's subtropical climate. In fact, some of the materials used to build this home were taken from the native environment, such as the stones for wall in the open plan living areas.
Candida Tabet Arquitetura worked around the original paintings on the walls with the intention to preserve and incorporate them into the new design. Most of the works date back to almost two decades ago. 
All in all, Casa de Árvore bears a free spirited vibe with a modern twist. Fitted to reflect this new phase of the owner's life, the spaces are brimming with personal touches and unconventional elements. 
Although this 'tree house' rests secluded in the privacy of the mountains, São Paulo is not far – it's only 80 km away.