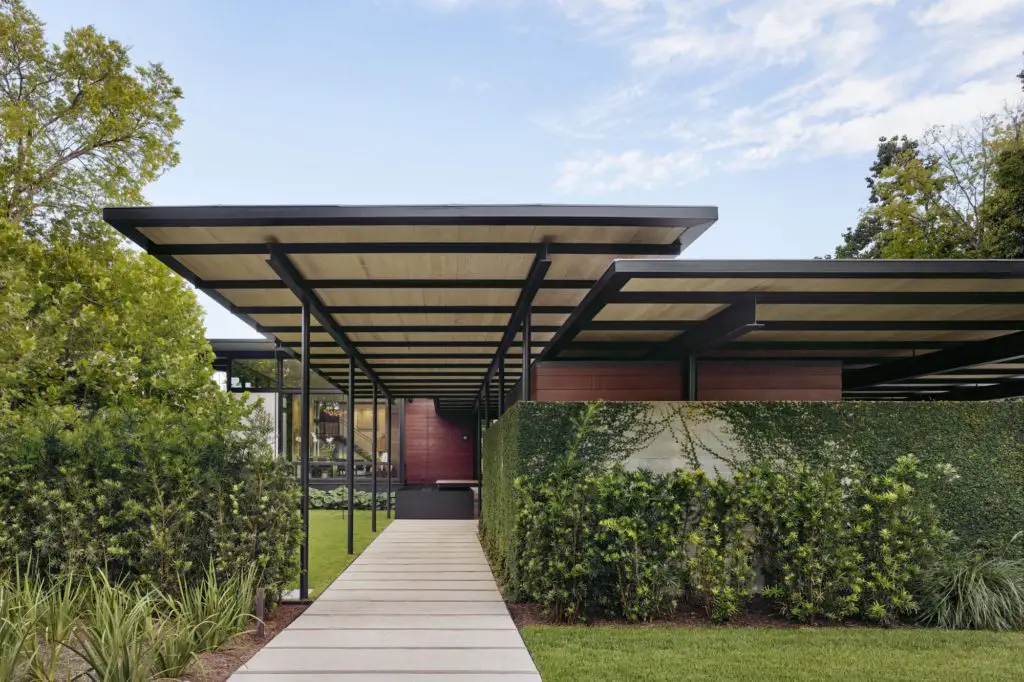 Austin-based architecture firm Lake|Flato never ceases to amaze us with their modern home designs and exquisite craft of connecting exposed indoor and outdoor living with private spaces. The Bellaire Residence is a dramatic construction, inspired by modular design, built for a family in Bellaire, Texas.
Aware of the damages caused by Hurricane Harvey in 2017, Lake|Flato set out to design a family home that would stand against a similar situation, if another one was to occur. The architecture firm used multiple strategies to meet the wishes of the clients while maintaining resilience.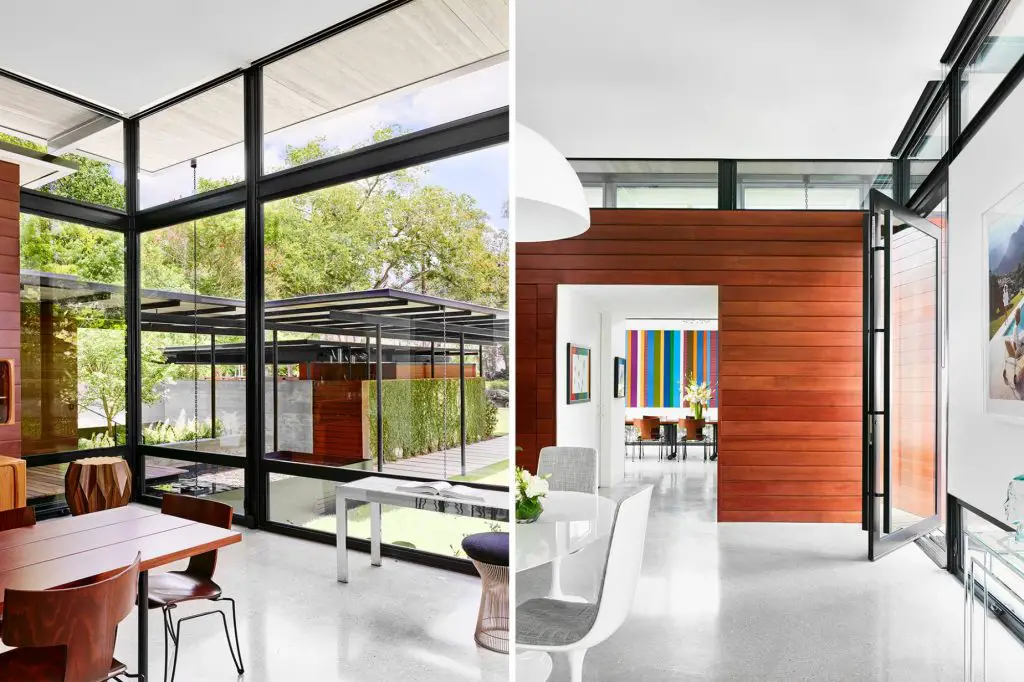 The U-shaped structure encloses around a private central courtyard, including a pool and deck areas. The wooden decks offer warmth while concrete is the main material used for the walls of the outdoor spaces. Black accents on window frames as well as covering the outdoor lamps contribute to a modern and polished appearance.
Because the property is so close to the neighbors on both sides, the architects had to come up with a creative solution to protect the family's privacy. The composition of spaces has been arranged in such a way that the indoor areas are split into one story "jewel boxes" for common space and separate two-story wings for sleeping and working.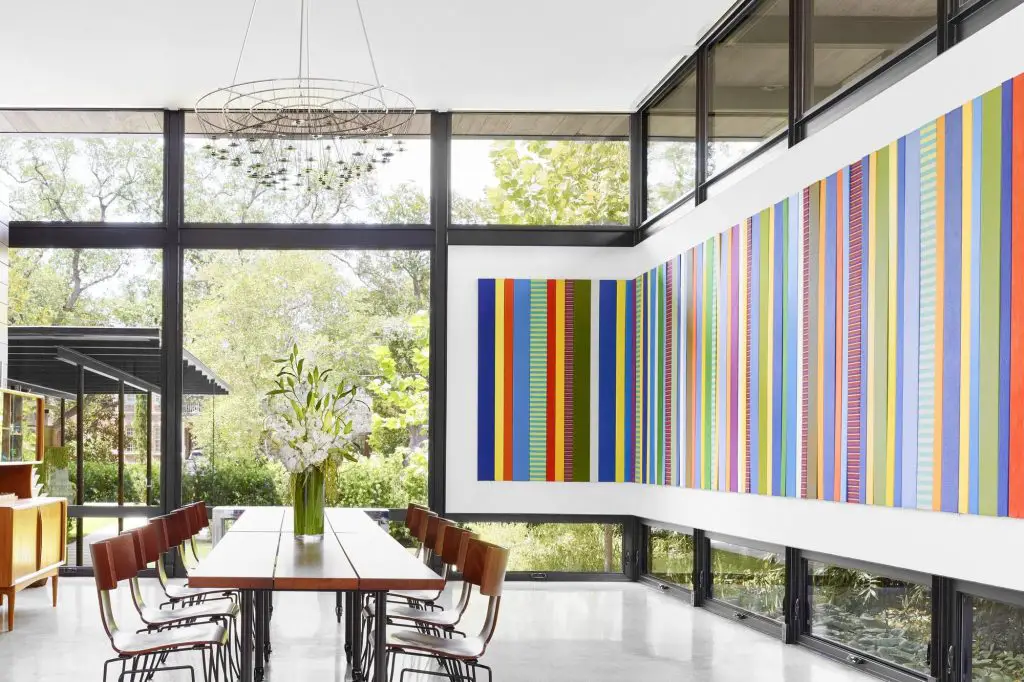 The kitchen, living and dining areas are situated facing the inner courtyard. A wall of glass including a glass door forges a seamless connection between interior and exterior.
The large expanses of glass allow plenty of natural light to pour in. They also provide serene backdrop views of the greenery outside, plus inner spaces across the courtyard are visible from some of these areas, creating a sense of enclosure.
This contemporary home truly enjoys a sense of balance. The color palette remains constant throughout the interior as well as outdoor spaces. All spaces include some combination of whites, greys, wood and black. Splashes of bright colors on the walls, mainly in artwork, brighten up the living areas.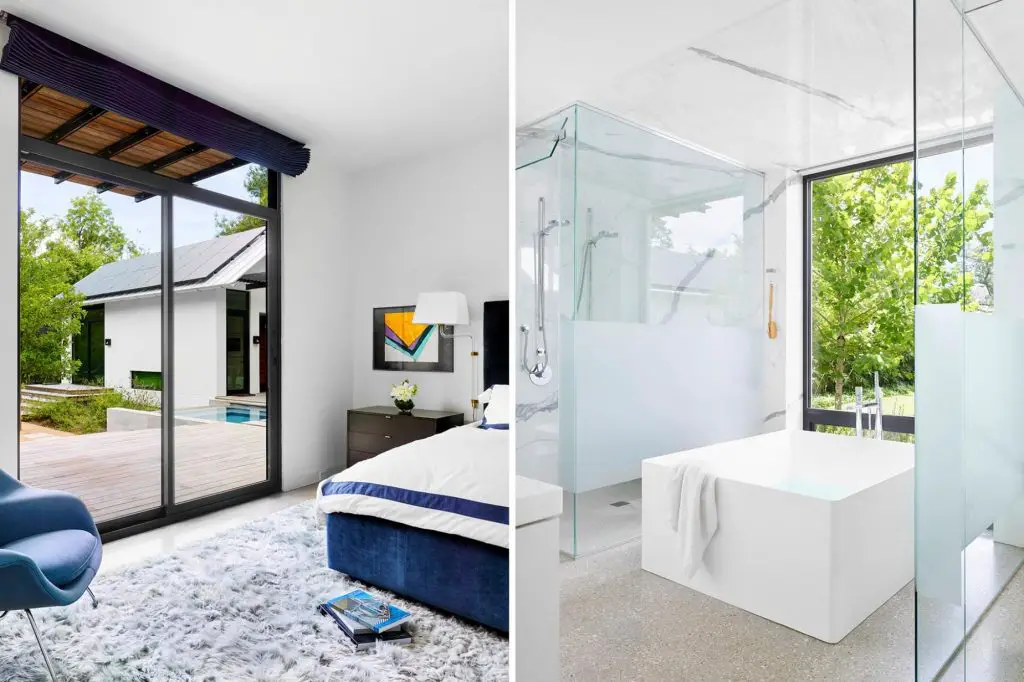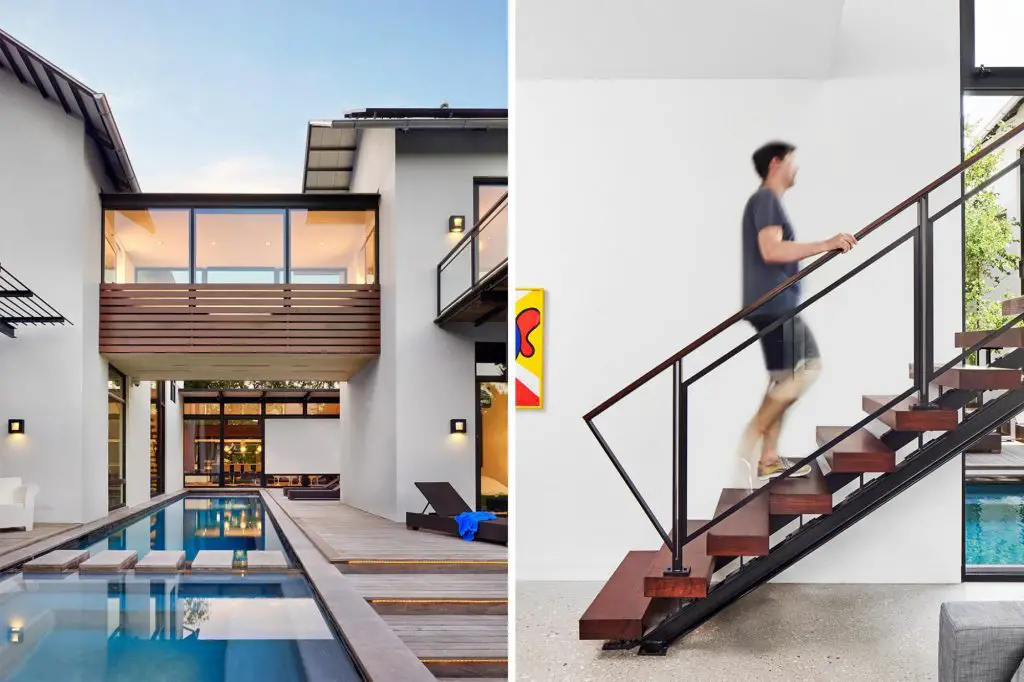 The private, wooden-framed bedrooms are also located around the central courtyard. The two wings are connected by a transparent bridge, overlooking the terrace as well as down into the living areas, as mentioned earlier. Large glass sliding doors light up the bedrooms as well as open to the courtyard.
All in all, this environmentally sensitive design spreads over 6,500 square feet and although lodged in residential surroundings, the home equally celebrates indoor as well as outdoor living while retaining a solid sense of privacy.