As many mid century modern homes, also in the Raymond Kappe Hayes Residence the boundaries between inside and outside spaces blurred.
The mild Californian weather aided the architect to design terraces and wooden decks that extended the living space outdoor and beyond the rectangular plan of the house.
Each room, in fact, has outdoor space. Kappe extended the roof beams over the open areas to support a wooden screen/lattice to soften the sun glare and make the terraces more liveable.
Across the day the sunlight created suggestive and complex geometries of shadows on the floor and -later in the afternoon- on the glass wall of the living room.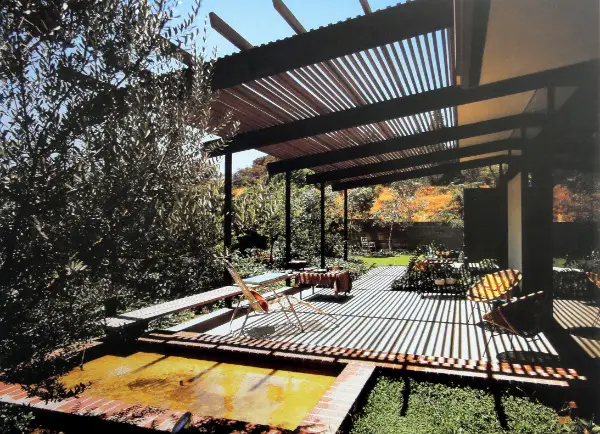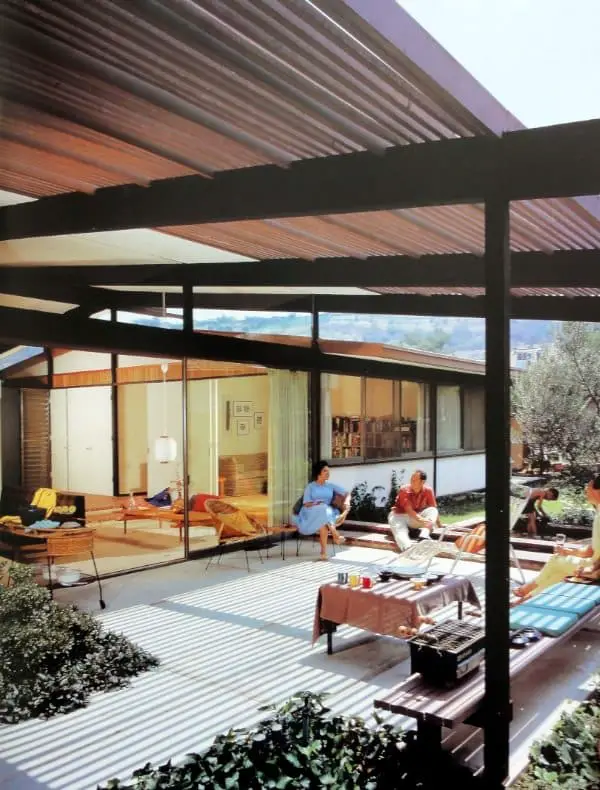 The roof ridge was raised three feet above the horizontal even of the walls, creating an extra space for a clerestory window,  allowing a wide view of the surroundings from the interior and giving an easily recognizable mid century modern look at the house.
The ceiling and all the walls -with the only exception of the fireplace made of bricks- are plastered in white creating an amazing contrast with the dark-stained framing elements.
ALL THE PICS IN THIS POST ARE FROM
CHECK IT OUT NOW TO SEE MORE!
Far from the bedroom wing, the plan also includes a separate room used as a studio by the family or as guest-room when needed. The privacy of the bedroom area is also guaranteed by a corridor that separates it from the living space and a typical mid century modern open kitchen.
As many Southern Californian architects, also Kappe used wood as main material for his projects and focused on the inside-outside living space. Like in several of his projects, he also largely used prefabricated elements -flexible and affordable- for the Hayes Residence trying to develop alternative and customised design solutions.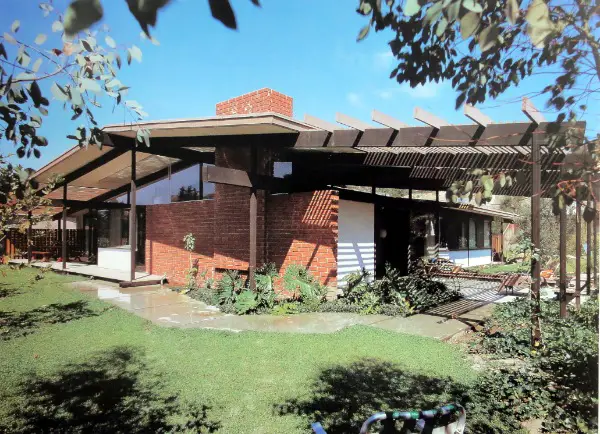 WHAT DO YOU THINK ABOUT THE HAYES RESIDENCE? LET US KNOW IN THE COMMENTS BELOW!