There's a pleasing consistency to this contemporary home design.
Located in Oxford, California, it is an original mid-century home, renovated and extended by Koch architects.
In terms of consistency, the first element that caught our attention was the recurrence of thin wood panels throughout the house. Positioned vertically and stained in a light brown polish, they provide a solid backdrop to a really nice interior.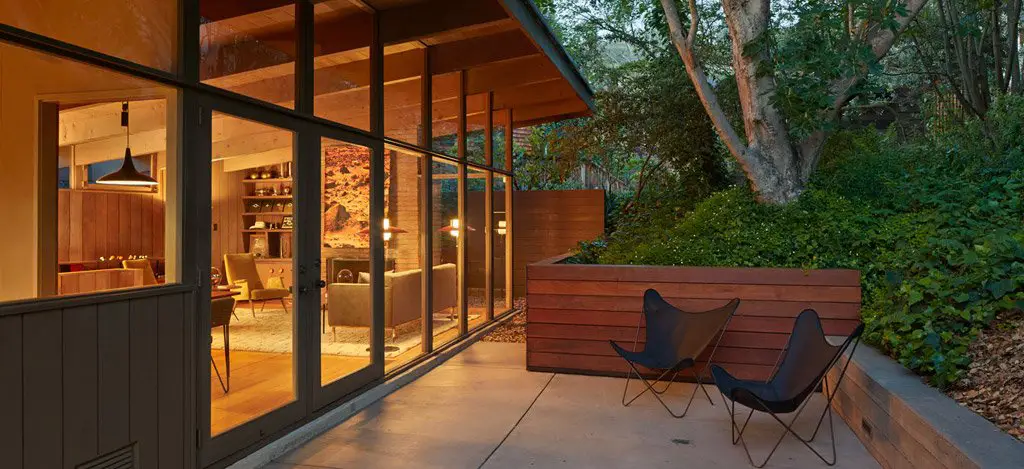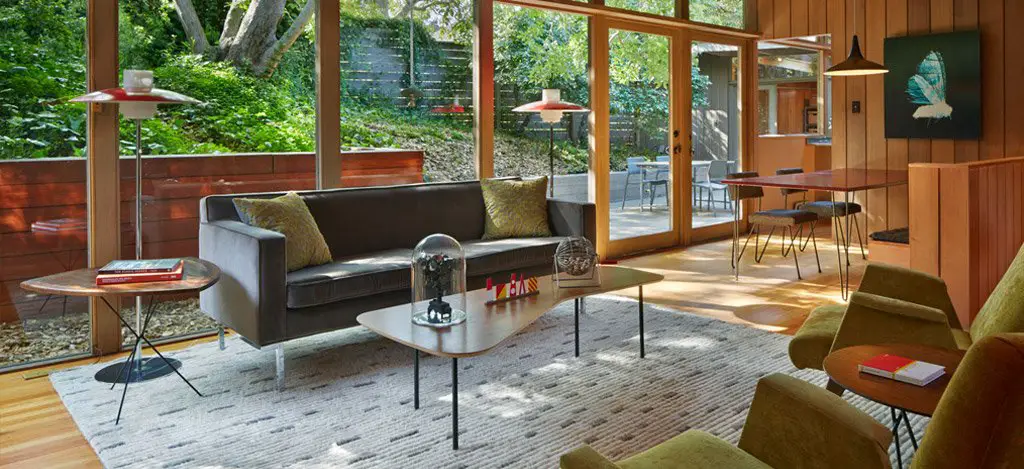 The exterior features a similar recurrence, this time the wood panels are dark grey in colour, mirroring the colour of the trees in twilight, and providing a nice contrast between the outdoors and indoors. Indeed, with the home lit up, and looking from the outside in, the combination of light brown interior and grey exterior offer a really striking image.
The thin wood panels are not the only thing that repeats throughout the design. You should also take a good look at the the furniture as well, much of which uses the same thin steel support, employed in a whole bunch of interesting ways.
READ ALSO: This 1961 Mid-Century House Was Designed To Embrace Spaciousness
This variety is best demonstrated in the central living space, where the legs of the dining table and chairs are composed of tubular steel, the coffee table is comprised of four upright legs coloured in solid black, and the lounge chairs and sofa side table are supported by impossibly thin black beams, criss-crossing to form a sturdy triangular structure. Less pronounced, but also worth a mention are the two lamps abutting the sofa, and the butterfly chairs outside on the patio.
There's one final element of this motif which deserves highlighting before we move on: all these thin black lines have a nice echo in the wood panels, or more specifically, in the spaces in between the wood panels, which are wide enough to be precisely analogous to the furniture legs.
It's a stirring site when taken together, and something which really drives home how much consideration has gone into the overall design.
READ ALSO: A Mid-Century House Near Melbourne, Gets the Case Study House Program Treatment
Besides the wood, the overall colour palette is quite muted, with the exception of a few splashes of bright red here and there. The colour occurs exclusively in minor features, for instance, the abstract ornament on the coffee table, the vintage filing cabinet in the office, the coffee machine in the kitchen, and the lampshades of the two sofa lamps. It is also surely intentional that the book resting on the lounge chair coffee table also features this same shade of red.
We could go on, but perhaps it's better to take a good long look yourself, you won't be disappointed.
READ MORE: Rare Marcel Breuer Designed House, Gets The Best Renovation Ever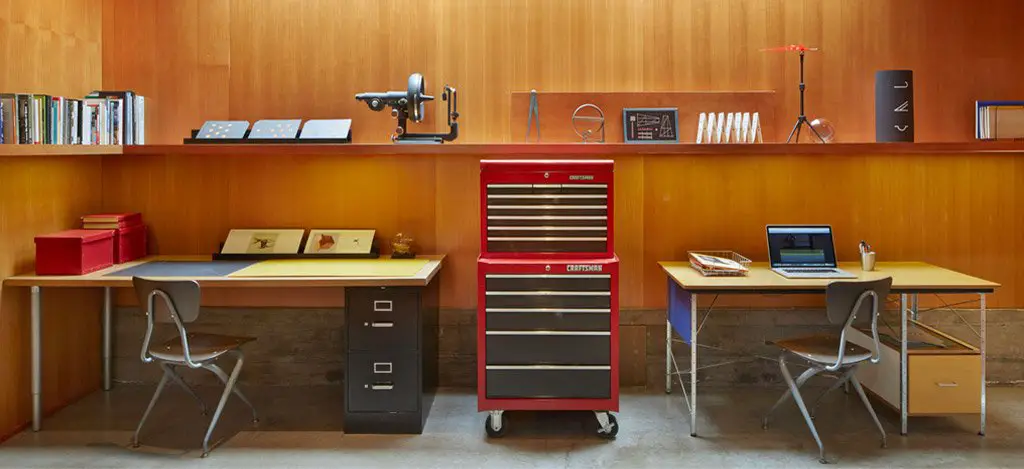 Photos via Koch Architects