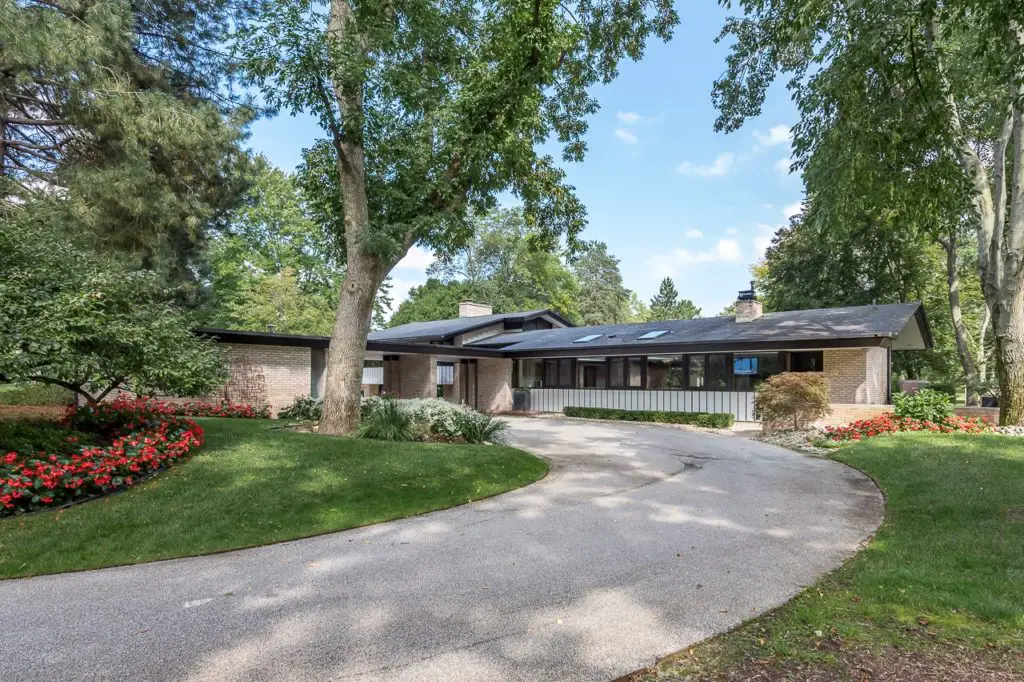 Michigan architect Jackson B. Hallet once stated that, "…Architecture is the creation of an experience in space.  No matter what the building type… an interesting experience must take place." Situated in Midland, Michigan, Hallet's 1962 Midcentury McArdle House paints a picture of this design philosophy.
Strongly connected with the surrounding environment, the home maintains a seamless indoor to outdoor connection throughout the entire structure. Today, homeowner Regan Wieland tells us about the home as well as his personal connection to midcentury style.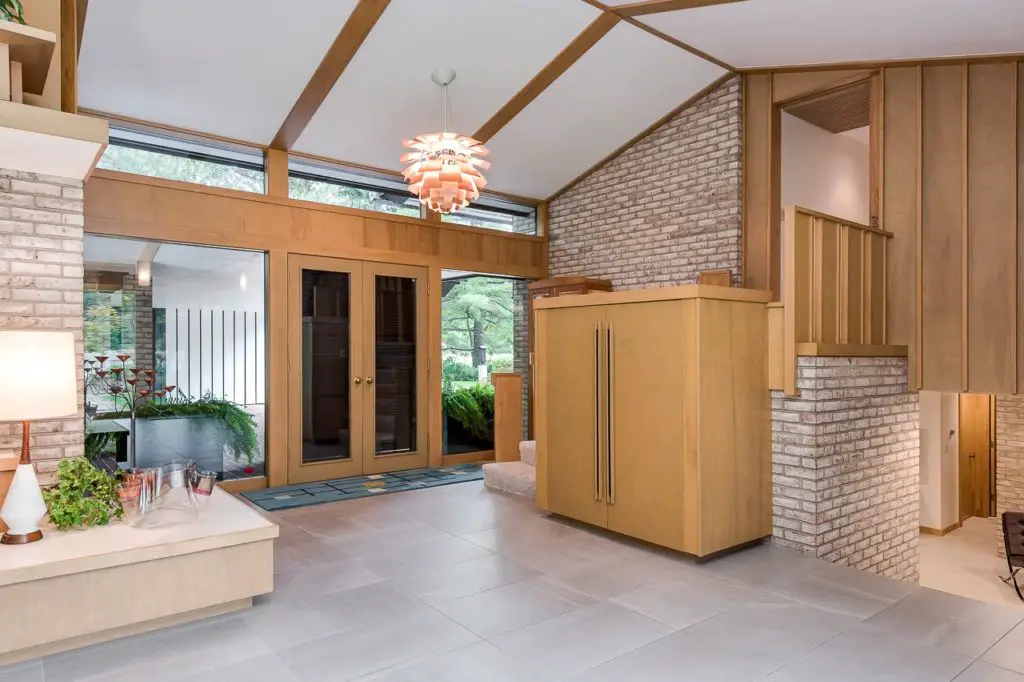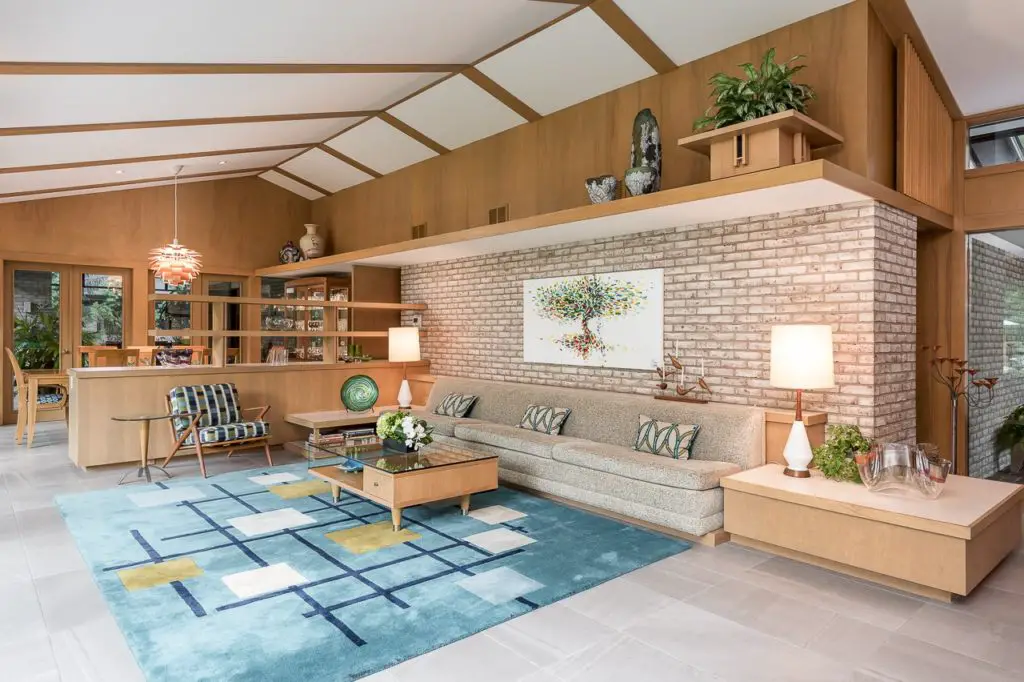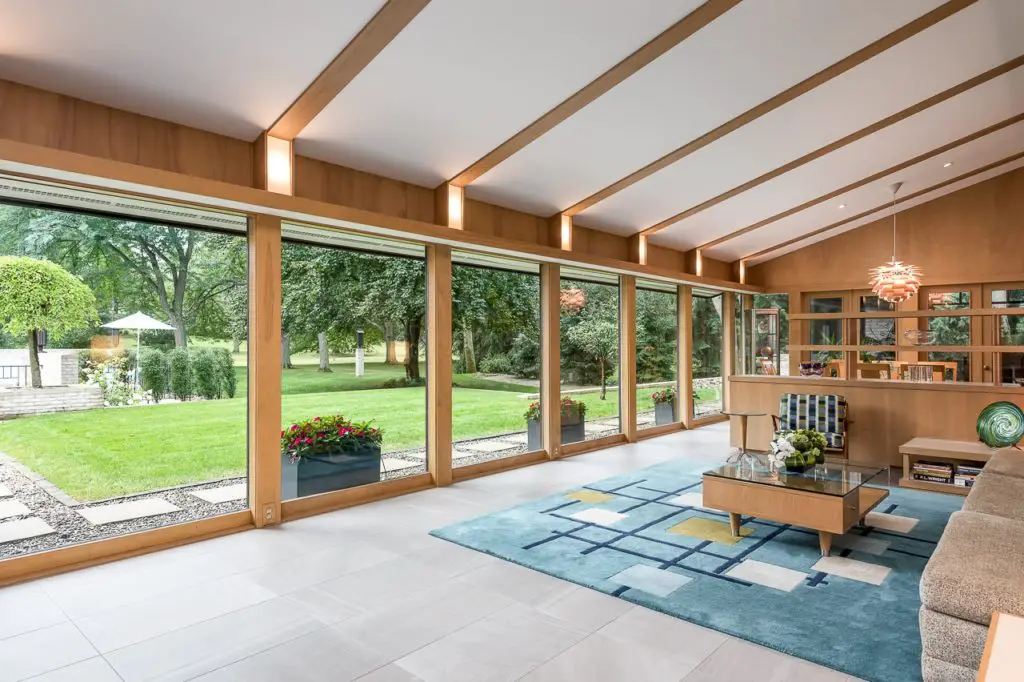 First of all, could you tell us a little bit about your background?  
My wife Tamara and I have been married for 40 years this December, and have lived in our MCM home since September of 2013. Tamara is a Master level Pilates instructor, I am a Mechanical Engineer by education (almost became an architect!), and worked in various R&D positions with General Motors and The Dow Chemical Company before joining the family plywood business 30 years ago when my father retired. We have two married daughters, and two grandchildren.
How did you come to live in your house and what drew you to the midcentury style?
My grandfather built a midcentury modern home when I was eight years old (in 1965), and I thought it was the coolest place I had ever seen. Brick walls that extended from the exterior right into the interior, glass floor-to-ceiling, see-through fireplaces, built-in everything, just amazing to a kid growing up in a 100 year old farmhouse!
When our youngest daughter went off to college, Tamara and I decided it was time to move, and wanted to find a MCM home to experience for ourselves. Our realtor knew that Mrs. McArdle was thinking about selling her Jackson Hallett home, and put us in touch. We took one look and knew it was for us. The deal was done without the home ever being put on the market!
What do you think was so special about this period in American design? 
First of all, the design aesthetic. The attention to proportion and scale, use of natural materials, integration with the structure's natural surroundings, use of sunlight for illumination (and winter radiant heating), clean and simple lines, and overall consciousness of how people would move about and live in the various spaces.
Secondly, the pure functionality of built-in storage cabinetry, sofas, buffets, appliances, etc.
Finally, just the (apparently) revolutionary idea that living spaces should be designed around human needs and aesthetic sensibilities instead of forcing humans to occupy spaces designed purely to be easy to build. (Hence Wieland's First Law of Architecture:  Never let a contractor design your home.)
What do you know about the architect who designed your house?  
Jackson Hallett AIA, 1925-2003. Jackson Hallett's 40-year architectural career in the Midland, Michigan community has left a legacy of superior design reflecting not only his artistic passion but his engaging warmth and commitment to building relationships.  His creative vision left the "Hallett-style imprint" on the architectural landscape of more than 40 Midland-area homes and community buildings.
He expressed his personal view this way:  "I believe that Architecture is the creation of an experience in space.  The form and method of this experience are distinctly unique for each project, dependent on the individual's functional needs, the site, its surroundings and the budget to make it all happen. 
This experience is, in a word, the 'architect's service'.  Both the imaginative integration of design and the science of construction achieve it. No matter what the building type or its requirements, an interesting experience must take place.  With each project, this is the end to which I strive."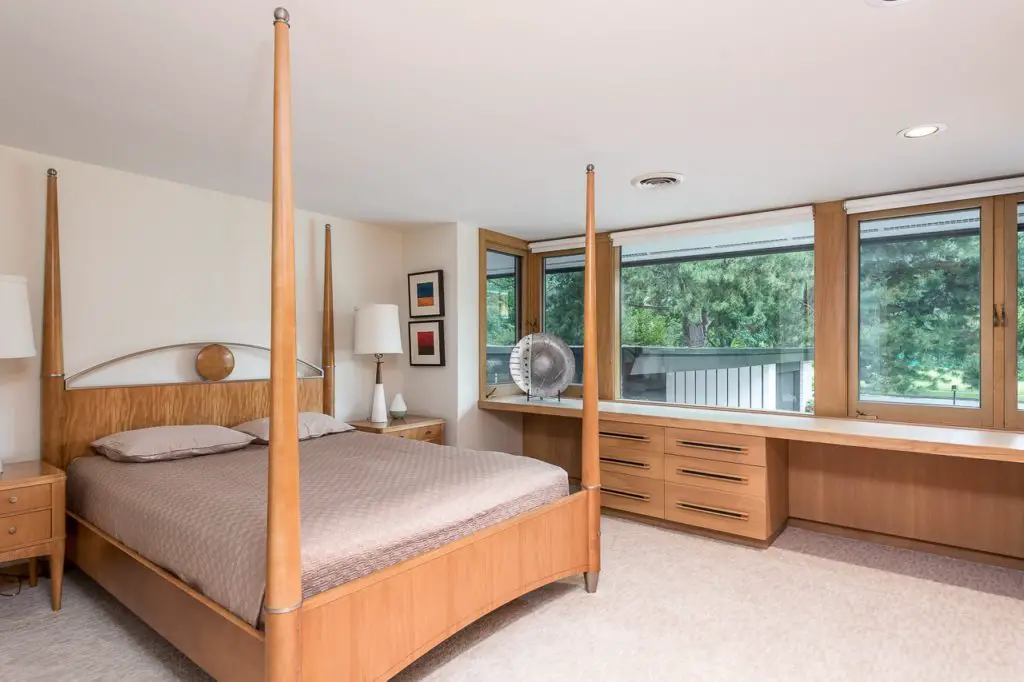 What are the advantages/struggles of living in a midcentury house?  
By far the primary attraction of living in a midcentury home is that you are essentially living in a work of art.  Because of the fundamental MCM design principle that spaces be created for human living and enjoyment, virtually every room, every activity is enhanced by the beauty and functionality of midcentury design. The greatest struggle is simply that of having to maintain what are now 60+ year old structures, and having to do so in a way that does not detract or depart from their original look and design. No in-stock vinyl siding or windows for you!
What's your favourite part of the house and why?  
The entry and living room. I mention both because from the moment you enter through the front doors, you immediately see through to the opposite wall of floor to ceiling glass looking out onto the pool area with the park beyond, and it naturally draws you further into the living room space to investigate this amazingly expansive view.  Sitting on the 14' built-in sofa and enjoying a coffee or a glass of wine while looking through this transparent wall is a wonderful experience be it day or night, summer, fall, winter or spring outside.
Have you had to renovate any part of the house? If so, which area(s)? (Can you also share the contractor/s you worked with?)  
The original owners had remodeled the kitchen and adjacent den area after a flood in 1986, and the look had become quite dated.  When we purchased the home in 2013, we found the prints for the original kitchen, and were able to update the appliances and fireplace while keeping the original footprint and restoring the cabinetry back to the original look of dark walnut with white quartz countertops (originally formica of course). 
We also replaced the carpeting with Italian tile throughout the main level, and remodeled the master bath when the original grout deteriorated and threatened to begin leaking water from the shower into the bar area below. We had to abandon the original pink tile (no longer available of course) and so tried to update the floor and wall tile surfaces in keeping with midcentury design. The primary contractor for all work was Dave Roberson, and the kitchen and bath cabinetry was designed and installed by LeBeau Cabinets of Midland, Michigan.
Last but not least, do you have any tips for people interested in buying a midcentury house today? What should they pay attention to and why?
The primary issue to be concerned with when looking at a midcentury home is it's age, and the condition of the roof, windows, doors, heating system, etc. Because of the inherently custom nature of these homes, maintenance and replacement of virtually any part of the structure is not inexpensive, nor are contractors who appreciate and are qualified to properly restore an historic home easy to find. Before purchasing, get a thorough inspection by someone conversant with midcentury homes, and find a midcentury-qualified contractor to do his own inspection and speak to what issues will have to be dealt with, on what timeline, and what the cost may be.