Since its construction in 1962, the Matsunaga home is the brainchild of its namesake – Architect Hideo A. Matsunaga. Conceived as his family home, this sublime and unique midcentury modern home has been designed to integrate the cultural influences of the architect's heritage. With wooden elements juxtaposed with a white palette, the Matsunaga House is warm and inviting.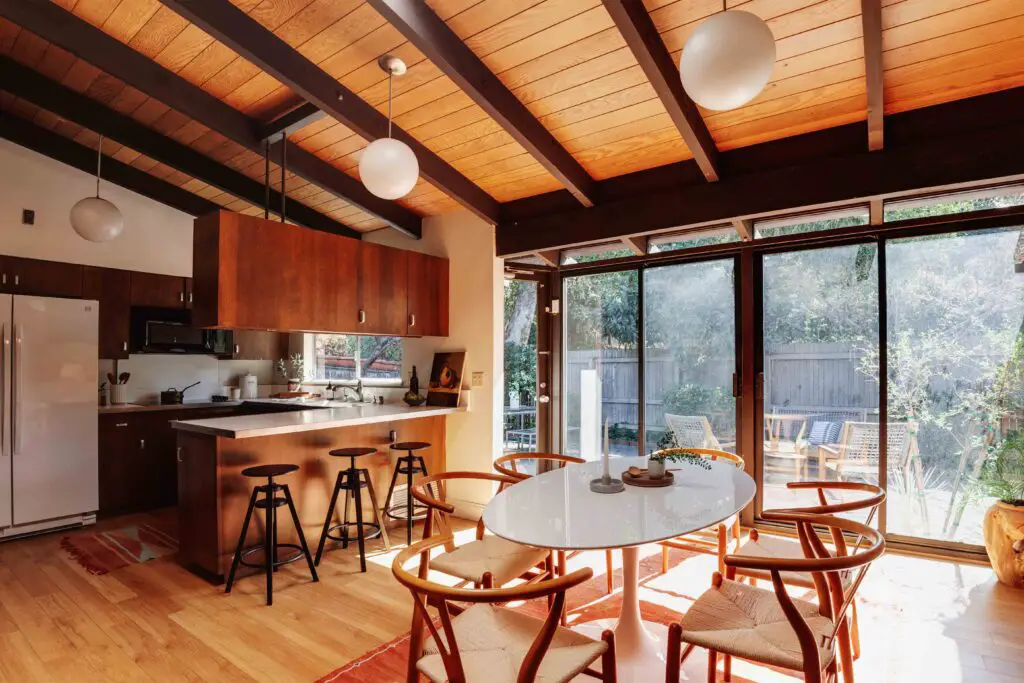 Designed as his family home, the Matsunaga House exhibits and displays the architect's distinct style. The four bedroom and two bathroom house features floor to ceiling glass sliding doors oriented to the deck outdoors. The deck, which includes a dining table and chairs, offers the opportunity for outdoor dining. Like the interior of the house, wooden fixtures are used to maintain consistency and tie the elements together. Another house feature that is typical of Matsunaga's designs are the skylights and decks, which create a sense of spaciousness and bring the outdoors in.
The house's homey feel is supported by its context. Located in the coveted Ivanhoe Elementary School district in California, "the home has been lovingly maintained to preserve its smart design and beautiful craftsmanship." Its craftsmanship is evident with the bare structures and wood that reveal the house's natural beauty.
The floor plan is not only functional, but maximizes the spaces. The entrance opens to a naturally lit and well ventilated living room with wood beams and vaulted ceilings, gas fireplace, and a beautiful deck with an expansive view of the Los Feliz Hills.
The sliding glass doors create transparencies between the dining area and kitchen as they open from the kitchen to a private outdoor lounge and dining area.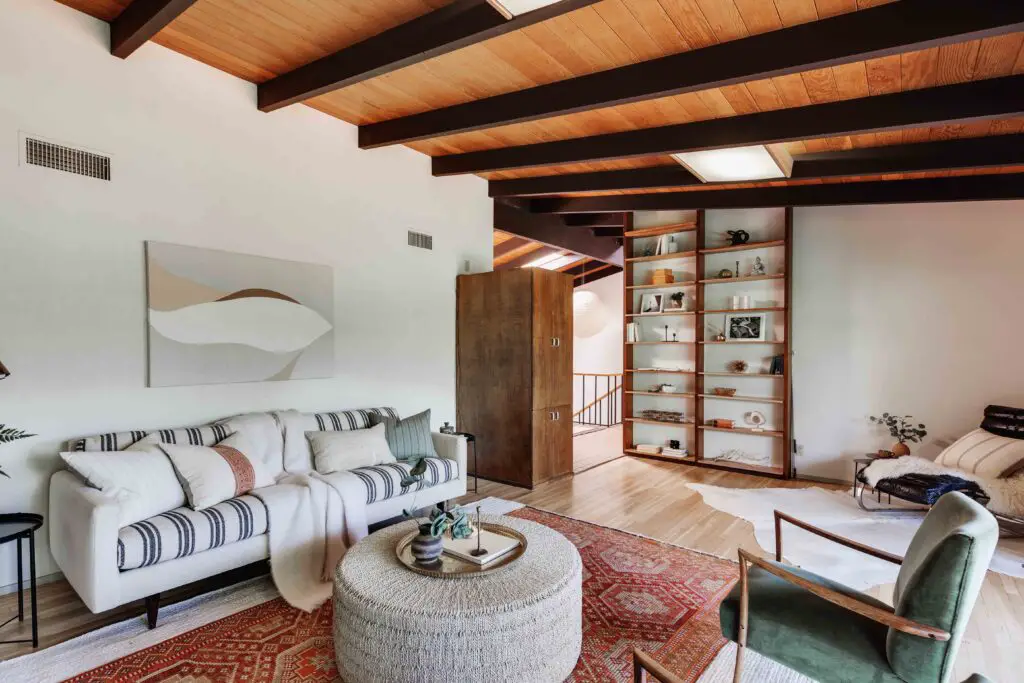 Oversized Japanese paper lanterns pay homage to the architect's heritage as they "hangs over the entryway leading downstairs to a large sized den with deck, two additional bedrooms, bathroom, and laundry area that could double as a bonus workspace".
A bountiful yard provides a great outdoor space for the Matsunaga family. Mature fruit trees such as lemon, avocado, fig, and loquat trees are perfect not only for gardening but for entertaining and playing as well. Furthermore, it adds a touch of green to the property which contributes to its relaxing and welcoming vibe.
The property is also walking distance to the Silver Lake reservoir and many fabulous restaurants and shops. The Matsunaga House is a rare opportunity to own an elegant and original mid century gem in the Silver Lake Hills.