Upon seeing this 1950s home, it is obvious that the facade was preserved to maintain the character of the existing stone facade. The elevation is kept understated.
As such, when one walks by the unassuming house from the street, the expectations are kept at a minimum. However, once the visitor enters the 1950s home, they are surprised as they move through its different elements. 
As the existing home outgrew the clients, the extension served to cater to the growing family. At 230 square meters, there is sufficient space to entertain. Hence, the architects – Adelaide based Contech Architects, "create flexible living spaces that are connected to outdoor areas." With a passion for built form, the spatial organization was explored in order to respond to the clients' requirements in the most optimal way.
To define these transitions, operable steel framed glazed partitions were used as well as a "cantilevered concrete edge providing a threshold as you step down onto the deck." As light illuminates beneath the cantilevered concrete edge, it creates a floating effect as well as an establishment of a material threshold.
In line with sustainability principles, recycled bricks provide texture to the living and kitchen areas by forming the extension spine. Complemented with oak finishes, a polished concrete slab and matte black trims, the material palette exudes a sense of refinement. However, this refinement is not intimidating; the architects made sure that the environment was still warm and inviting to live in.
A floating skillion roof is supported by exposed structural steel beams over the BBQ deck – a space conducive to hosting outdoor parties and get-togethers. The architects designed this area with an open pavilion in mind so that the inhabitants can "live while constantly engaging with the backyard and the pool at the northern end of the property."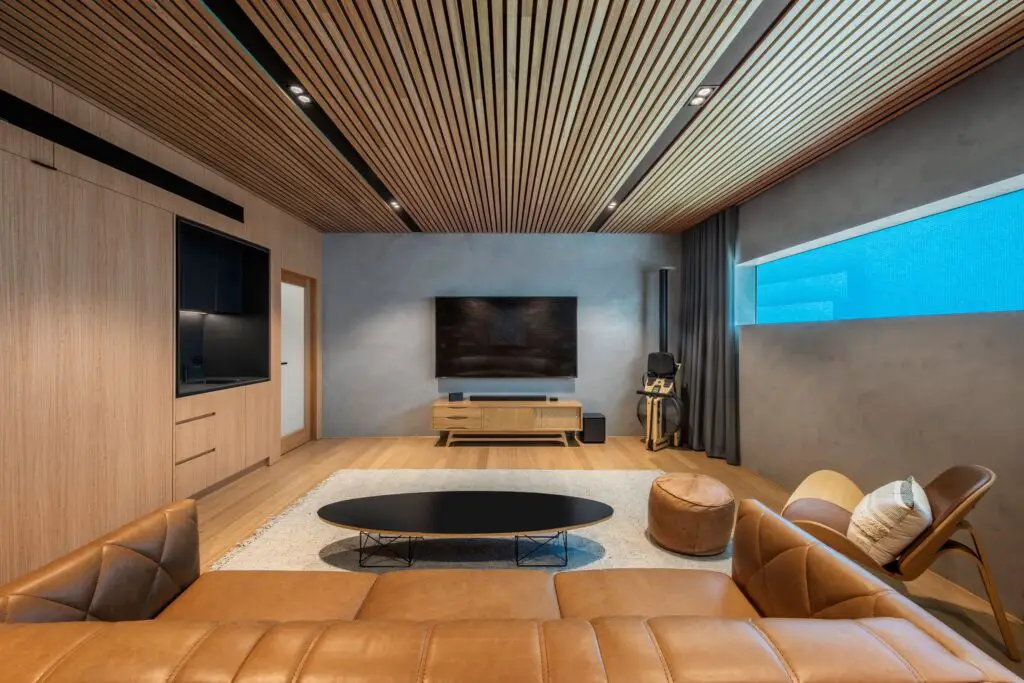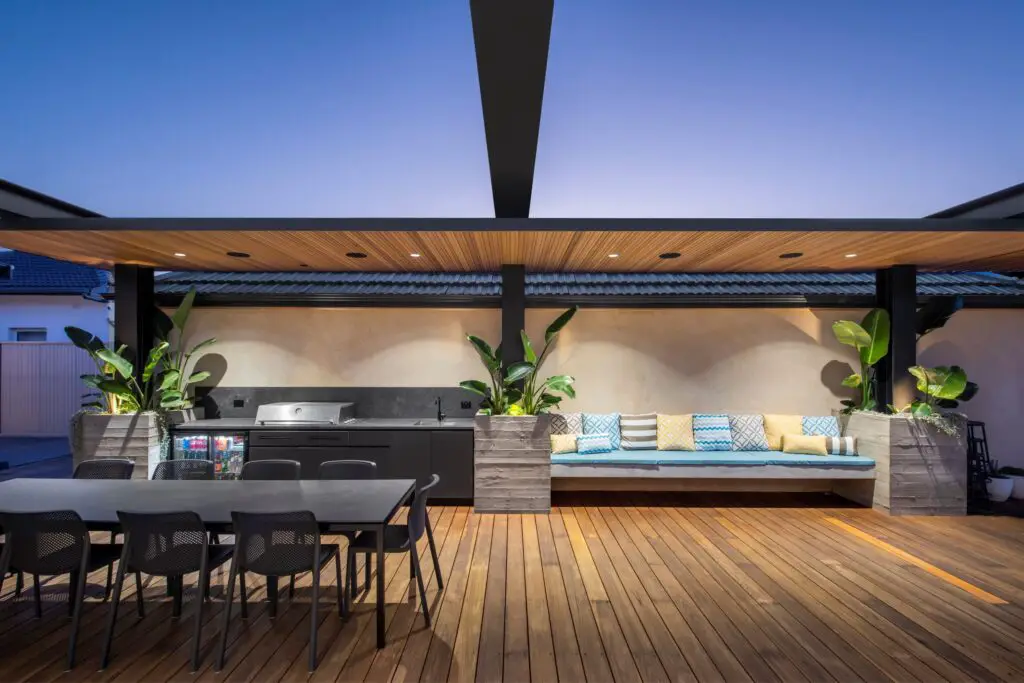 The focal point of the Plympton Residence is the pool as it draws the inhabitants in from the entrance. The visitor has a direct line of sight over the pool and into the back yard through the building. As such, when one enters the main living space, they have the opportunity to either go outside into the deck or to go downstairs to the basement below.
The basement serves two purposes – it acts as a secondary living area "incorporating a large panoramic window into the pool allowing northern light into the space." On the other hand, it also " houses a wine cellar and bathroom with the joinery including a folding queen size bed, allowing the space to transform to create addition accommodation for guests." 
The backyard emphasizes the roof line of the extension and the floating concrete slab over the pool while the landscaping complements the spatial experience of the house's interior. The backyard also serves as an additional entertainment space with a fire pit and bbq area in order to separate it from the main pavilion.