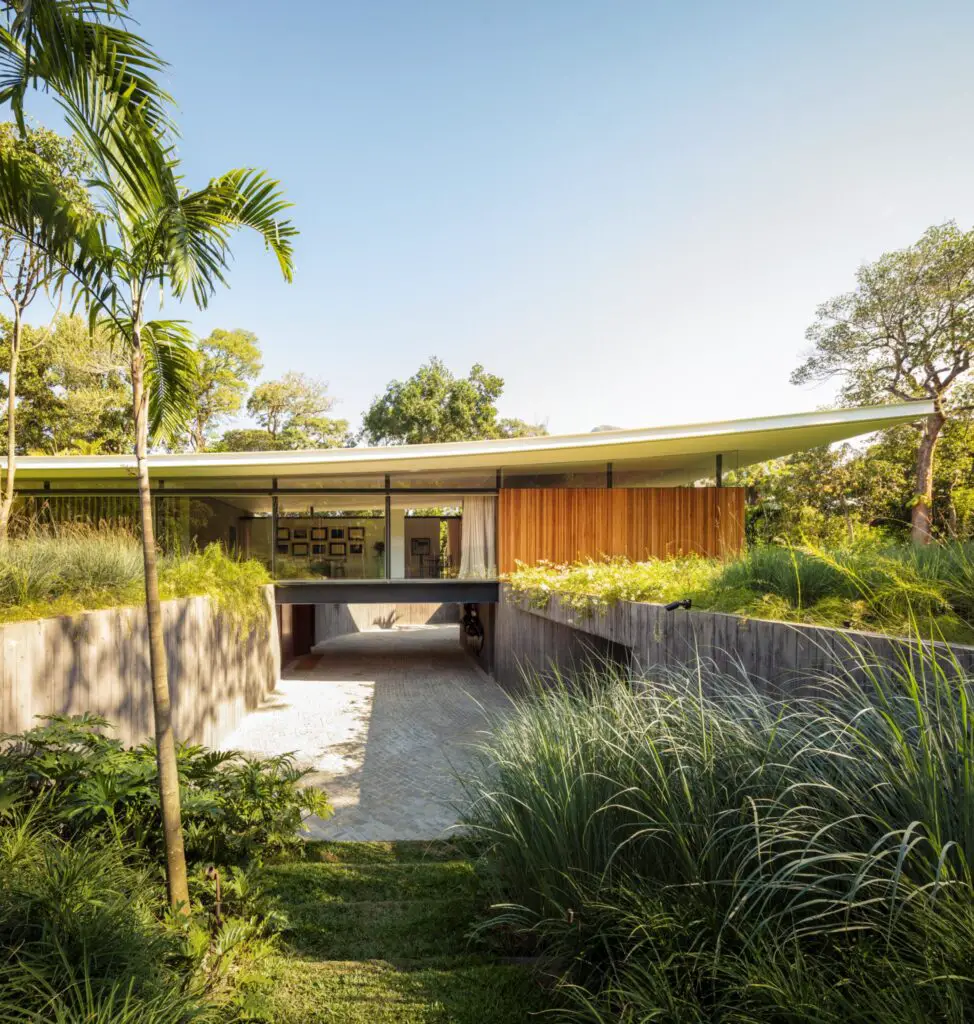 Text by architect Bernardes Arquitetura Situated on a hilltop looking over stunning views in Brazil's Rio de Janeiro, the Asa House exemplifies delicate modern architecture at its finest.
With offices in Rio de Janeiro, São Paolo as well as Lisbon, Bernardes Arquitetura have established a name working in the areas of architecture, urbanism and interior design. The modern home design was brought to completion in 2018, stretching over 3300 square meters of built area.
Named after the Portuguese word for wing, the Asa House "creates a 'harmoniously contrasting' relationship between landscape and architecture through the articulation of partially underground spaces and emerging transparent volumes."
Floor to ceiling windows stretch across both sides of the home's main living room, providing views of the lush surrounding landscape as well as the garden area thus strengthening the connection between inside and outside.
The Asa House was constructed in replacement of a preexisting property and "the site's topography was designed in order to maximize the use of existing semi-flat surfaces as outdoor living areas while fitting key functional, circulation and soil stabilization elements in-between retaining walls."
Multiple passageways around the building lead the way to various access points into the home. These passageways are subtle, making use of the natural landscape to blend in while maximizing the surrounding beauty.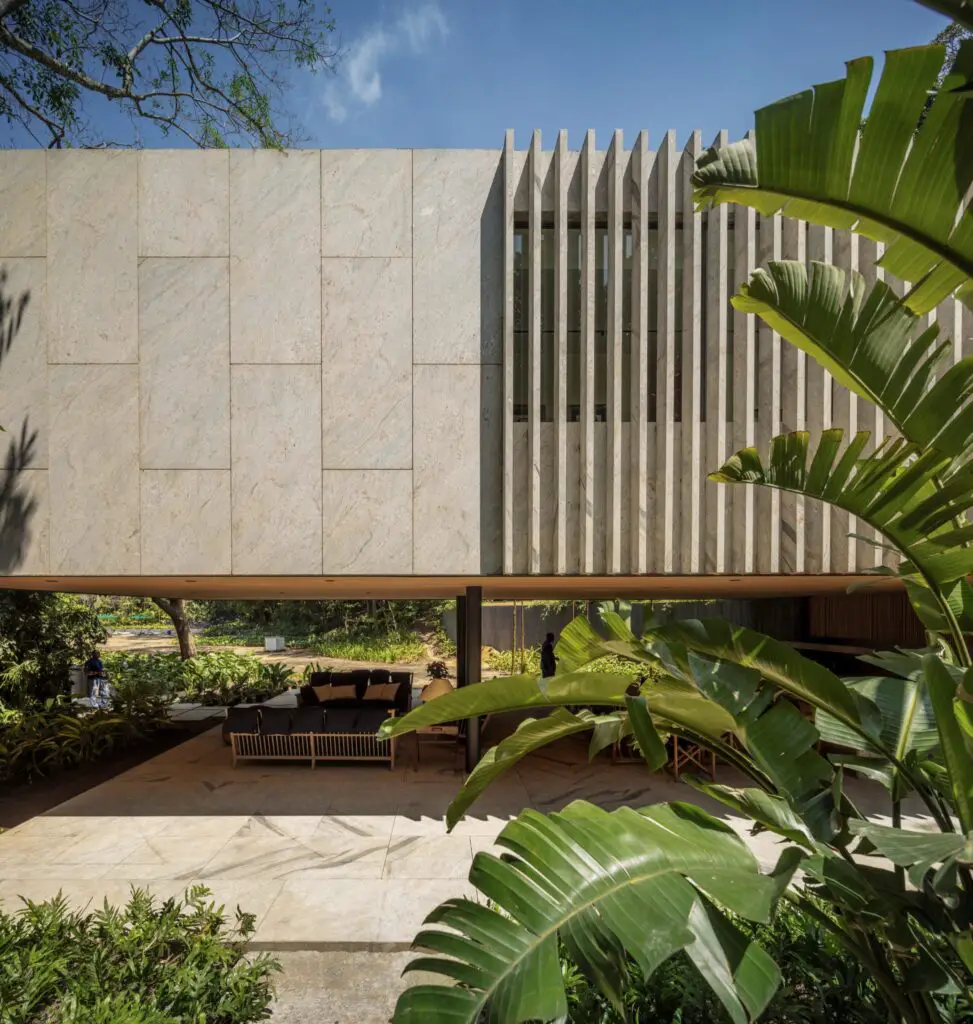 In addition to the main living, entertainment and private areas, "the home also accommodates some amenities that are connected to outdoor activities, such as a gym and sauna." A sizable pool lies adjacent to a granite tiled patio area garnished with sunbeds for relaxation.
The light shade of granite is repeated on the home's facade as well as flooring the patio are beneath the vertical granite volume next to the 'wing'. "Its granite façade and smaller windows provide more intimate views to the garden while protecting the privacy of the bedrooms.
A separate unit that connects to the main house through the garden was designed as both a guest house and a covered dining area equipped with a small kitchen and a barbecue pit."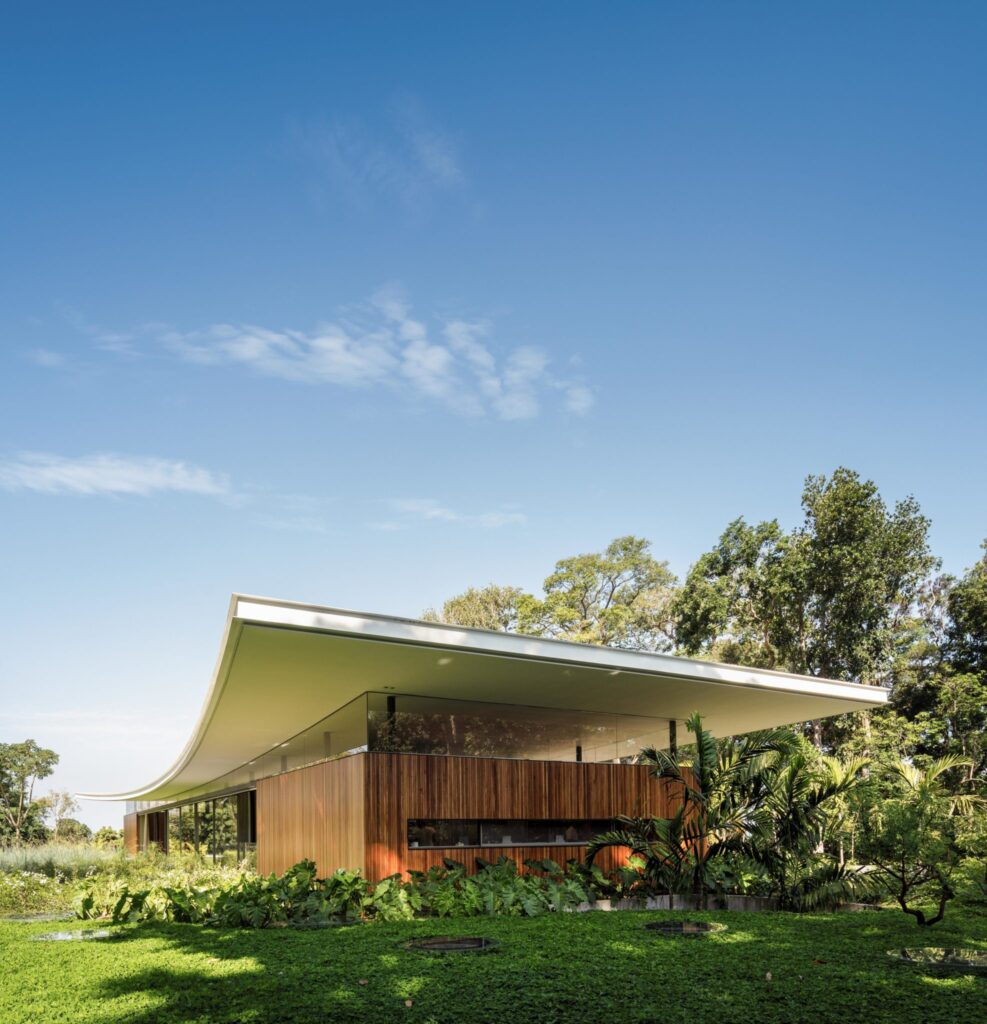 A natural color scheme made up of mainly various hues of wood, stone and white painted walls and ceiling runs throughout the home while works of art on the walls and carefully selected furniture bring in splashes of color. "The top volume is made with galvanized steel structure with drywall enclosing covered with 'freijó' and 'cumaru' wood, native trees of Brazil.
The curved roof is composed of a table made of steel and concrete slabs with waterproofing done with over thermo-molded film. Interior flooring is made with 0.3x3m 'cumaru' pieces, while outdoor areas are covered with gray granite extracted locally."