Winemaker Charles Smith's newly-renovated mid-century home, designed in 1953 by Paul Hayden Kirk, is a real beauty. Located in Seattle, it was recently restored to its glory by architects Tom Kundig of Olson Kundig, who also built Smith's award-winning winery in Walla Walla.
Looking at the design, there appears to be quite a pronounced fixation with squares and rectangles. The dining room is a useful case in point: the slate floor comprises an array of rectangles in different shapes and sizes, overlooking the floor is a series of windows which echo the pattern by again being an assortment of sizes.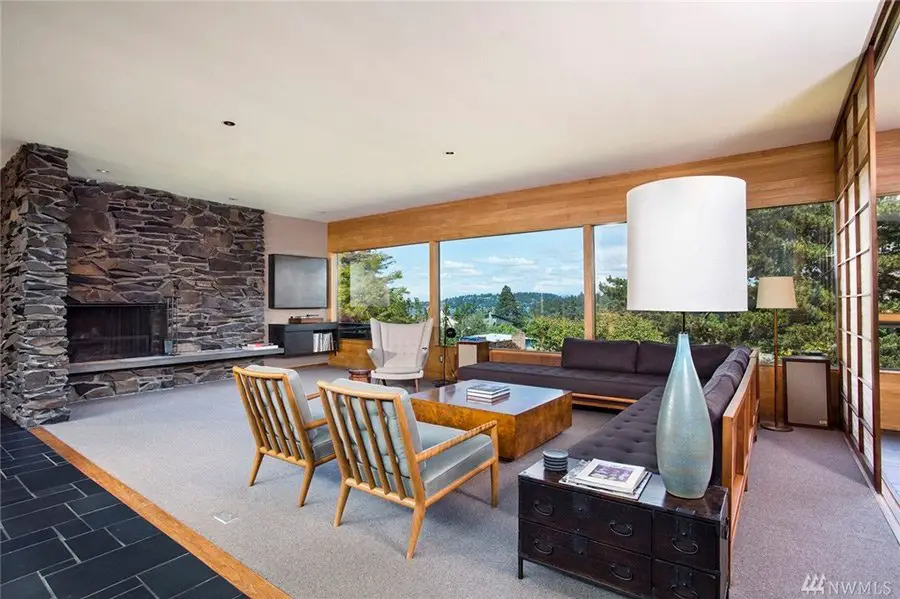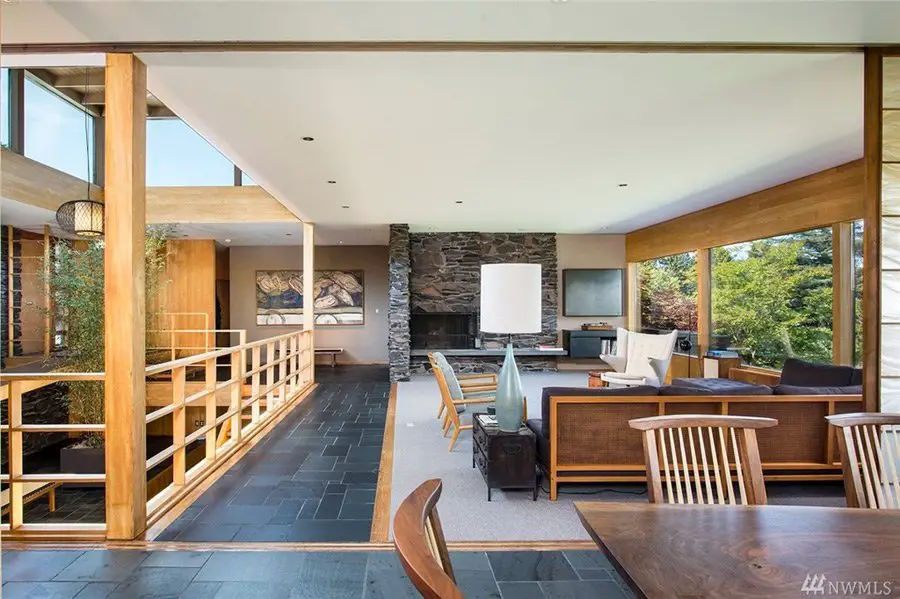 The sliding paper window door is framed by wood arranged in a grid pattern. Showing the modern style home's Asian influence, this sliding door caps off a really carefully considered composition.
READ ALSO: Beautifully-Landscaped House Inspired by Frank Lloyd Wright
Meanwhile, the rectangular theme is taken even further in the garden. The hardscaping is full of large square-shaped stone slabs interspersed with equally large, and equally square patches of lawn. Asian influence is again in evidence, but in this instance, the fixation with the square makes this house unmistakably Western.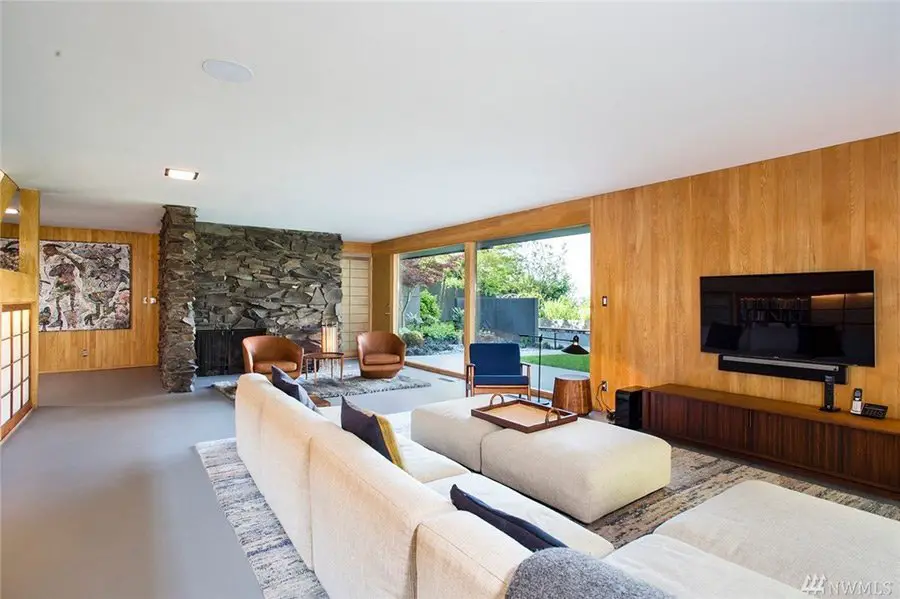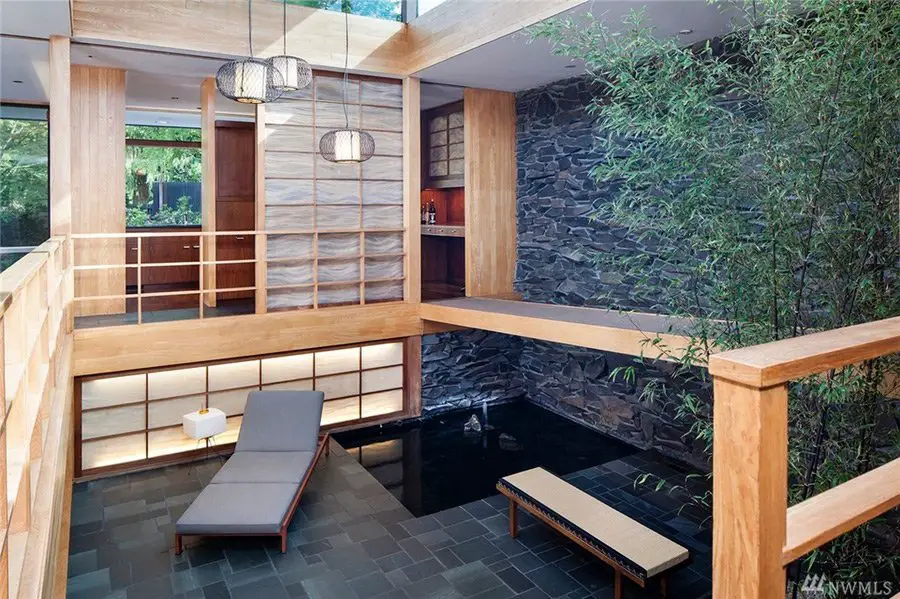 But it's worth dwelling on the Asian theme for a moment, since it is so clearly fundamental to the designer's vision. This is best demonstrated in the interior courtyard, which contains a pond, clerestory windows, and an abundance of wood, used in the structural elements and the balconies, polished to retain its light brown tone.
READ ALSO: Mid-Century Modern the Australian Way: Peter Muller's Bynya House
Again, you see the paper screens, but also shoji trees (which are, according to Smith, employed to conceal storage as well as contribute to the Asian feel).
There's some really nice pieces of mid-century furniture in this contemporary style home. For instance, the dining area consists of ten chairs arrayed around a beautifully simple polished wood table made new by George Nakashima Woodworker.
It's nice to see the continued quality attached to George Nakashima, who was probably one of the most important woodworkers during the mid-century period.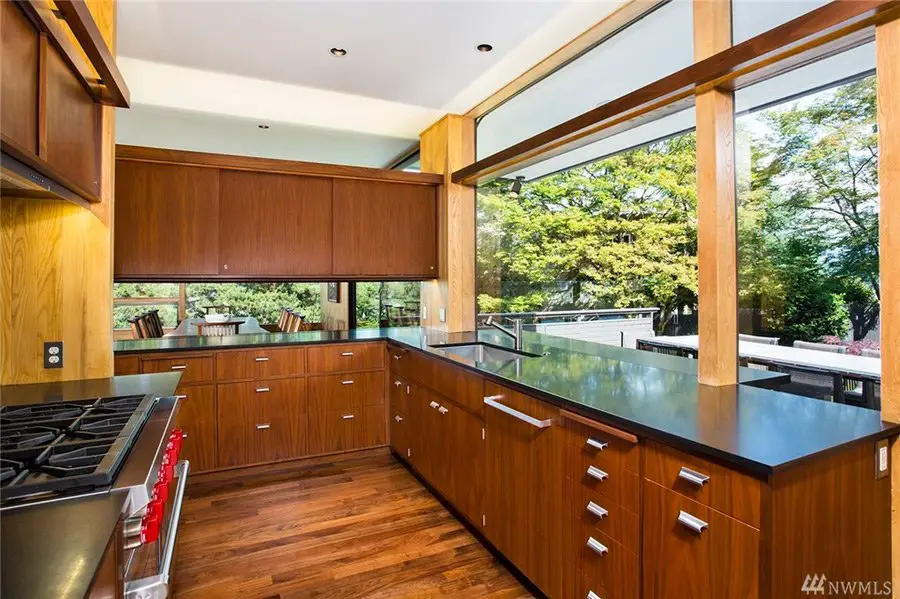 Meanwhile, chairs in the living area bear the hallmark of Danish modern. Indeed, you can tell the mark of the hugely influential mid-century sub-genre almost immediately: a solid, simple piece of furniture which allows the quality of the materials to speak for themselves.
ALSO READ: Mid-Century Modern in The Woods: Henry Hoover's Germeshausen House
There is something of this aesthetic in the rest of the contemporary home design. In particular, Smith has created a remarkably beautiful home with decidedly simple ingredients.