If it's drenched in California midcentury modern style, chances of it being an Eichler house are high. Dressed to to the teeth inside and out, this Eichler home underwent a five year renovation that fuses modern design with classic midcentury style. 
Having previously worked on Richard Neutra's Kaufmann House over the course of four years, financial executive Brent Harris found potential in the last Eichler estate built in Orange County, California.
Teaming up with designer Brad Dunning and technical consultant Michael Johnston, elaborative renovations began to so the home would fit the needs of Brent and his wife Lisa. 
A slight A-frame roof gives shape to the homes facade. Painted in black, the sides and beams of the roof bear stark contrast to the light grey/green hued exterior of the house.
During the restorations, damaged beams and exterior siding underwent major woodworking. A bright red door gives entrance to the homes interior, sided by a pair of wall to ceiling windows.
Inside, the imprint of an experienced team is obvious. A mixture of vintage and modern furniture has been tastefully arranged for a sleek yet comfy vibe. The combination of Florence Knoll armchairs, Mies van der Rohe coffee table, Eero Saarinen side table as well as a Sergio Rodrigues floor lamp dress up the living room.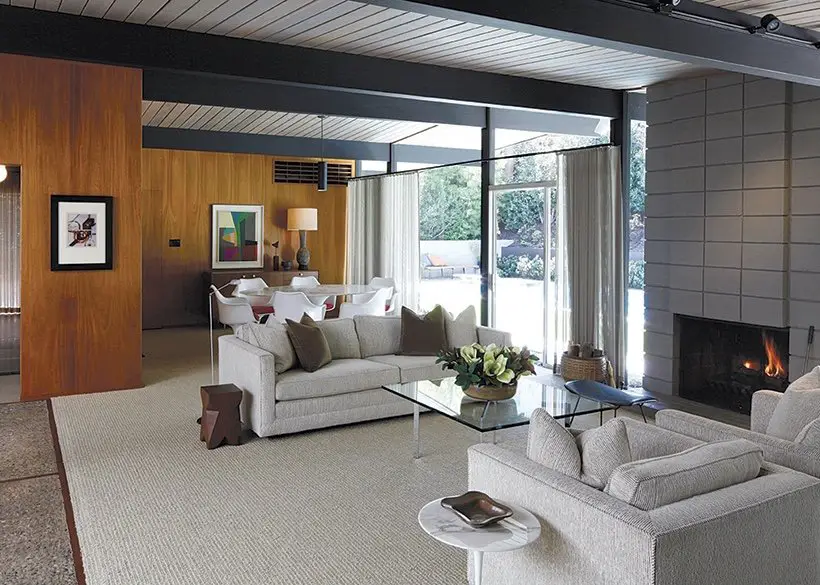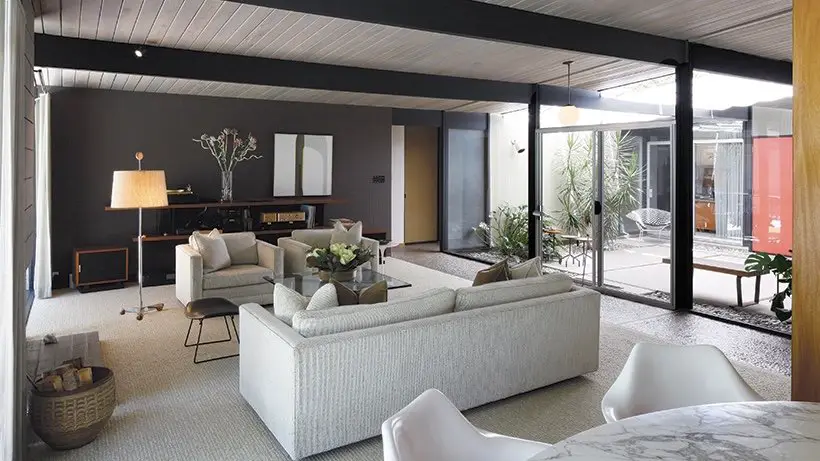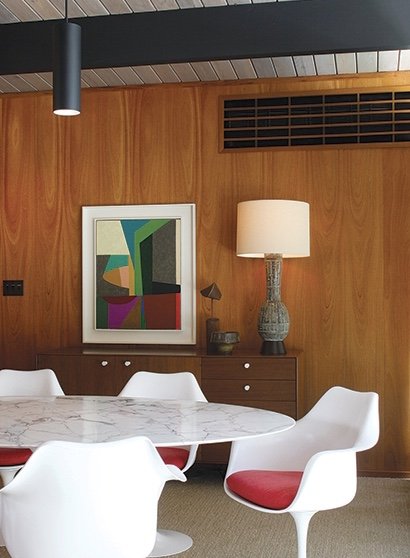 Again, one black wall and black beams accent the otherwise light living area. Floor to ceiling windows on the side ensure the space remains light throughout daytime, one of which is a door permitting access to the atrium.
In the kitchen, slab floors were polished off with decorative concrete coating. The color scheme is dominated by wooden walls, kitchen cabinets and ceiling. Sliding floor to ceiling glass doors do the trick of filling the space with natural light during daytime while round stylish lamps hanging from the ceiling illuminate after sundown. 
Lighten details brighten up the kitchen, including new white laminate counters and cabinet doors. White covered vintage Paul Tuttles bar stools complete the kitchen's mod look.
Back outside, large white granite pavement stones frame the well kept patch of grass, leading the way to the brand new pool and spa. Here too the furniture is a fusion of vintage and recently made pieces. Surrounded by trees and bushes, the backyard provides a secluded space to relax and entertain guests.
Five years of hard work paid off to bring this midcentury modern home up to date with the added personal touches here and there, giving this Eichler house a personality to fit its homeowners.