This custom-built and designed midcentury modern is a creative reflection of its time. Sitting atop a substructure, the house appears as if floating mid-air. The three bedroom, two bathroom home is situated on Mercer Island's Waterfront and dates back to 1965.
At first glance this home could easily be taken for a time capsule. Only the interior furnishings of this otherwise all-retro outfit tell tales of modern updates. The home is perched on a structure which contains a carport as well as stairs leading up to the living quarters of the building.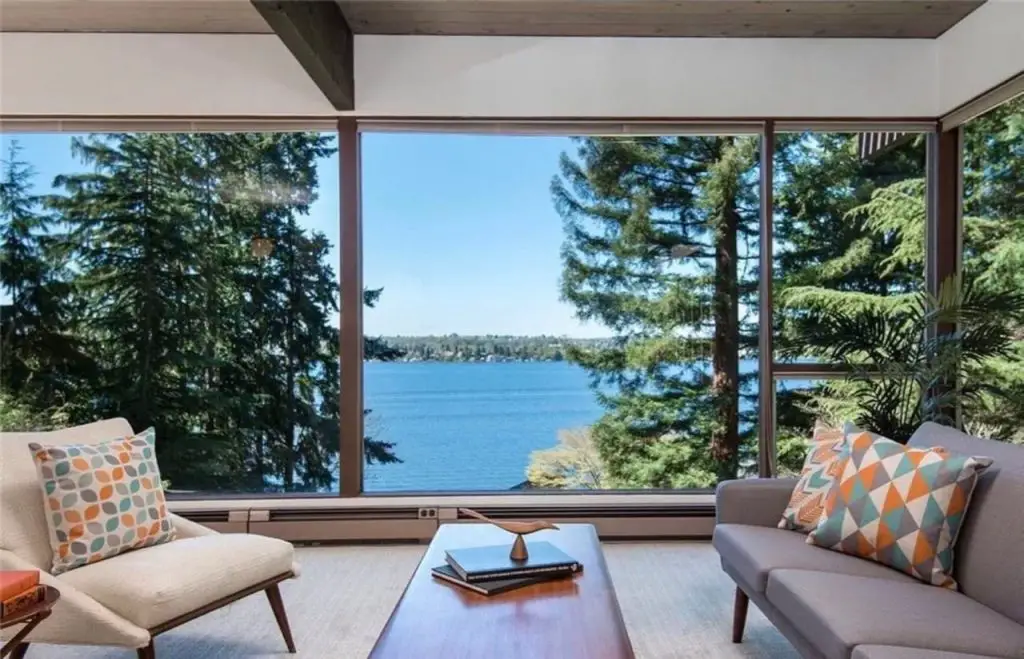 Windows wrap around the entire home, evoking the feeling of hovering over the surrounding nature from the inside while framing views of Lake Washington, the Olympic Mountains as well as the large dock at the waterfront by day or sunsets by night.
The materials used on the inside, such as the classic wood ceiling with exposed beams, complement the natural surroundings outside. Thanks to the commitment to a few natural materials – a few types of wood plus a basalt hearth in the living area – an easy flow carries between the interior spaces.
Furniture is kept to the bare minimum, while the few walls made from rich wood slats enhance the relationship between the inside and the outdoors. The color palette of the interior decor complies to the natural tones inside and out. Wood, soft greys and sandy hues follow from one space to another. Splashes of color brighten up the place in details such as pillows, works of art and carpet.
The kitchen appears revived, equipped with modern amenities and plenty of cupboards to stash away clutter. The other side of the kitchen island rises higher, hiding the sink and kitchen counter from the living area. The small detail is a clever way of connecting the entertainment areas from the kitchen, while hiding the mess from guests.
Access to outside is found on both sides of the building; the bedroom as well as dining areas open to wooden decks, which extend out over the hillside. Glass railings ensure that nothing gets in the way of the stunning views of the waterfront or forest views. The deck provides plenty of space for sunbathing, relaxing or dining out during gorgeous summer evenings
The single family residence extends over 1,940 square feet and appeared on the market priced at $1,375,000.