Frank Lloyd Wright designed over a thousand different structures during his lifespan, the majority of which were houses. He was a domestic architect and believed he could have greater impact if he designed structures where people were going to live. He also believed that a house would be more a home if it was a piece of art.
Even though he concentrated his efforts on building houses, Frank lloyd Wright has made his mark by building some impressive projects as well like the Imperial Hotel in Tokyo, Japan.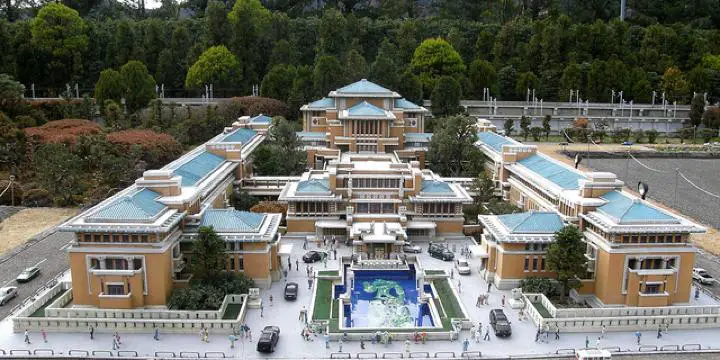 He has spent many years in Japan seeing through the construction of the Imperial Hotel, meanwhile analyzing the Japanese traditional style of building. In Frank Lloyd Wright eyes the Japanese house represented an ideal way to build, grounded in the landscape and using local materials. The Imperial Hotel was a complex building that took months of planning and displayed many intricate decorative details.
Wright developed his vision of a hotel that would provide the visitor with a host of visual delight and would be a comfortable place to stay. Every single room of the hotel was carefully designed and not one single room was identical.
Even small  details like the design of the fittings and fixtures were carefully manufactured on site and installed under the architect watchful supervision.
One of the greatest challenges designing the Imperial Hotel was to build the structure securely against the threat of earthquakes. The soil did not provide any kind of solid support with no bedrock within 60 feet of digging. Frank lloyd Wright came up with an unique solution to float the building on the mud rather than trying to find some hard foundation for it.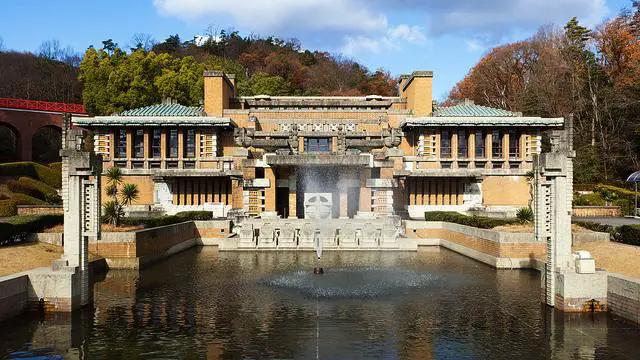 He designed a series of concrete pins, nine feet buried in the soil and overlaying the floor slabs of the building on top of the concrete pins. Because no one has ever constructed a support system like this before, Wright's inventiveness was greeted the needed scepticism. After the great earthquake that shook Japan in 1923, on the day of its opening, the building shook but stayed intact, awarding Frank lloyd Wright with a new respect and admiration for his genius.
from the Hotel's page: "On the very day of its grand opening, one of the most devastating earthquakes in recorded history struck Tokyo and Yokohama and razed vast sections of both cities, killing tens of thousands of people, but leaving the new Imperial intact with minimal damage."
The Imperial Hotel was demolished in 1968  but the main lobby survives at Nagoya's Meiji-mura.
SEE MORE about Frank Lloyd Wright

Photos via Flickr users Nemo's great uncle and Addison Godel