[tie_slideshow]
[tie_slide]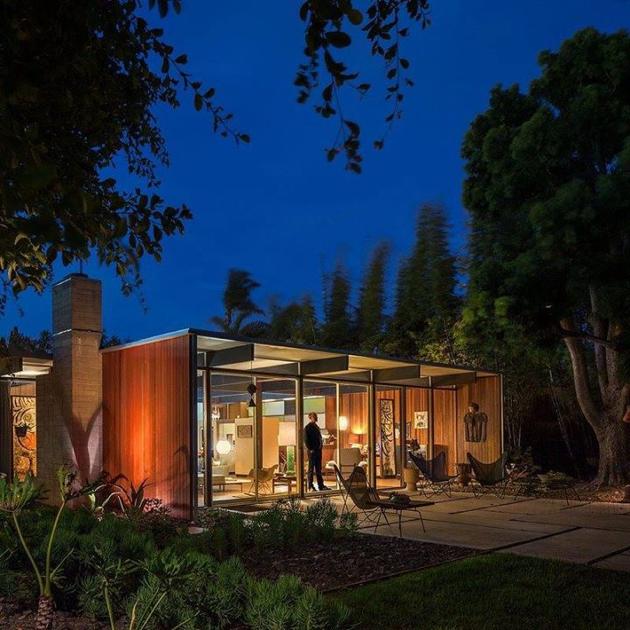 [/tie_slide]
[tie_slide]
[/tie_slide]
[tie_slide]
[/tie_slide]
[tie_slide]
[/tie_slide]
[tie_slide]
[/tie_slide]
[tie_slide]
[/tie_slide]
[tie_slide]
[/tie_slide]
[tie_slide]
[/tie_slide]
[tie_slide]
[/tie_slide]
[tie_slide]
[/tie_slide]
[tie_slide]
[/tie_slide]
[tie_slide]
[/tie_slide]
[/tie_slideshow]

With no formal training in architecture, design or landscape solutions, Keith York(the current owner of the Craig Ellwood Bobertz house) never foresaw becoming a devoted proponent of all three in the city of San Diego which he loves so dearly.
It wasn't until early 1999, when a plan to relocate closer to San Diego State University, York's place of work at the time, and a short conversation on a lawn in front of a stark, gently foreboding facade, that the now flourishing seed was planted.
Approaching who was now the fourth owner of this secretive construction while on a bicycle tour of the neighborhood, York inquired as to who had designed such an unusual home.
Believing that the structure was not so different to the other 1950's constructions on the street, the owner gave no clue as to the house's origins but did gave away one piece of information that would ignite in York the desire to hand deliver a letter of enquiry within a few days; beyond the vast, opaque redwood` walls, the house was comprised of floor to ceiling glass walls.
Unbeknownst to him and the house's then owner, York had stumbled across Craig Ellwood's Bobertz House.
Shortly after this meeting, Craig Ellwood biographer, Dr. Neil Jackson, visited the Bobertz residence while on a tour of his Ellwood's built projects throughout Southern California as he prepped for his book California Modern and confirmed that the house, despite not appearing in Ellwood's archives, was not only designed and built by Ellwood but was still largely intact despite some alterations. Later, York would also learn that this peculiar home was closely related to Ellwood's Anderson House.
York was sold, and wasted no time working towards acquiring the home he now loves. "In 2000, I leased the house to keep it from going up for sale – buying time while I fixed up my house for sale – and later in the year purchased it.
By the time I occupied the home, I had been in regular contact with Jackson and Alfonso Perez-Mendez who was also in the midst of publishing two books on Ellwood."
The house was already driving York toward research and involvement in mid-century domestic architecture, and he soon understood that he was not simply buying a home, but buying a work of art and innovative design that stands as a testament to his now refined message and mission; to celebrate and educate others on the subject of San Diego's often unrecognized and underappreciated modernist architectural heritage.
Around the same time that York discovered Ellwood's Bobertz house, his interest in architecture grew to a fever pitch. "I drove the length of California to see Wright sites; I began photographing unique homes in San Diego, and was spending my lunch hour in the library."
Books on Richard Neutra, Marcel Breuer and Mies Van Der Rohe became gospel for York but one strange book in particular, written by Esther McCoy and featuring images of the Courtyard Apartments, would enamor him and serve to heighten his love for modernist architecture and, subsequently, Craig Ellwood's work.
Having purchased the house and embarked on a journey into the joys of modernist architecture, York then began work on restoring Ellwood's design to its original state. "For many years, I thought my house was more challenging than others' homes only because it was in such disrepair as remodeling by previous owners had moved the house away from its original design. The first great challenge was when I realized that I bought a home that needed to be restored rather than remodeled or renovated as most home buyers consider."
York's goal was not to simply redecorate, but "to restore the house as a commitment to the community, to architectural scholarship, as well as my own aesthetic vision."
Also furnished with items from the same era as the buildings construction, the house was to become a living museum, a domestic space enjoyed both by York and his beloved wife Jessica and daughter June and the intrigued members of the public whose visits have become more frequent than those of York's own family and friends.
This particular mid-century house garners so much interest due to York's devoted restoration work. A testament to this commitment is that York made his home smaller in order to restore the homes original layout. "By restoring a patio that for decades was enclosed into a room; deleting a laundry room addition, and pulling a glass wall back to its original configuration I think my house is about 600 square feet smaller than what I purchased."
York also stayed true to the design's vision by removing windows in the eastern wall of the home as they undermined Ellwood's either-or determination, which dictated that walls should either be solid or completely transparent. 15 years on, the house now stands in stark contrast to the condition it was in when it was purchased.
York's dogged restoration and historically influenced furnishing of the home was made possible by his striking an important friendship with the house's original commissioning client, Gerry Bobertz, who kept the original landscape drawings, fabric samples, letters and photographs that related to the house, and obtaining the original drawings from Ellwood's draftsman, Ernie Jacks, in 2003.
"Seeing, in black & white, how the original interior was composed has led me to several decisions – from cork flooring to the purchase of fiberglass armshells by Charles Eames, a ball clock by George Nelson and so much more. My hope is to someday have the entire home furnished by art, craft and furniture circa 1954-58 when the Bobertz's lived here."
When asked what other famous mid-century home he could see himself living in, York replied that "Mies' Farnsworth House or Philip Johnson's Glass House would be on the shortlist."
It is clear that York, a man with little history in the world of modernist architecture previous to purchasing Craig Ellwood's Bobertz house, is now deeply devoted to celebrating mid-century homes, particularly in the city of San Diego.
At York's contented admission, "the house has catapulted me into a space I naively entered." York's own domestic space has instilled in him the belief that the home can serve as a platform to teach and learn, not only to inhabit.
Most importantly to York, however, is arriving home every day to the stained redwood wall that faces the street with contempt, and being able to enjoy this magnificent home with his family, in the knowledge that his daughter, growing up in these innovative and inspiring surroundings, will be shaped by the home in which she lives.
Thank you to Keith York for his passion and dedication to restore a Modernist architecture gem: Craig Ellwood's Bobertz house.
Photos by Darren Bradley.