The entirely glass facade of The Brady House is a feature facilitated by the home's interior courtyard. At two stories high, the elegant midcentury design is the work of internationally acclaimed architect firm of Killingsworth, Brady & Associates. Some while ago, we featured an interview with current homeowner Lewy Kallas. We felt today is as good a day as ever to dive into the alluring home once more.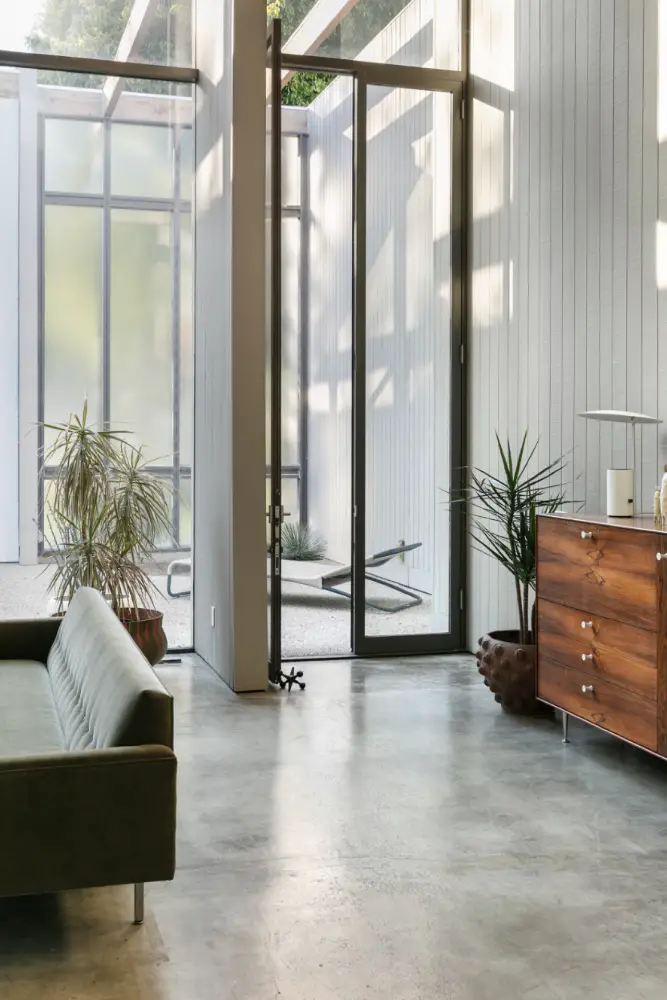 Located in Long Beach, California, The Brady Residence extends over 3,154 square feet, accommodating two bedrooms and four baths in addition to the home's shared spaces. Based in the same area, the renowned firm of Killingsworth, Brady & Associates remain highly influential as being responsible for some of the greatest midcentury architecture in Southern California.
The company is also known for designing two of the Case Study Houses. Similar to their Case Study House #25, The Brady Residence also features a colossal seventeen foot high front door, which opens to a private outdoor patio. The interior courtyard offers peace and privacy, all the while forging a seamless indoor to outdoor connection.

From the get go, transparent doors and the open sky of the patio invite more than enough natural light to enter the home. Thanks to the carefully thought out composition of the residence, the shapes formed by shadows and light play a major role in The Brady House.

Once past the impressive entrance, ceilings rising up to eighteen feet uphold a grand feel inside the open plan living spaces. Here, Killingsworth's genius in terms of scale and proportion truly shine. The space adheres to a neutral colour palette, mostly made up of earthy greys, greens and white.
Despite the abundance of glass and open space, the living room maintains a natural, serene and cosy atmosphere. The interior decor includes furniture by Herman Miller and George Nelson, to name a couple. The living room also features a central fireplace that is embedded into a white brick wall, extending up to the second story of the home.

Upstairs can be reached via a steel staircase. Lined with sculptural walnut railing, the staircase is a stunning piece of interior design, which leads to a second lounge and the private areas of the home.