The designs of architect Rodney Walker's Case Study homes are known and celebrated worldwide. However, his 4300 square-foot residence, known as the Rodney Walker Residence in Ojai, California, is relatively unknown.
Architectural enthusiasts who do know of the massive house give the creation credit as being the architect's most significant. Personally, the architect was known for not flaunting his successes, therefore he did not boast about the masterpiece that was his very home.
While the Ojai residence is known for utilizing an equilateral triangle, Walker was not the first to do so. Famed architect Frank Lloyd Wright is cited as using a modular system of these triangles in many of his designs.
A small residence designed by John Lautner has a perimeter the shape of an equilateral triangle also. Regardless, the architect does not sacrifice utility in the Rodney Walker Residence.
In fact, his design pronounces the use of the form which has become a true statement today and part of the popularity of modern California indoor-outdoor living.
The site of Rodney Walker's residence was chosen to be on a unique hilltop on the western edge of the Ojai Valley – a location which gives 270-degree panoramic views while at the same time giving occupants  total privacy.
ALSO READ: This Beverly Hills Platform House is Full of Charm
Beneath the roof eaves are mobile glass panels and curtain glass walls, a design which gives the feel of a cinerama. The design makes it so the resident is not just looking at valleys and mountains. Rather, the resident is one with the valley and the mountains.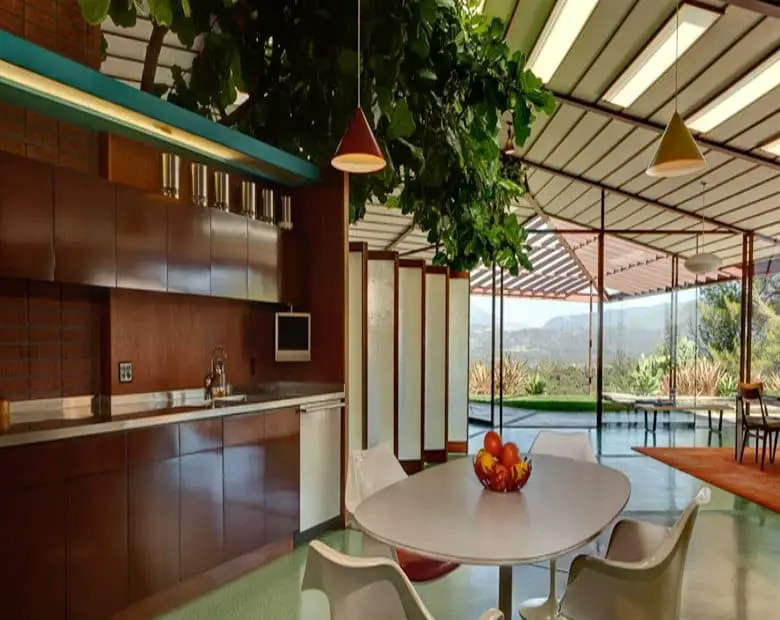 The house sits on almost 3.5 acres of land. A spacious plaza for parking and the residence's entrance is greeted with a gated, private drive that winds up the hill gently. The living areas are spacious and include four bedrooms, a media room, and three bathrooms.