The Rose house was designed by architect James Speyer in 1953, is a stunning example of Californian Modernist architecture and part of the history of Hollywood as well. Read the transcript and check the photos below, to find out why.
Transcript:
The Rose House, most important Modernist building in the Chicago area. We are sitting right now in the living room of the Rose House in Highland Park built for Ben and Fran Rose in 1953 by architect James Speyer. A remarkable room incidentally; it's 25 by 40 feet which provides an indoor space as well as the outdoor view that we get through these marvelous glass windows.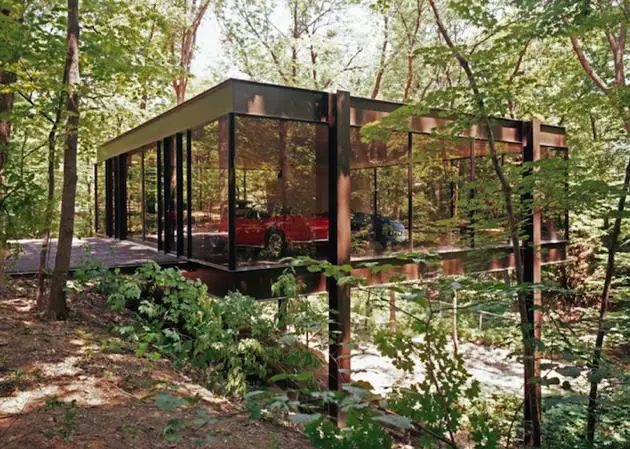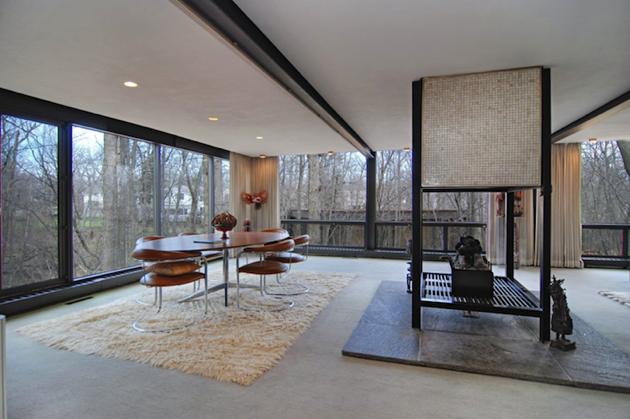 This house is, curiously, it's a two part house done by two different architects. They worked together very, very well, but the house itself designed by Speyer is one part of that, the other part is the pavilion designed by David Haid. And curiously enough both men, Haid as an architect, and Speyer as an architect had studied with Mies Van der Rohe.
The pavilion served very, very well as a place where the Rose collection of automobiles could be kept.
One of the aspects of the Rose house, it was featured in a motion picture called Ferris Bueller's Day Off, directed by John Hughes. In that movie as I remember it, one of the characters in a fit of pique wanted to drive the car through the pavilion, through the glass wall, and down into the ravine.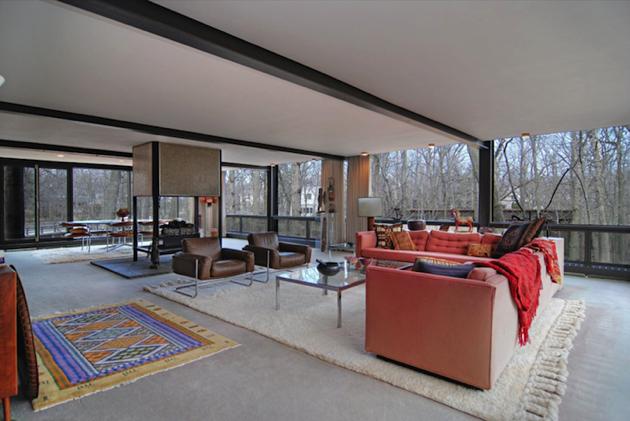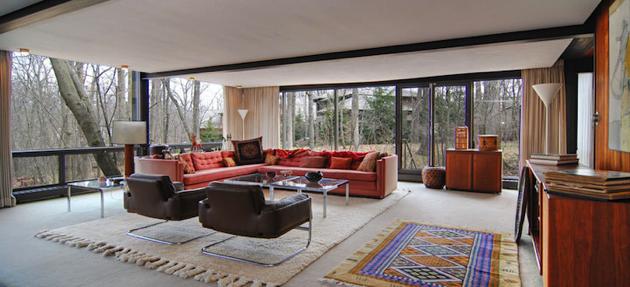 David Haid heard of Hughes's intentions to do this, and told Hughes that he could prevent the car from demolishing the entire pavilion, which was the thing he feared. And Haid managed somehow to fix connections in the wall, so that the car did go through the wall, and down into the ravine, but the pavilion was saved. And that worked out very, very well whereupon Haid said to Hughes, "You owe me $25,000," and Hughes paid that, either willing or grudgingly, but the point is he did pay it.
Following the death early this year of Fran Rose, the house has been put up for sale and is now on the market. And the hope is that whoever does buy it will appreciate the importance of the house itself.

It's my understanding that inquiries have been made about the possibility of substantial alteration to the house, possibly even demolition. And that outlook it seems to me would be a loss to James Speyer's own legacy. But no less important is the fact is that the Rose house is one of the most important houses in the Chicago area and adds to the importance of the decision of Landmarks Illinois to put this house on its watch-list.