The Turner Residence may be one of the most discrete contemporary modern homes we've ever come across. Built by Jensen Architects in 2013, it is located in Larkspur, California, amongst the ridge line of an oak covered hill, overlookin Mount Tamalpais, and the Bay.
At first sight this contemporary home design seems only to consist of a single pavilion, which rather resembles a basic pool house (a perception reinforced by the presence of a pool right next to it). But this is just the peak of the building. Another two levels can be found beneath it, acting as a plinth for this curious pool-side pavilion.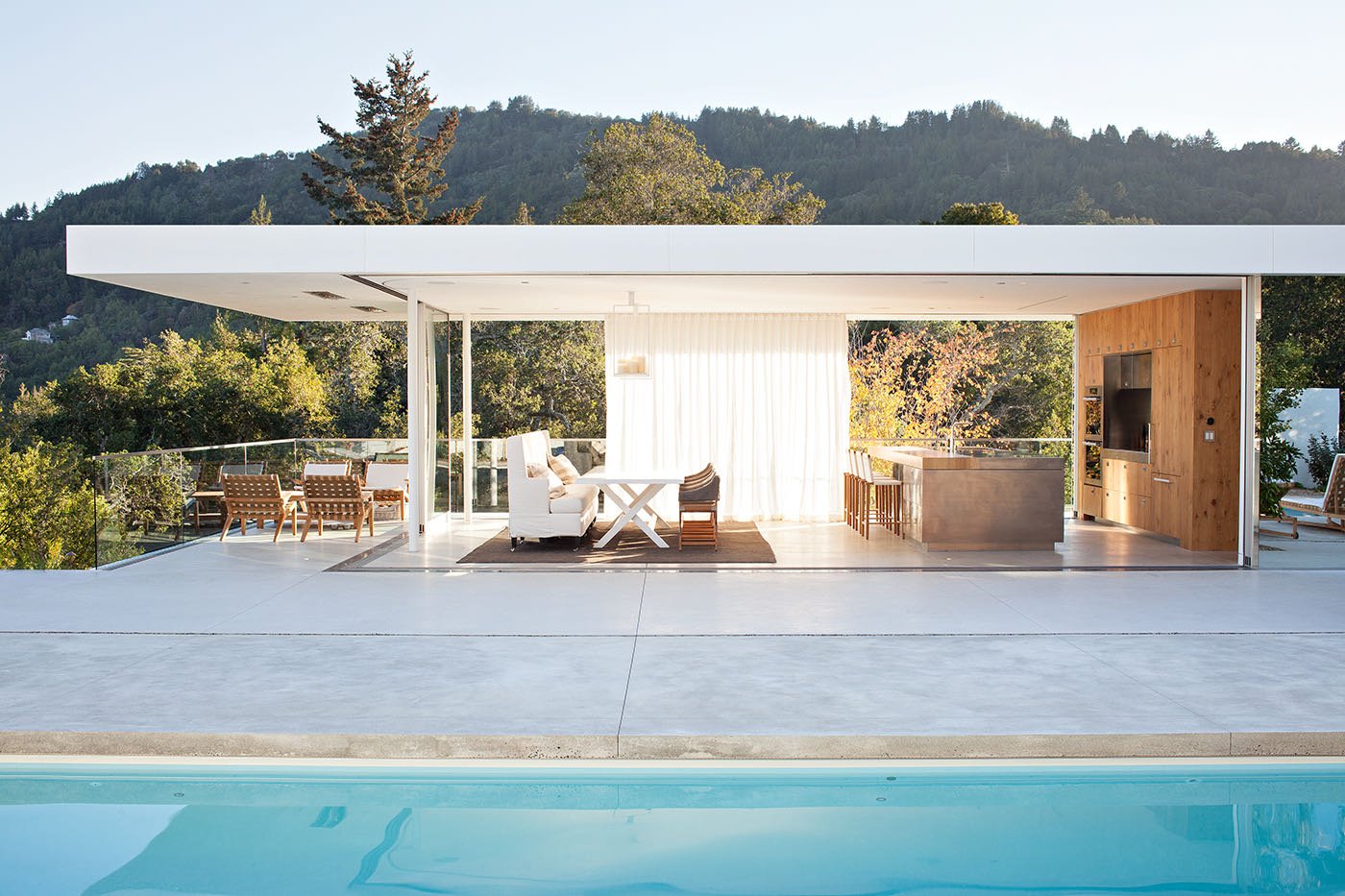 These two levels house the bedrooms, and bathrooms. Their concealment lends a considerable amount of privacy, and cosiness to these spaces. But these are not the primary reasons why the space has been arranged in such a way. Rather, this arrangement is born out of a desire not to affect the environment on which this contemporary style home has been built, an area of outstanding natural beauty.
As the architects explain, "The key was not to build on top of the hill, but rather to build into the hill, with the remaining volume partially tucked into the earth, and partially threaded through the existing oak trees on site."
The discreteness also continues with the pavilion, which has a number of features geared towards concealing most of the structure. To begin with, it is difficult to work out what's holding the roof up, since it features no supporting walls around its perimeter.
This is helped by sliding glass door, and the use of several mirrors, which obscure what it is your looking at: is it the environment beyond the house, or a reflection from behind? Either way, the effect is to distract from any structural elements supporting the roof, making it look as if it is floating freely in the air.
Of course, in reality, the structural support is merely very well concealed: with the lightweight roof held up by four steel pillars and a middle wall, all springing from a solid core. But the pillars are so thin, that you'd be forgiven for missing them, while the middle wall also doubles to house the kitchen cupboards and various appliances.
Again, this architectural virtuosity is not merely geared towards the needs of the homeowners, but also to the surrounding environment. As the architects go on to explain, all these features also result in the house "virtually disappearing" from a distant vantage point, so that views of the mountains and oak groves are not interfered with.
Several other noteworthy elements underline the design's focus on minimising environmental impact, including radiant heating, and the use of prefabricated element to minimise on-site waste.
It all adds up to an exemplary work of contemporary architecture.