This home is borne of the mi shack solution –  a system of modular zones that packages the design process into pre-defined elements.This provides more surety of outcome than a custom design process and offers extreme flexibility. The zones can flip, slide, spin and float under two roof types, ensuring each mi shack is unique.
Mi shack was developed for those who want an architects vision but not not the complexity and costs associated with a bespoke design process. It's a new way to design using a modular system of preconfigured zones and pre-defined elements delivered via an uncomplicated system that utilizes a hybrid of prefabricated and site built elements.
Mi shack pays homage to the iconic early modernist and mid-century architects to create simple, smart, sophisticated and affordable shacks.
We chatted with Marcus from mi shack to find out more about this project.
Who were the clients for this project?
"With a real love for the infamous 'Kaufmann Desert House' (by Richard Neutra architect) in Palm Springs and three very active rug rats, our clients asked for a midcentury inspired shack that adapts as their family grows – including an American Diner styled breakfast breakout area for the family to commune and connect at every morning."
 Do you have details on the client brief?
"Spatially the layout needed to be able to adapt as the needs of this family of two adults and three young children changed over time. In time the parents will build over the rear carport to create their separate retreat and handover the main house to the growing brood.
The shack characterizes simple easy flow layouts with seamless integration of main indoor and outdoor areas to allow enable easy expansion of space and multiplicity of use depending on climate, activity or event.
It also needed to a have the spirit of a mid-century aesthetic in order to align with (but not mimic literally) the client's keen love for the infamous Kaufmann House and American Diner styled breakfast booths. Other drivers included a desire for an open plan living area flooded in natural daylight and seamless integration with the main outdoor living area.
This was achieved very simply in part due to the sites excellent solar north orientation and the longest sides of the lot being the north and south flanks – perfect conditions for a solar passive design – and in part due to mi shack's integral feature of a central access spine (the 'glide' zone) that naturally delineates the main indoor and outdoor living spaces to the north (Southern Hemisphere) flooding them with daylight as the day and seasons permit.
As a typical busy family of two full time working adults and all rug rats at school, there was a strong desire to commune and connect and meal times are of course the best time for this. Their love of the American Diner styled Breakfast Booth was the perfect instrument for this acting as a natural hub for the family members to tell stories, advise plans, and for Mum and Dad to dispense important daily duties in the convenience of a round table scenario.
The clients – thank god – adamantly did not want the typical double garage at the front of the house scenario. We were blessed with being able to create a lane way to the side of the house, which stealthily doubled as landscaping with only paved tyre runs to allow rear access to the hidden double carport.
At its heart, the great icons of midcentury and modernist architecture and design have inspired the creation of mi shack, not only stylistically but also for the innovative construction and project scheduling methods they devised and collaborative partnerships they created with developers, builders and suppliers.
For this project we gave a small 'tip of the hat' acknowledgement at the front to one of our heroes' legendary architect Richard Neutra and his ground breaking Kaufmann house via some simple vertical steel screeningWith the photo shoot we aimed for the moody Palm Springs full moon aesthetic as created by the very talented Tom Blachford with his magical 'Midnight Modern' series.
Our equally talented photographer Dion Robeson did a fabulous job creating the aesthetic we wanted aided by a rare Red Blood Moon event."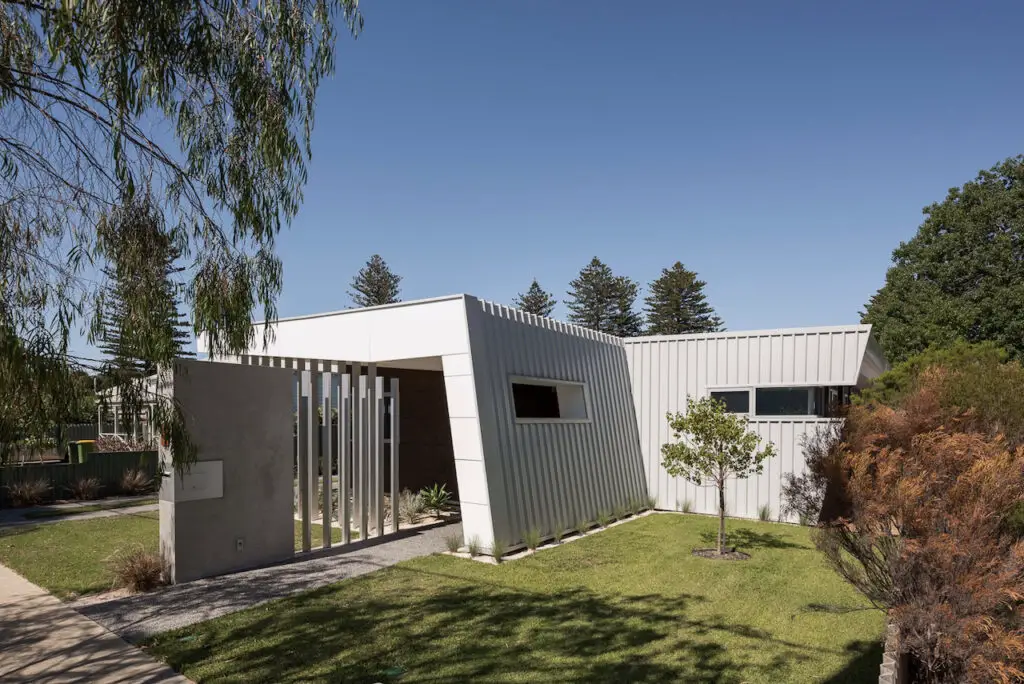 What mid-century influences did you want to include?
"Where do I stop?! To be specific I would say, stylistically for 'mi shack', it is the long spanning low-pitched roof forms, from a build-ability perspective it was their innovative approach to construction methods and process that enabled quality design and architecture for a mass market not just a select few – the same ethos of 'mi shack'.
So … I would include 'Alexander Homes', 'Eichlers' and architects such as Palmer and Krisel, William F. Cody, Donald Wexler, E. Stewart Williams, A.Quincy Jones, Charles Dubois. Probably my greatest influence is my fav childhood cartoon series 'The Jetson's' … jam packed full of atomic space age MCM influences.
Personally, I admire immensely the work of iconic architects such as Marcel Brewer, Richard Neutra, Pierre Koenig, Harry Seidler, Albert Frey, John Lautner and in our home city of Perth, Western Australia, the amazing Iwan Iwanoff for their pioneering designs and approaches – also, basically anyone that Julius Shulman photographed of course."
What do you think was so special about this period in American design?
"It was a period of well-designed, timeless creation that still feels fresh and modern today – it has stood the test of time and continues to reverberate unabated."
What were your challenges for this project?
"Not a lot to be honest as the site was relatively flat resulting in minimal earthworks, and the site proportions and orientation allowed for perfect solar passive design conditions. The greatest challenge came from a few 'strange' and illogical planning regulations that would make any architect's eye's roll back but hey that's a normal days work in the office."
What in your opinion are the best features of the home?
"My personal favourite element is the folding roof forming the entry; it enlivens what is generally a very bland streetscape and invites others to be more daring by precedent. Ecologically speaking I would always highly rate the great solar passive design aspects as its simply a no brainer if you can get free natural heating from the sun, and passive cooling from prevailing winds."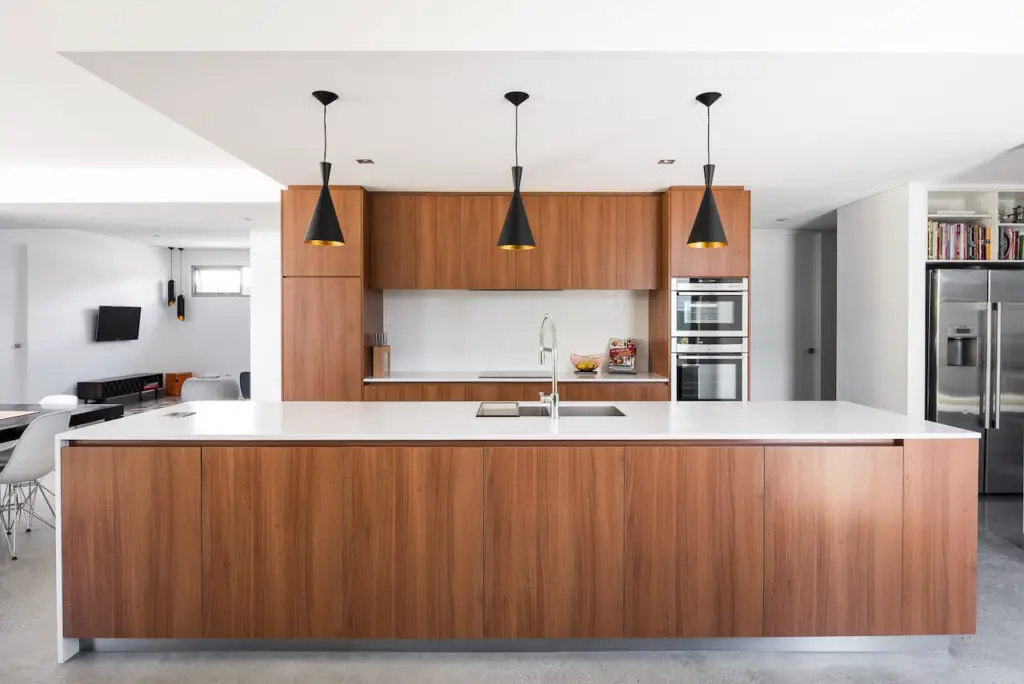 Do you have any tips for people interested in buying a mid-century house or building a new home with mid-century design elements? What should they pay attention to and why?
We like to call what we are doing at 'mi shack' – 'New Century Modern for lovers of Mid-Century Modern'. The point being we are in a different era with different conditions for designing and building so it's about honouring, admiring and evolving our influences within our own time to create something new. So, I would suggest, don't try and replicate if you are designing a new home.
There are also current era planning and building regulation realities especially in terms of 'energy efficiency' requirements that can make the wide expanses of glazing typified in many examples of mid-century architecture cost prohibitive due to the minimum standards required for compliance, so know the current rules before you get your heart set. Many clients I find are completely unaware and amazed by the complexity of the regulatory environment that we need to navigate as designers.
However, if you own an iconic mid-century home and it burnt down or is in terrible state of disrepair then I would say, by all means bring it back to its former glory if you can – incorporated with some modern touches for todays world."
The clients were overjoyed with the outcome and their testimonial exemplifies everything mi shack sought to deliver.
"Where do I start with what we like about the house…in short 'everything'!!!…I love the space, how much light there is, the polished concrete floors, the simplicity of the design and sophistication, the ease of living there. I love my kitchen and scullery and especially my booth. I am still amazed by how good it feels to live there.
I love in summer how cool it is and feeling the prevailing afternoon sea breeze that cools the latter part of hot summer days. I love watching the rain and the storms come in during the colder months and how warm the house is. I love the open fire.  I love the winter sun warming the living area. I need to stop but there is just so much to love about our house."
Photos by Dion Robeson
Geoff Longwood Constructions