This contemporary home design is inspired by midcentury architecture. Designed around a central courtyard, the house drinks in natural light from all sides. 1950s style Ingelwood Residence is the work of Texas company Mark Odom Architecture and was brought to completion in 2020 in Austin.
Out front, a carport makes space for a couple of parking spots, after which the home's turquoise tinted door grants access inside. The homeowner, a huge fan of midcentury style, requested for the classic style of that era in a modern home setting.
Although Inglewood Residence stretches over 2,400 square feet, the house doesn't boast with size and remains rather subtle within its residential context. The exterior features pale masonry walls, which are partly repeated on the inside, as well as slatted screens of natural wood. This color palette adds to the subtlety of the home and ties it together with the surrounding trees.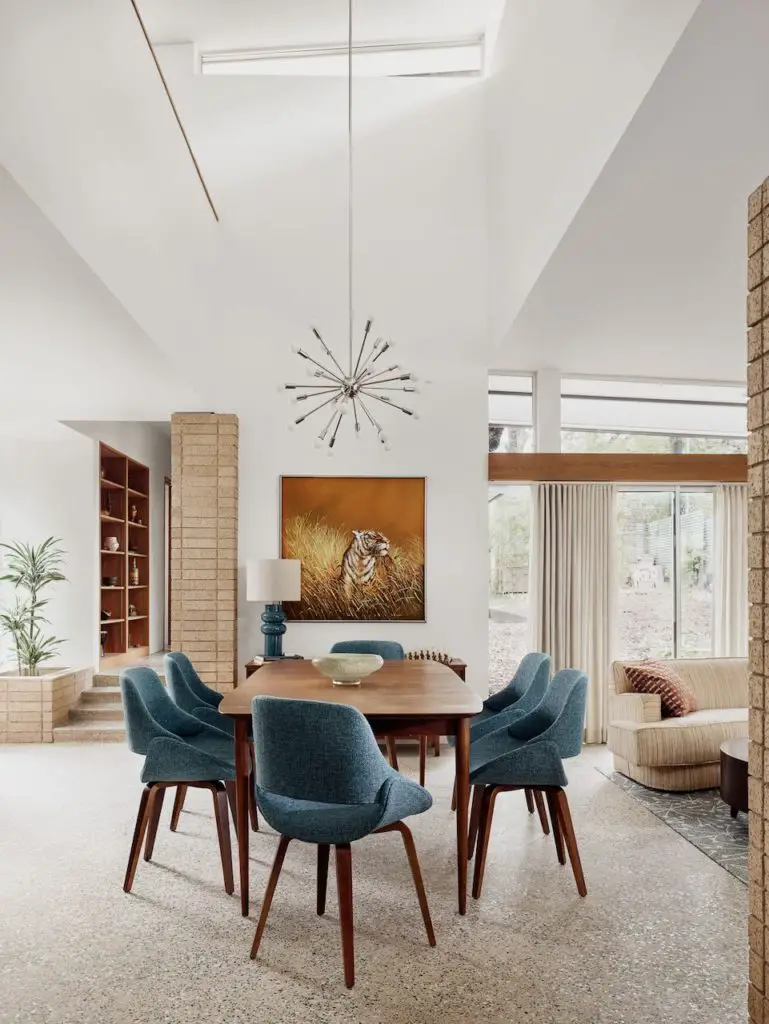 Clean white walls, wooden elements and an abundance of floor to ceiling glass dominate the interior of the house. The bits of brick wall from outside continue throughout the house, connecting the spaces with one another.
Sustainable materials as well as building methods were used throughout the project. Throughout the interior, terraced areas build upon a general flow and add perspective to the home.
Building did not come without its own challenges. Doug Cameron of ESS Design+Build, the building company for this project said, "The terrazzo foundation was a tremendous team building experience, as 1800 pounds of various colored glass was hand spread into the three-tiered foundation as the concrete was setting up. The finished floor is truly a-one-of-a-kind finish that won't be duplicated."
The collaboration between Mark Odom, ESS Design+Build and the client materialized as a dream home for the client: "Everything I absorbed in my childhood I incorporated into my home. Repurposed wooden bookshelves were incorporated into the master corridor that originally came from my father's classroom, a former Texas school teacher responsible for much of our present-day public-school math curriculum".