Sitting in the thick of lush greenery and mountain views, this contemporary home design, largely made of glass, enjoys an uninterrupted connection to its surrounding landscape. The modern home was brought to completion in 2017 in Antioquia, Colombia, by local Architecture firm Llano Arquitectos in Colombia.
The Candelaria House features multiple rectangular frames of windows on both sides of the building, which are held together by a black steel frame. Both ends of the home support large windows inviting natural light to flood in from all sides. The upper floor of the home extends from inside to a large terrace. The roof extends over the terrace with a row of open slits creating ventilation, light and a connection to the surroundings.
The lower level of the 187 square meter retreat accommodates the common areas, including an open plan living room, dining room and kitchen. The absence of walls in between creates transparency and an open flow throughout the space.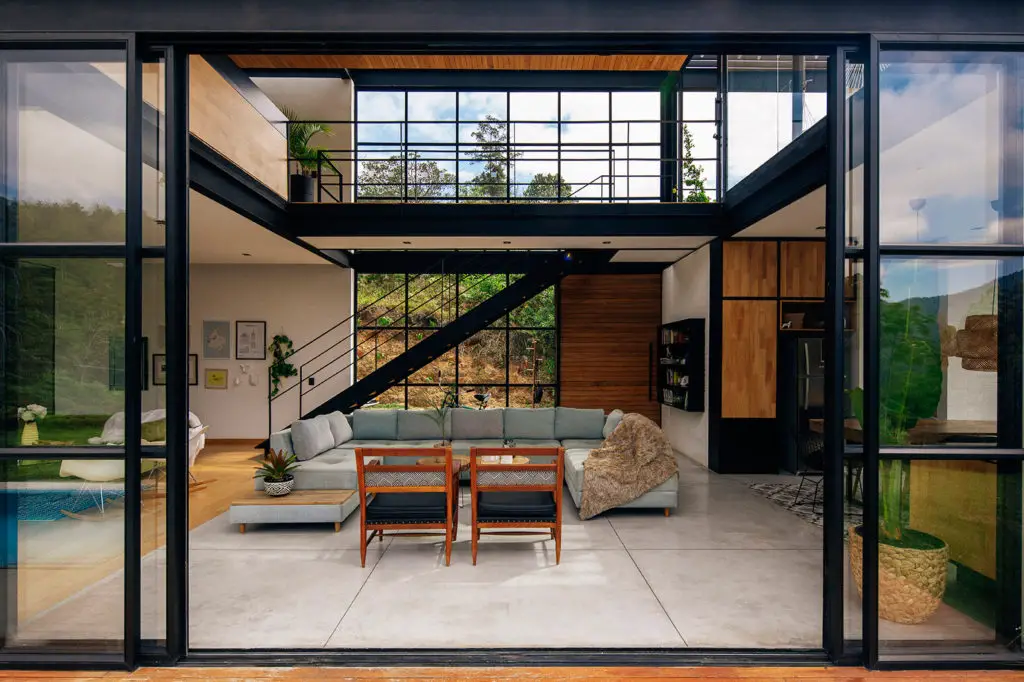 Glass doors slide open from the living area, granting direct access to the wooden patio and pool outside. The rest of the yard is made of well maintained grass, which extends until it turns into more dense natural landscape made up of regional trees and bushes.
Up the staircase a smaller, second floor accommodates the master bedroom as well as the aforementioned terrace. The two spaces are connected by a narrow metal structure bridge which crosses the central void. Similarly to downstairs, the absence of walls establishes a unique design element.
Apart from the glazed metal structure, the modern home is supported by spreads of grey toned brick. Back inside, the same shade of wood used to make the patio adds a natural touch to the all-wood ceiling of Candelaria House.