The project brief for this couple came down to a single aesthetic directive: Scandinavia meets Japan. This midcentury ranch home in the hills of Santa Rosa was updated to open up the main living area and create a layered approach to indoor and outdoor living. We chatted with Strening Architects to find out more.
Could you tell us about the brief for the project and what you wanted to achieve?
"This project was for a young couple relocating back to Santa Rosa from New York.  They sought to update a mid-century ranch home they purchased in the hills of Santa Rosa – with a distinct vision."
What do you think was so special about the midcentury period in American design?
"It was a time period where Architects and Designers were envisioning a new way of living – with a more direct relationship between the house, the landscape and the daily needs of the occupant.  This emphasis on the house designed for the way people lived, and as a direct response to the surrounding landscape that is fundamental to good Architecture."
What were your challenges for this project?
"Repairing the damage from a poorly conceived remodel in the 80's as well as some tricky structural engineering to provide a large window wall to the garden."
What was the house like previously?
"The house had gone through a somewhat tragic remodel in the 80's that cut it up into smaller generic rooms, and disconnected it with the landscape setting."
What in your opinion are the best features of the home?
"The way our design response eliminated any unnecessary barriers to the main living area, as well as creating a more layered approach to indoor/outdoor living through a new expansive window wall and outdoor covered area."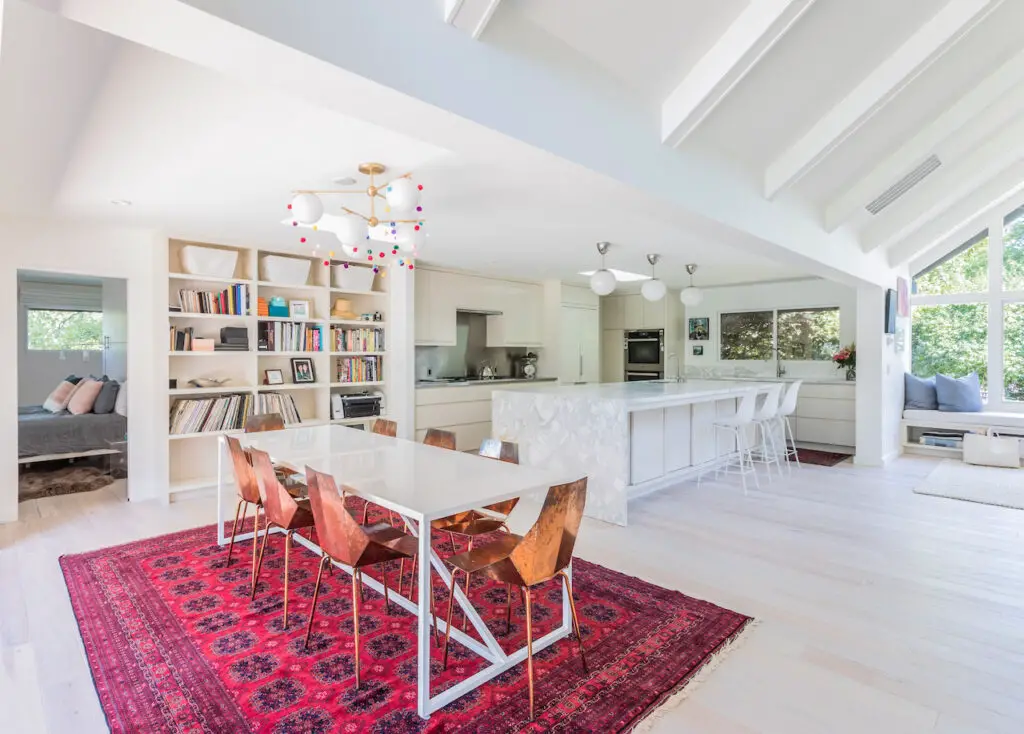 Do you have any tips for people interested in adding mid century design elements to their home? What should they pay attention to and why?
"I think the true mid-century gems all share these common traits that are timeless:
 – airy, open and daylit spaces
 – integration with the landscape, often blurring the lines between indoor and out
 – simple, accessible structure
If one was looking to purchase a mid-century home – look for these traits.  It may take a little imagination if some of the traits have been hidden by a previous remodel.  However, if you 'get back to these basics' in your remodel – you'll be rewarded."
Photos by Emily Hagopian