When the clients bought this home in Silver Lake, Los Angeles, it was extremely run down. With the help of And And And Studio, the home was stripped to its foundations and given a new lease on life.
Annie Ritz and Daniel Rabin of And And And Studio sought to take advantage of the sloping site, and had the idea to build a treehouse. This would in turn afford views, hide the car parking and allow for a distinct interior.
Particularly exciting was the fact that the home looks towards John Lautner's famed Silvertop project, across the reservoir from the home.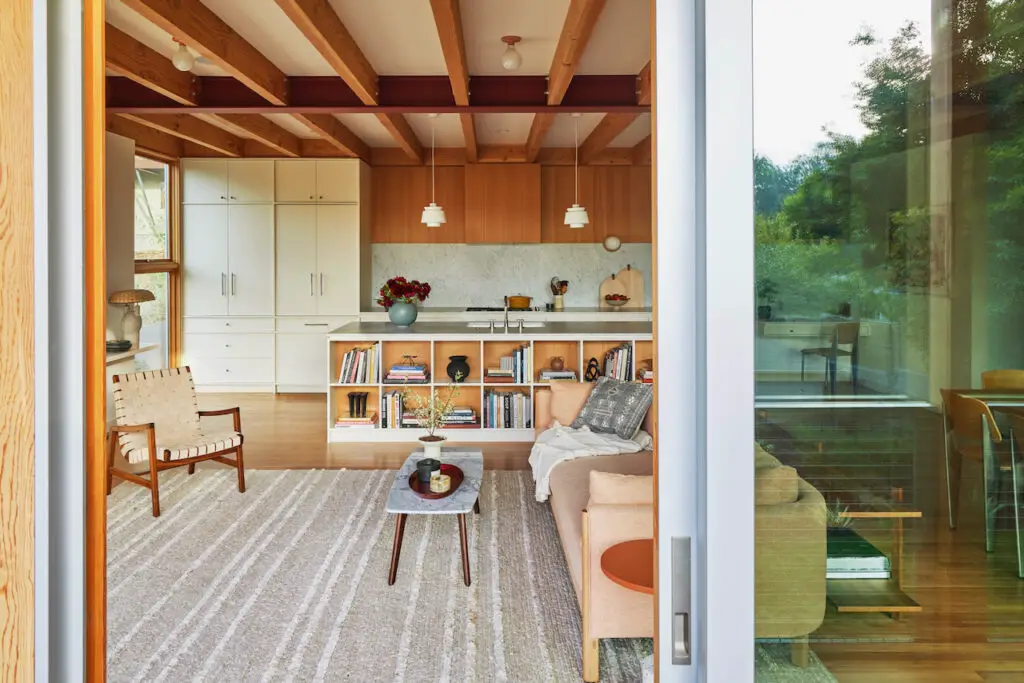 We chatted with the team at and&+ studio to find out more about the project and started out by asking about details of the client brief.
"The client brief was pretty straight forward. They had purchased a house that was extremely run down.  There was not much hope in rehabilitating it, so we decided to take the house down to the foundation and rebuild and expand on top of that."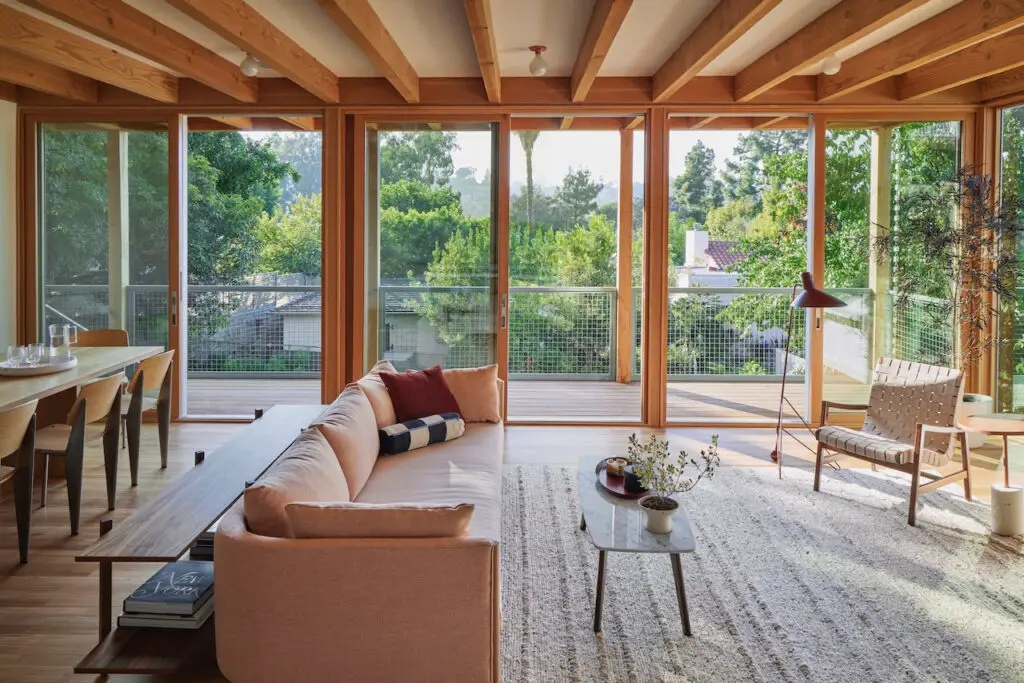 What mid century influences did you want to include?
"I don't know if we had a strict single reference, but looked at a lot of Craig Ellwood houses. The reduction to the main building elements, the repetitive grid, and the exposed structure were elements we knew we wanted to use. 
We really pushed to keep the house as horizontal and low as possible.  We felt that the reading of the house as a low but horizontal structure was the most exciting."   
What do you think was so special about this period in American design?
"The period continues to be an influence especially in and around Los Angeles, where there are so many iconic houses and structures.  For us and this project I think the use of limited elements to create the overall atmosphere is really the common thread."
What were your challenges for this project?
"Though the site looks mostly flat it is in a hillside area and the quality of the soil became very challenging to work with.  There is a lot of concrete holding up a hillside in the back."
What in your opinion are the best features of the home?
"The initial architectural stroke of raising the house a storey above grade creates a treehouse like feel from the main public spaces.  This feature effect of raising the house a story above grade creates a treehouse like effect – when you walk into the main floor, you float above the trees."
The stunning combination of natural light and materials, alongside vintage and new interior furnishings give this home a unique and relaxed feel.
Finally, we were eager to find out what tips Annie and Daniel have buying a midcentury house.
"I think you need to go into a purchase of an older home with a bit of flexibility.  There is a good chance that many of the building systems and infrastructure will need replacing and more often than not, current technologies are not very compatible with the way many midcentury homes are built."
Photos by Caitlin Atkinson