Concrete is in full force in this contemporary home design. Located in a suburban neighbourhood of Torquay, in the Australian state of Victoria, there's a golf course nearby, and views of the nearby wetlands from several vantage points, including the garden on the roof.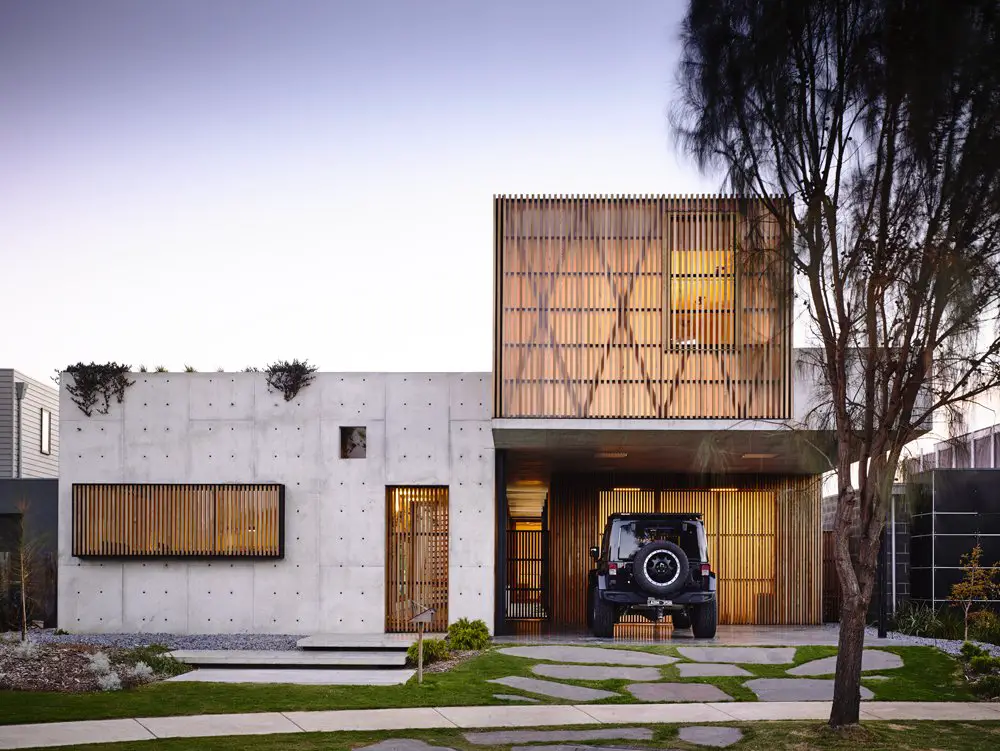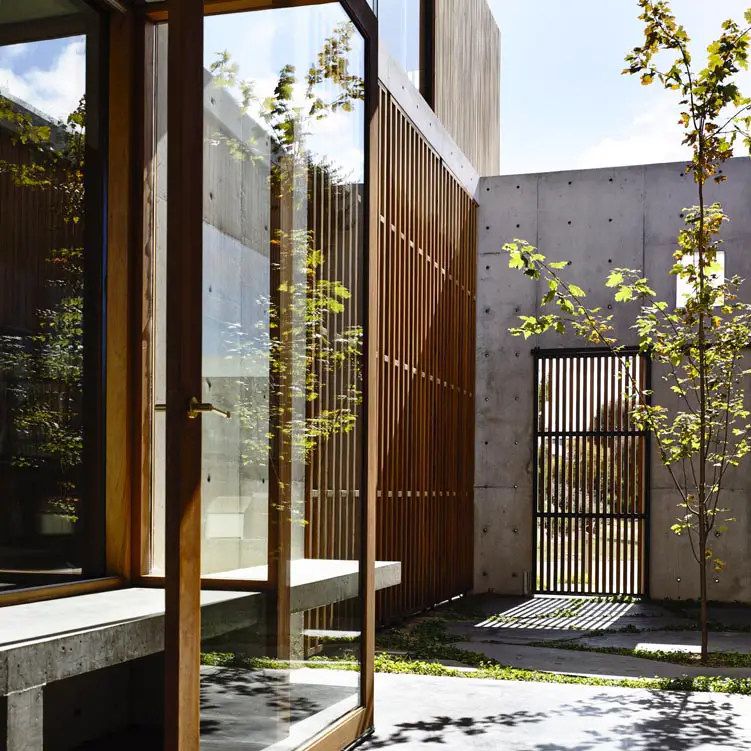 The façade is dominated by two rectangles of concrete, and a series of hardwood battened screens. These two elements balance really nicely, with about the same amount of room given over for each.
The raw concrete slabs are left completely unadorned, and still bear the marks of the casting process. Meanwhile, the hardwood is very clearly treated, and the individual wood strips are finely arranged. It makes for a really nice contrast.
READ ALSO: When Concrete Perfectly Integrates With Nature: The Residência Itamambuca by Gui Mattos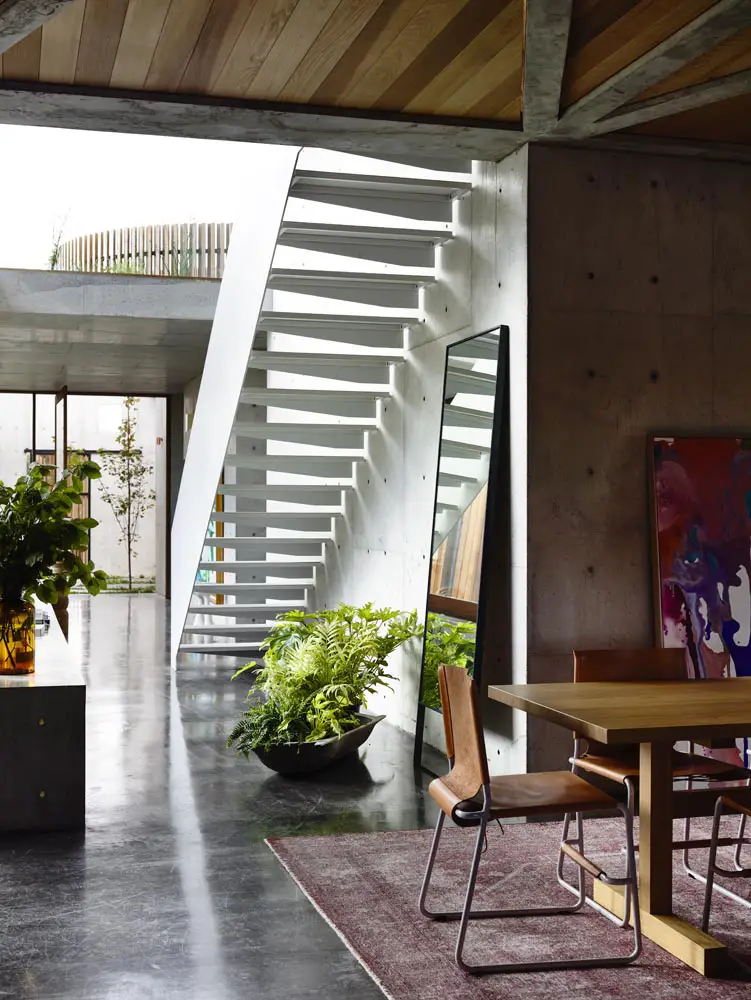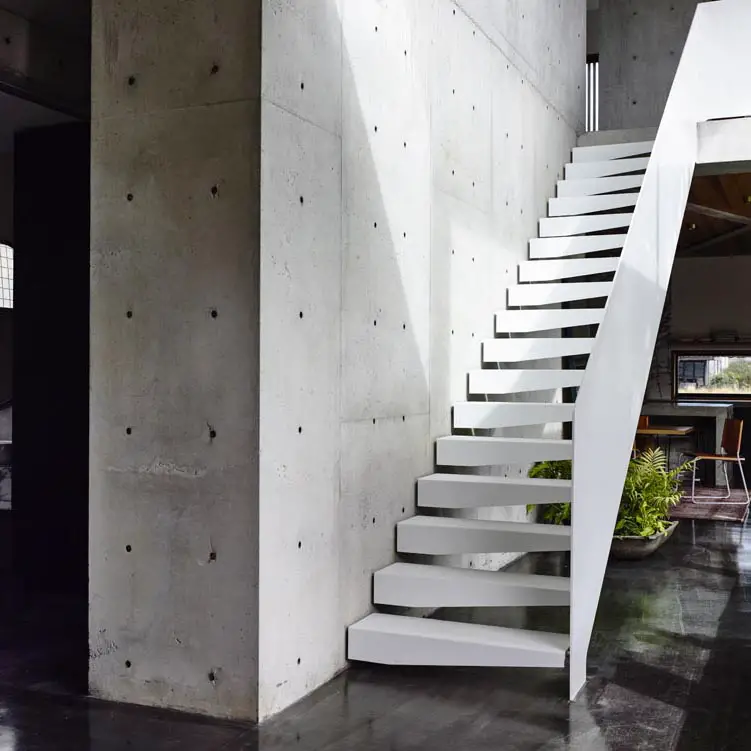 Moving through the entrance, also comprising the hardwood brise-soleil, the concrete continues. But before you reach the interior, there's a small courtyard, with a similarly nice balance of wood and concrete. According to the architect, this space acts as an antechamber to the more private areas of the house. And it works very well, creating an immediate sense of outdoor privacy in what is clearly a quite busy densely packed neighbourhood.
Continuing inside, the space immediately opens into a split-level central living space. From here, another central courtyard is visible through the large windows, thus allowing for a constant interplay between indoor and outdoor space.
The interior also displays a nice variation on the exterior concrete and wood theme. Specifically, the brown of the hardwood and light grey of the concrete are repeated, by way of several other materials and arrangements. This is most impressively demonstrated in the cooking area, where you can see a large slab of marble, and a gold-coloured hood. It is also present in the lounge area, where a sleek wood surface is embossed by a striking geometric wood pattern.
The same marble is present in the bathroom, and it neatly underlines the design's tight focus, where a few high quality and versatile materials make up the overwhelming majority of elements in the contemporary style home.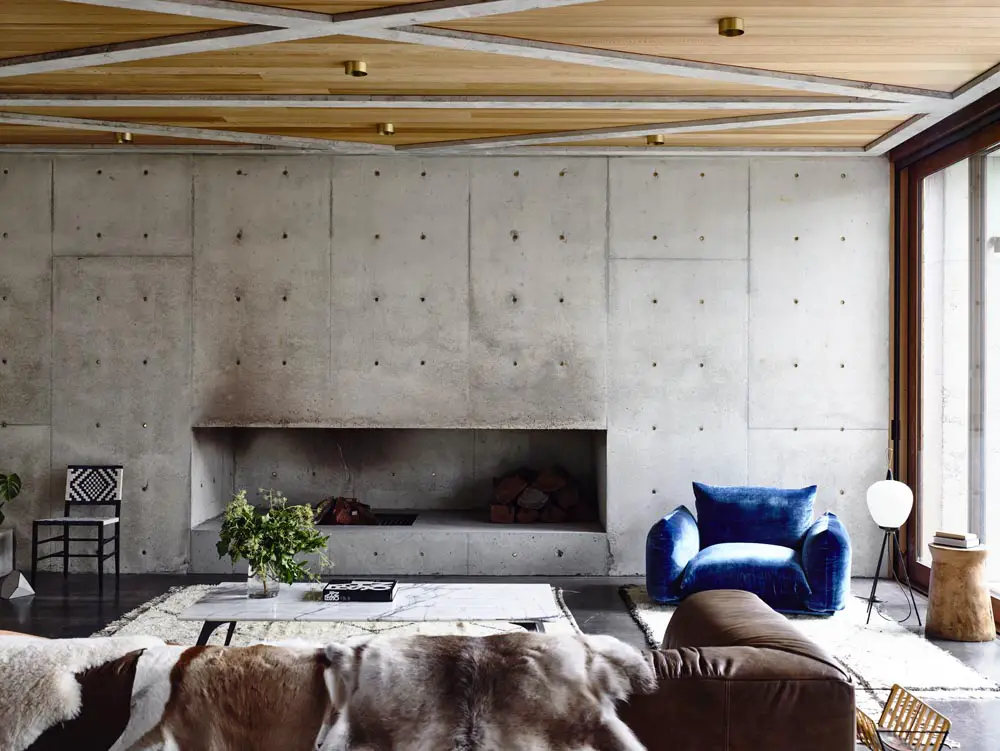 On that note, one last element that deserves mention is the greenery. Overall, the landscaping is spot on, mostly kept to a few splashes of green to offset the monotones of the structural materials and furnishings.
The home was built in 2015 by Auhaus and Interiors. The following year it won commendation in the 2016 Victorian Architecture Awards 2016. It was also shortlisted in the House Awards 2016. The recognition is clearly well-deserved, since it's a really thoughtful design.