Tim Cuppett Architects' River Road House is an exercise in simplicity. A modern take on the mid-century style, it is located in Austin, Texas, where the firm itself is based. The firm's design represents such a lovely overall composition the first important question to ask is: where to start?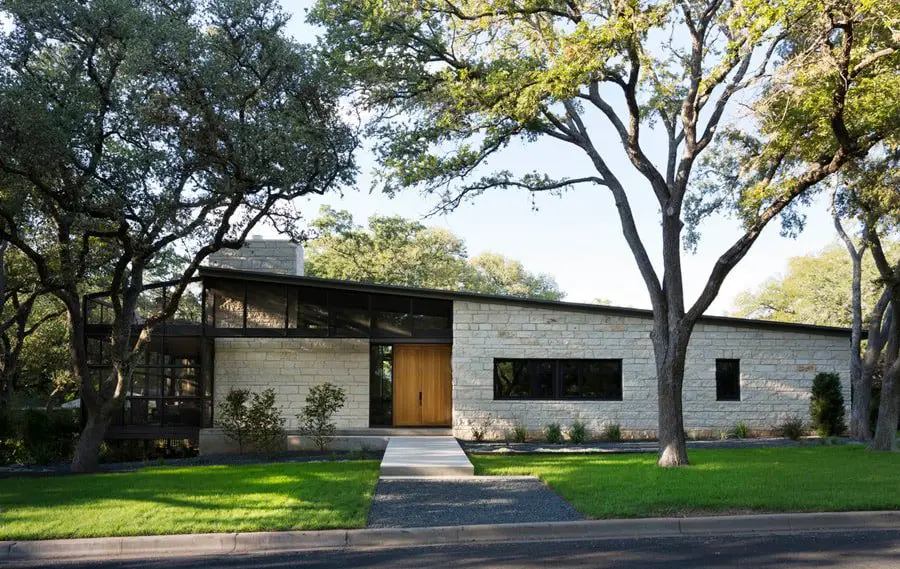 The living area is a perfect balance of idiosyncrasy and subtlety. An assortment of windows, rectangles in different sizes, bathe the room in light.
SEE MORE: This Charles E King's Mid-Century House is a Declaration of Love
A Persian rug covers much of the simple grey marble floor, with its slight faded quality avoiding its impressively intricate design overpowering the rest of the room's composition, instead harmonising with the light browns and reds of the furniture, the fireplace brick and the wood grill wall.
The aforementioned grey stone floor carries on throughout the residence, as with the living area, it accords seamlessly with the subtle, somewhat muted tones of the light brown polished wood that also crops up throughout.
SEE MORE: A Mid-Century Modern Renovation in Beachwood Canyon, LA
This mutedness is interrupted by occasional and very welcome shocks of bright primary colour. This is perhaps most notable in the yellow door in the centre of the house and also in the deep blue rug on which a small dining table sits.
The exterior of the house is also brilliant for being so understated. From the front, the black roof extends at a shallow incline to cover the entirety of the interior space, with a smaller conservatory also extending at the same angle.
The front wall is only marked by two plain, black-framed windows, the front door and a window tucked into to cover the higher main living space.
This might seem insufficient, but the way these features have been arranged is a quite instructive example of minimalist design, with the emphasis on arrangement of the sparse elements.
Do you live in a mid-century or modernist-inspired contemporary house and want to be featured on Mid-Century Home? Contact us with some photos and a short description of your house at: info@midcenturyhome.com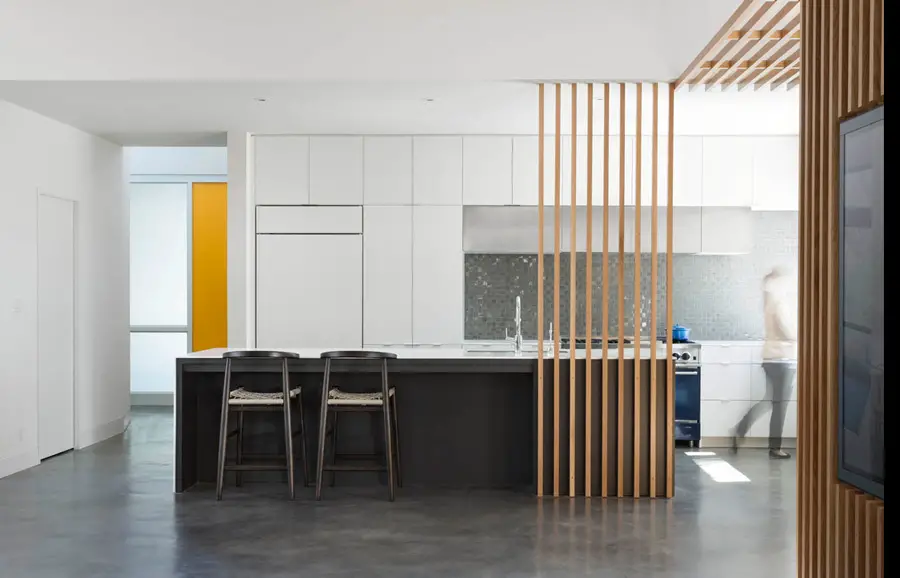 Photos via Cuppett architects