In 1948 Charles Eames participated in the International 'Low-Cost Furniture' competition organized by the Museum of Modern Arts with the design of La Chaise chair which was inspired by the sculpture 'Floating figure' created by the French artist Gaston Lachaise.
The organic design is voluptuous with soft curves giving pleasure to the senses. It is large but in all the right places. The design was both innovative as revolutionary, the outline made possible by technological advancement in molding fiberglass and plywood to create freeform shells. The size and weight is reminiscent of a very attractive, curvy and broad-hip diva giving the users luxury, pleasure and sensuous enjoyment.
(Photo found here)
Comprised of two bonded fiberglass shells painted white, a chromed-plated tubular steel frame, and natural solid oak cross-shaped feet, Eames' La Chaise chair exhibits a captivating elegance and allows for a wide range of sitting and reclining positions.
The exhibition allowed Charles and Ray to explore their belief in affordable, yet high-quality furniture for the average consumer. However, due to the high cost of production, the chair was never marketed during Charles Eames' lifetime unlike the Armchair design which was entered in the same competition, won a prize and was produced to great success in fiberglass.

(Photo found here)
Today, after popular demand Eames' La Chaise is produced since 1990 by Vitra and serves as a long established icon. La Chaise's concept evolved out of a similar shell,  developed in the Saarinen studio in the 1940s. Its design was also strongly influenced by the main group of molded plastic chairs (the DAR) presented during the 1941 MoMA 'Organic Design in Home Furnishings' competition. Unlike Eero Saarinen's "Womb Chair", Charles and Ray Eames' plastic shell is not upholstered.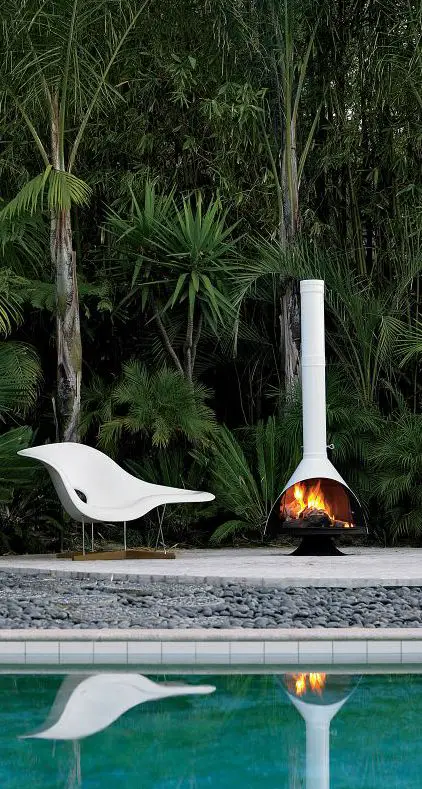 (Photo found here)
Suitable for both sitting and lounging on, the Eames La Chaise chair has become a status symbol for those aspiring to cool, urban living or as an elegant statement in an office or lounging area.
Charles and Ray Eames embarked on a great sense of adventure, turning their curiosity and endless enthusiasm into icons that established them as a winning designer team. Their unique synergy led to a whole new look in furniture. The 'Eames look' captures playfulness, functionality, sleek and sophisticated swagger.
READ MORE