Karen and John are two mid-century modern architecture enthusiasts.
They sold their house and went on a mission to find the perfect Eichler to renovate with their bare hands. We have been  following them from the beginning of their adventure and today we share the latest updates on their journey. Be ready to get house envy!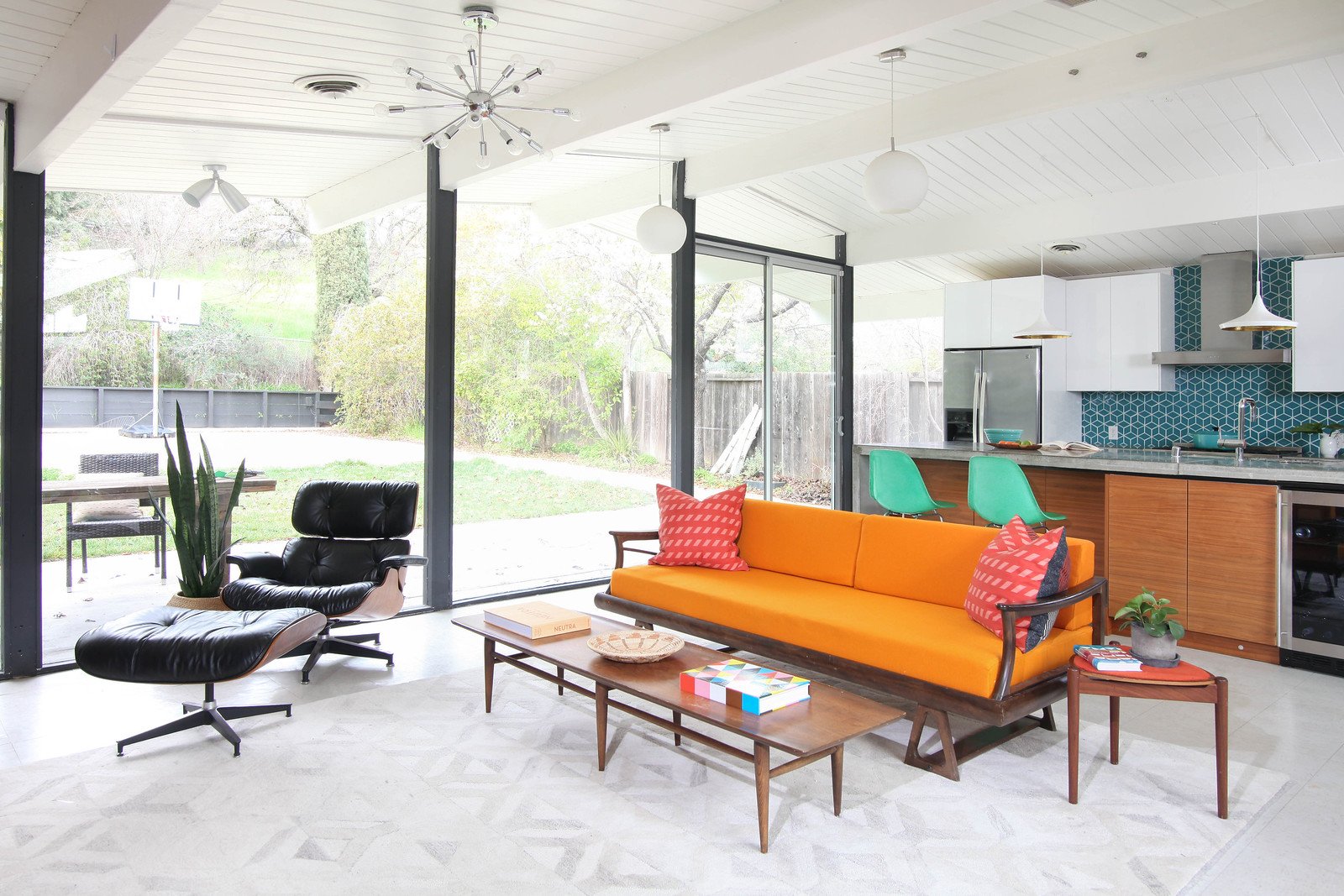 Tell us a bit more about yourself and how you came to live in this house. How long have you been living there and how did you originally find it?
We've owned a few different properties with a range of styles, from a Boston, MA home built in 1920, to a modern loft in San Francisco.
Prior to purchasing our Eichler Home, we lived in a 1970s ranch-stye tract home in Walnut Creek, CA. We did a bit of renovation to that house; we did not realize at the time that our style was becoming more modern.
We discovered and fell in love with Eichler Homes after visiting a local open house and seeing what a restored and modernized Eichler could look like. Shortly after that, we sold our ranch house and moved into a short-term apartment while we searched for our own Eichler to call home.
READ ALSO: Living In A Different Type of Eichler: The Building
Did you know about Eichler and his work before buying the house?
By the time we purchased our Eichler Home, we had done a lot of research on Joseph Eichler and the communities and homes he built. We knew we wanted to part of that community and were up for the challenge to take on an Eichler home that wasn't in original, nor perfect state, to preserve and modernize over time to get it back closer to its original design.
What are the three biggest advantages and disadvantages of living in an Eichler Home?
Advantages:
1. The large spans of glass and abundance of natural light
2. The center atrium – the courtyard in the middle of our floor plan
3. Being part of the Eichler community and sharing the passion for Mid-century architecture, design and preservation of history
Disadvantages:
1. Akin to owning a classic vintage car, you can't just put any new part on it, but need to do extensive research to make sure updates will be in line with the original design. Same goes for owning and restoring a Mid-century Modern home – often materials are harder to obtain, but worth the effort, to make sure the house stays close to its roots
2. We specifically chose to own a "fixer," so the house projects never end! But we enjoy the process and being a part of preserving the home's integrity
3. Can't really think of a third!
What part of the house have you renovated?
From the moment we received the keys to our house, we have been doing renovation work, and mostly by ourselves.
The house over time had lost many of its original characteristics. The first project was installing VCT (vinyl composite tile or linoleum) and cork floors throughout the house, both of which are original flooring materials used in Eichler Homes.
We recently renovated the kitchen and main living areas of the house. We are slowly "undoing" some of the past work done on the house, which had almost made the house unrecognizable as an Eichler Home.
We have replaced all the (prior installed vinyl sliding doors) with aluminum ones, reinstated glass walls where they had been drywalled, and tore down the home's exterior vinyl siding to reveal the original pinstriped exterior wood panel siding.
Recent updates, include:
Dining Room:
New Wood Paneling and Exterior/Interior Siding; restored Brick Fireplace to original state
Master Bedroom:
Wood Paneling and new Shoji Style Closet Doors to emulate original Eichler Closet Doors  Atrium: midcentury inspired furniture plus new plants
Exterior and Front Landscaping: new landscaping out front (drought tolerant, Palm Springs Inspired). All new Sliding Doors in the exterior of the house, to go back to a back exterior facade all made of glass.
READ ALSO: Becoming Eichler Home Owners: Sometimes It Is Just Meant To Be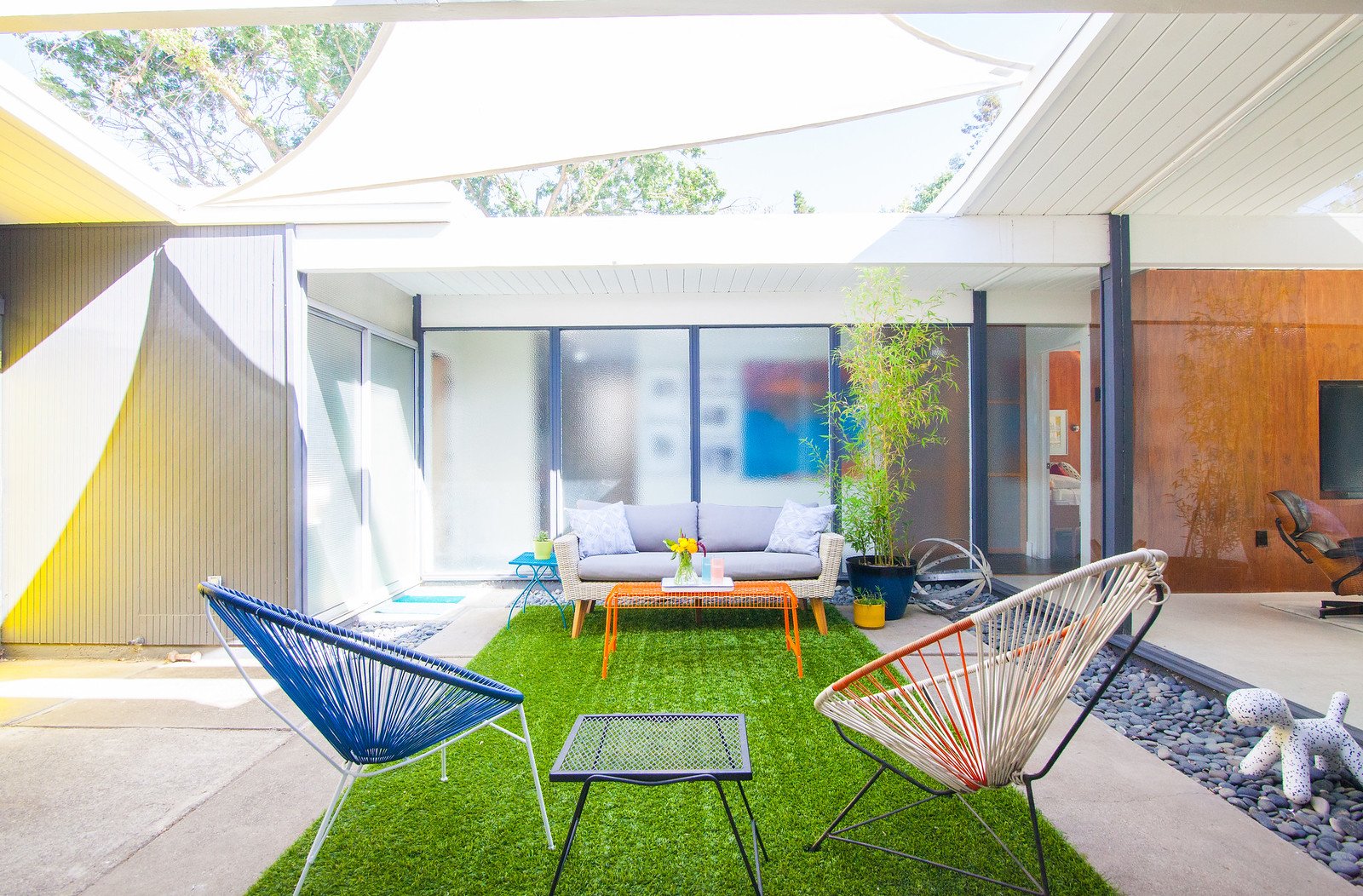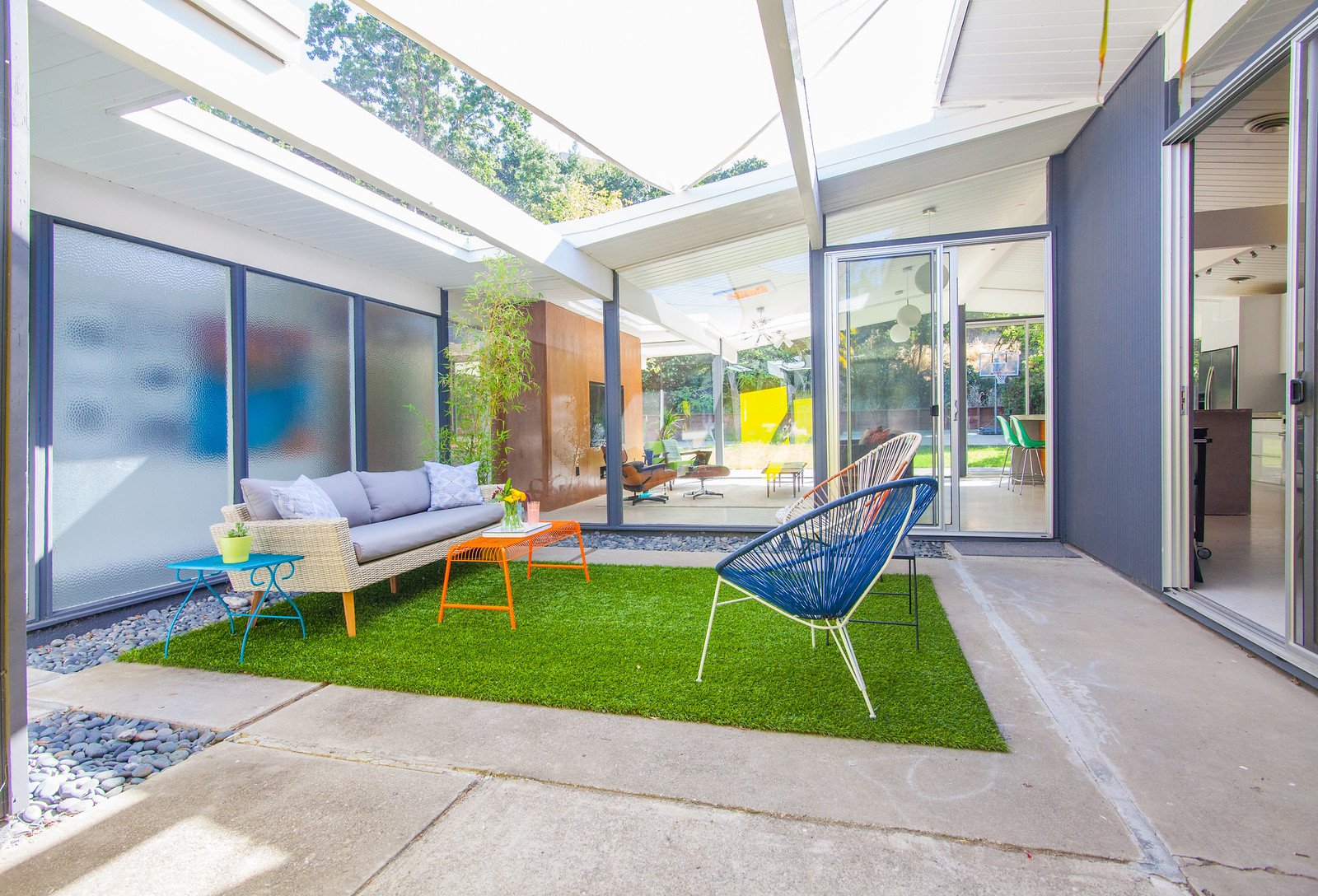 Did the house come with any original furniture? And has its architectural style influenced your interiors style at all?
We unfortunately did not inherit any original furniture with the home. One of our hobbies includes frequenting Estate Sales to collect and restore modern mid-century furniture.
Our kids enjoy buying old toys and books.
The scale of Mid-century Modern living has definitely influenced our style and the furnishings we choose; you have to use the space wisely and vintage furniture fits in naturally with the style of our home.
READ ALSO: Splashes of Cerulean Cap Off a Gorgeous Eichler Renovation by Klopf
Which architectural features of the house do you enjoy the most?
We chose our model specifically for the atrium space. It's very special to have an outdoor area right in the middle of the house. The back of the house is all windows, which makes the home feel larger, even though square footage-wise it is very modest.
If you could live in any other famous Mid-century Modern house, which one would you choose?
We have only seen it  in person from the outside and the inside just from photographs, but the Richard Neutra Kaufmann Desert House is very inspiring.
It shares similar characteristics to Eichler Homes, with the emphasis on indoor-outdoor living, lots of natural light, and an elegant simplicity to the design. And it's right in Palm Springs, one of our favorite places to visit.
Do you own an Eichler Home and would like to be featured on Mid-Century Home? Drop us an email to: info@midcenturyhome.com
Follow Karen and John's renovation journey on their blog: Destination Eichler.