This Usonian home is one of the only two constructions by Frank Lloyd Wright in all of St. Louis. The 2,310 square foot home set in Town and Country, Missouri, has only ever been inhabited by the Pappas family. Appearing on the market for the first time last year, the Pappas House was freed for new homeowners to take over.
"Usonia" is a term Wright used in reference to the United States as a whole. In relation to Wright's architecture, the Usonian Homes were characterized by rather simple L-shape, single story buildings for middle-income families.
Wright's idea of the Usonian Automatic Homes hoped for more cost effective homes by using modular, concrete blocks for construction.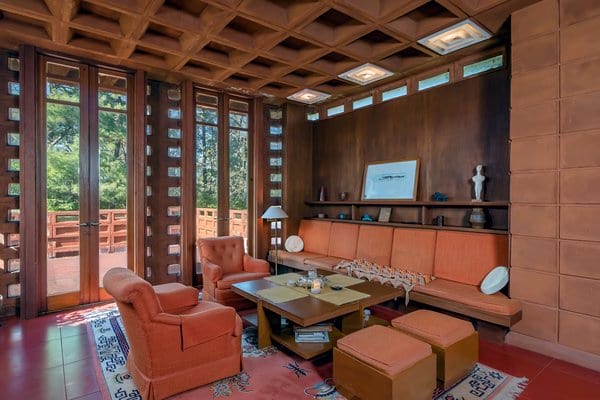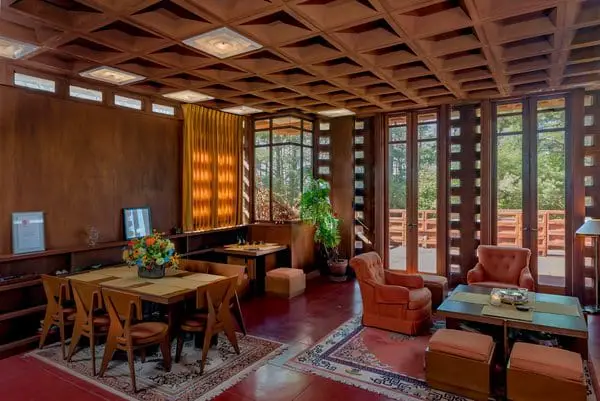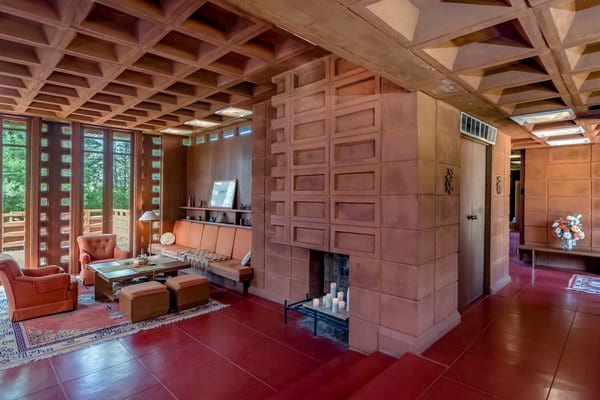 The home's flat roof and cantilevered overhangs provide the house with natural cooling and solar heating, characteristics typical to Usonian homes. 
A terra-cotta color scheme persists throughout the home, inside and out. The concrete blocks which the home is built from dominate and set the tone, complemented by Philippine mahogany furniture and red concrete floor. 
Another typical trait of Usonian Homes is that they are turned away from the street, concealing private life. Here too, multiple small windows, many of which are cantilevered, make it difficult for outsiders to see into the home.
Like any midcentury modern home, a strong visual connection is important, but Usonian homes keep that connection private. Floor to ceiling glass double doors are found at the entrance of the Pappas House as well as in the living room, from which the doors open to a terrace.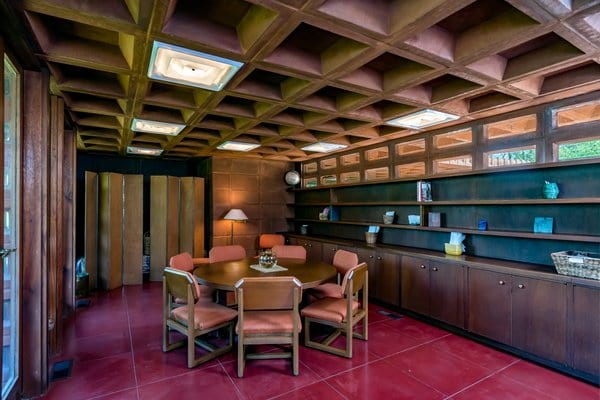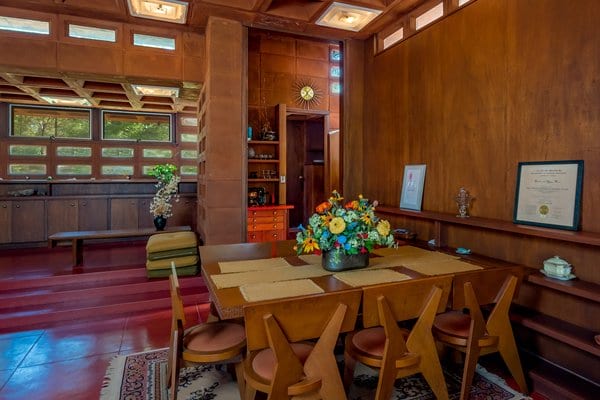 The open plan living space accommodates a lounge area with a large couch and armchairs around a coffee table. To the side, a wooden table with unique chairs of the same material create a space for dining, playing games or working. In addition to the design and landscaping plans, the furniture is also the work of Frank Lloyd Wright.
Another area designated for dining is found further into the home. One more set of floor to ceiling double doors open to a smaller terrace, allowing natural light to pour in as well as providing views to the outdoors, where fresh greenery lies ahead. 
To the other side of the dining room, wooden cupboards and shelves furnish the interior and hide clutter. 
This midcentury modern home is all Wright; while Mr. Wright did most of the work, Mrs. Wright played her part in selecting some of the interior materials, such as the golden drapes and bedspreads in all four bedrooms.
This home is now being listed for $1,200,000.