Sometimes you enter an apartment and immediately feel a connection with it. That is what happened when I first entered this amazing house.
From Mid-Century to Contemporary.
The owner, my friend Guido, is a graphic designer living in Amsterdam.
He has an original and personal style, that always inspires me. Guido likes to mix mid-century pieces with playful retro flea markets objects found around Europe.
His style is eclectic and likes to mix eras, styles and materials. The colours he chose for the walls are vibrant and match perfectly with eachothers: a bright green for the living room, an elegant antique gold for the kitchen and a relaxing grey for the bedroom.
In the same room you can find antique ceramics, a chandelier from the 70s, wooden mid-century furniture and stylish contemporary prints.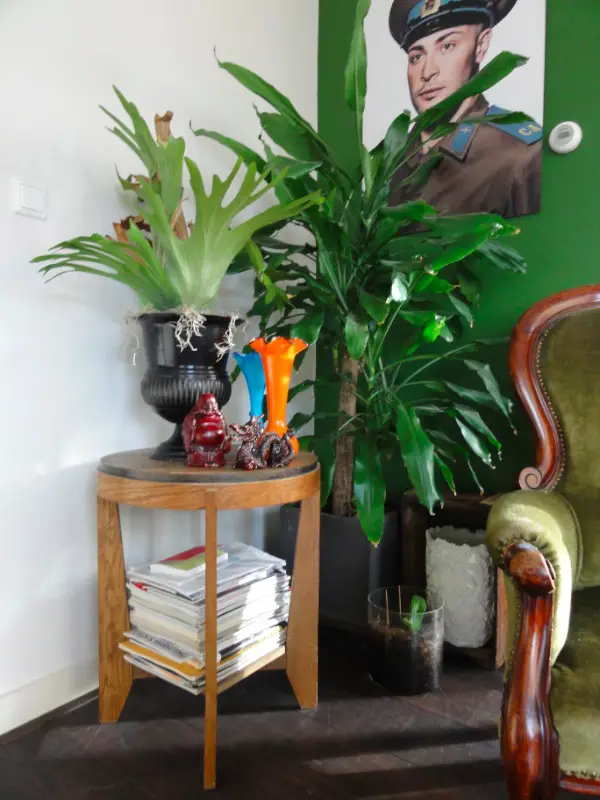 This house has a relaxing and cozy mood, you immediately feel at home; and this is probably what I like the most about it.
In the living room I find the mid-century modern wooden desk amazing as also the religious statuette collection, the mid-century German potteries and the Japanese toys.
Also the lamps are stunning…but those have been custom made, so no hopes to find another one for my place unfortunately.
I am thinking to steal one of them…but the owner comes often to my place…it's not a smart idea, I suppose.
The bedroom is relaxing and intimate. Also this room is a mix of styles with a great sense of humour.
The handmade Moroccan blue mattress is awesome; it is actually part of a sofa that Guido uses as bed for his guests. They also deserve a bit of style 😉
In the kitchen, the big wooden table with the vintage chandeliers -bought in a local flea market- is always ready to welcome friends for a dinner.
I specially love the red cabinets once part of a plane, yes…an airplane.
He didn't want to tell me how they 'landed' in his apartment, but they are really cool.
WHAT DO YOU LIKE THE MOST OF THIS APARTMENT? LET ME KNOW IN THE COMMENTS.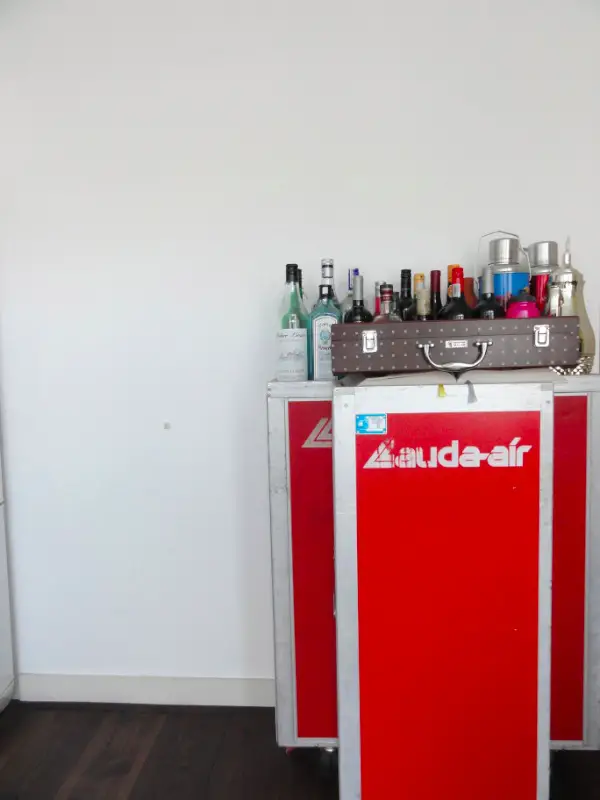 Did you enjoy this house? Then, a Like below is very much appreciated!
Go and check other amazing mid century modern homes if you liked Guido's.
Thanks for reading and ciao.