This breathtaking midcentury modern home in Brentwood, Los Angeles, stands out not only for it's splendour, but also its uncommon floor plan.
Originally built in 1958 by modernist Case Study designer Craig Ellwood, the house has since seen restoration. Long time fellow Case Study architect Jim Tyler recently took on the role of giving the Brentwood home the refurbishing it required.
Stretching across 1550sq. ft., this midcentury design takes a T shape and is built to stand atop a hillside, lush in greenery. The T-shaped design allows for views that would otherwise be impossible. Floor-to-ceiling windows on both sides of the property guarantee a beautiful bird's-eye view over the hillside, which slopes down toward a 9,648 sq. ft. lot that the house rests on.
A bit of backyard area has been preserved over the hill in the back of the building. In the front, a pair of parking spaces lie at the sides of a lawn made of crushed rock, beautifully coordinated to fit the grey hues at the front of the midcentury modern home.
READ ALSO: A Mid-Century House Near Melbourne, Gets the Case Study House Program Treatment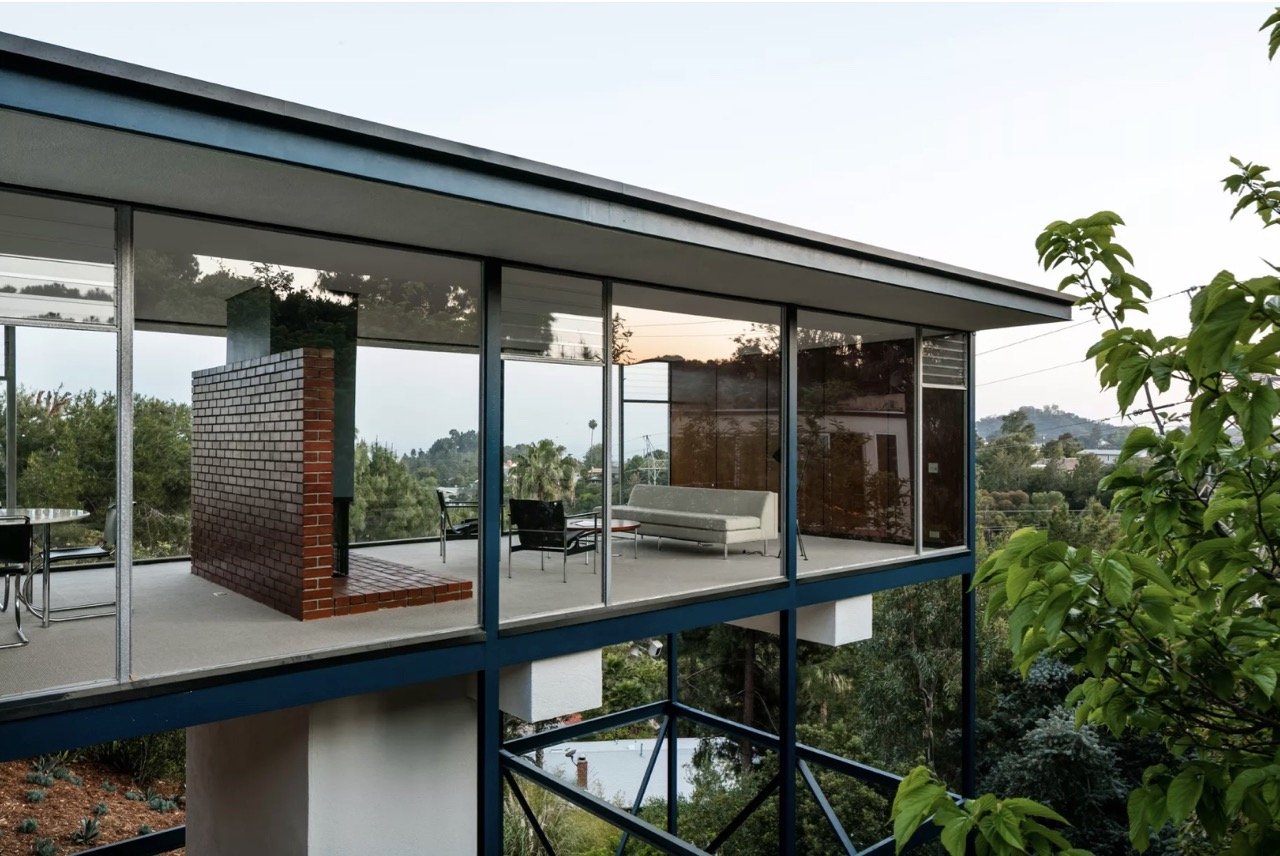 The home holds two bedrooms as well as two bathrooms, kitchen, dining room plus living room. The unconventional T-shaped design creates continuity between the indoor and outdoor spaces while also adding to transparency throughout the home. At the center of the T-shaped home, the living room unrolls over the hillside. Thanks to the pale coloring used for both, ceiling and floor of the larger area, a smooth and light effect is created while setting stark contrast to the building's dark framework.
READ ALSO: Mid-Century in Honolulu, Hawaii: Vladimir Ossipoff's Liljestrand House
Built into a steel braced-frame construction, the glass-walled living room area accommodates an impeccable panorama view. As the space is firmly fixed above the hillside's treetops, a luxuriant view stretches far and wide.
Rather than one large glass-enclosed living space, the interior design splits the living and dining areas with a large brick wall that adorned with an elegant fireplace with pitch black decor. More brick is used for floors in other areas of the building such as the kitchen and lounge.
The kitchen luxuriates in wood-paneled walls that compliment the brick tiling on the floor. Grey and black hues are used throughout the contemporary home design, complementing the midcentury modern home exterior design at the front.
READ ALSO: This Paul Weidlinger's Designed Mid-Century House Was Influenced by Marcel Breuer
Ensuing Jim Tyler's architectural restorations to the property, the house has been recently sold for a 3 million U.S. dollars.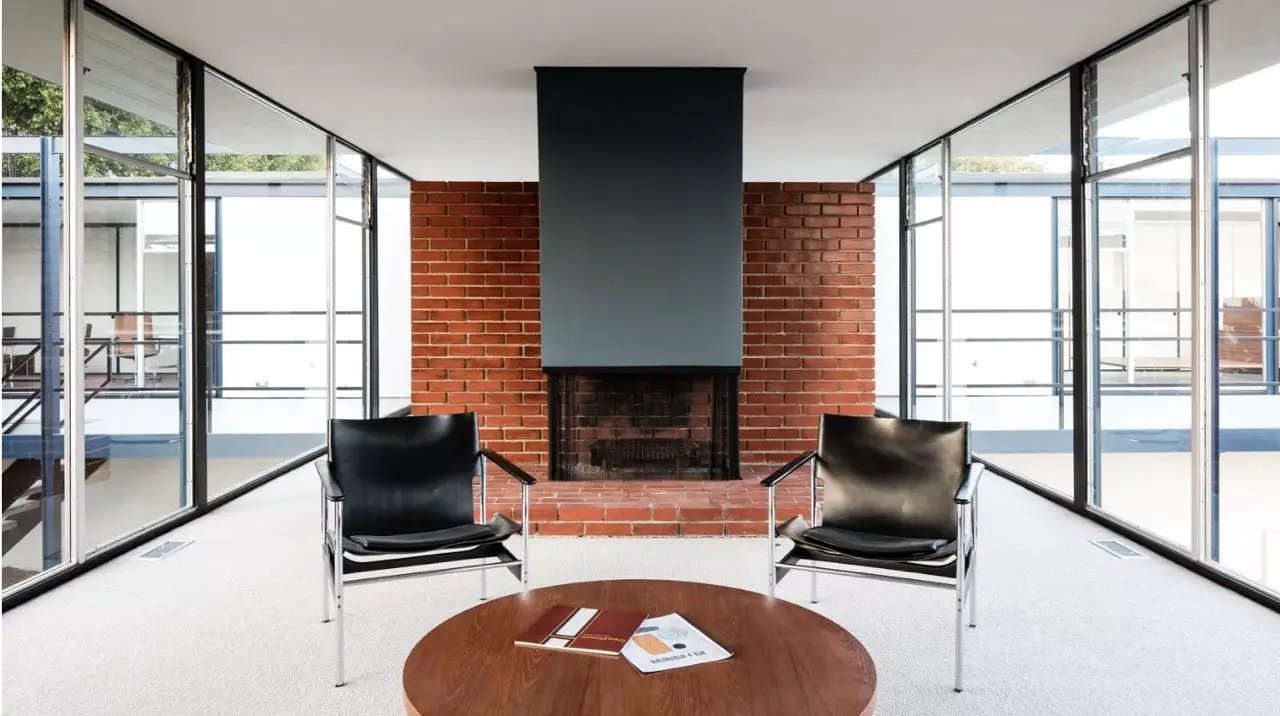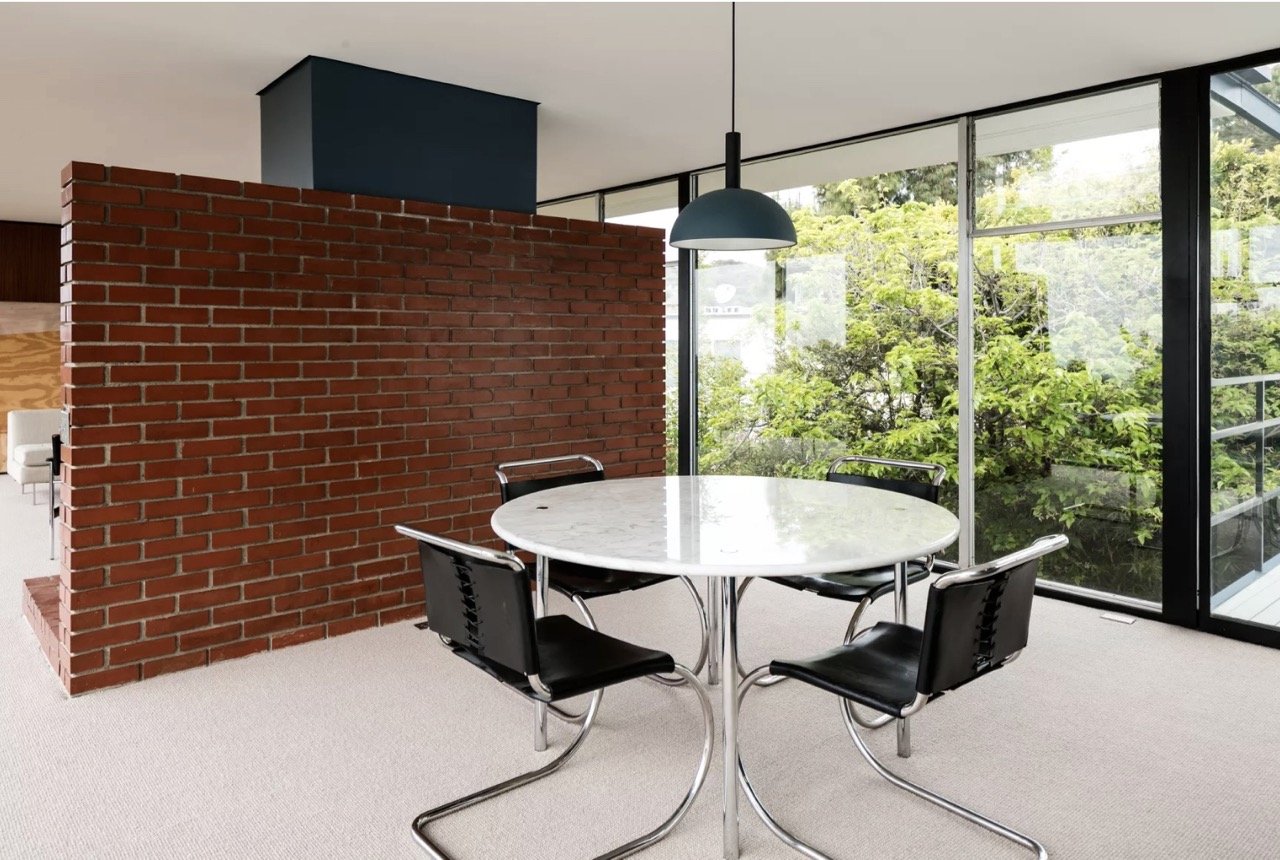 Photos Frank Langen | Deasy/Penner