Text by Cast Architecture
This fresh take on a midcentury modern low-slung ranch in the Meadowbrook neighborhood of Seattle brings in tons of natural light and showcases the simple forms of a high ceiling with contrasting dark beams, and abundant wood.
Originally built in 1955, the home's renovation embodies the delights of glazing and rich maple, and the connection between indoors and outdoors. Classic midcentury features like full-height walls of glass and clerestory windows open to territorial views. 
The foyer is designed to have a spatial relationship between interior and exterior. The Cor-Ten planter ushers you in and the soffit beams enclose the entry similar to the wooden screen wall just inside. The custom casework divides the space, creates storage, and adds a bench for ease of transition from outside.  
The opposite side of the maple surround houses an art nook for the living room that transitions into a sideboard. Tall, vertical wood slats cap each end of the galley kitchen. Pental quartz countertops with a honed finish provide an efficient place to work.

The living room, with floor-to-ceiling windows, offers special views through the house and a connection to the large back and side yards. An expansive backyard deck extends the living spaces outdoors.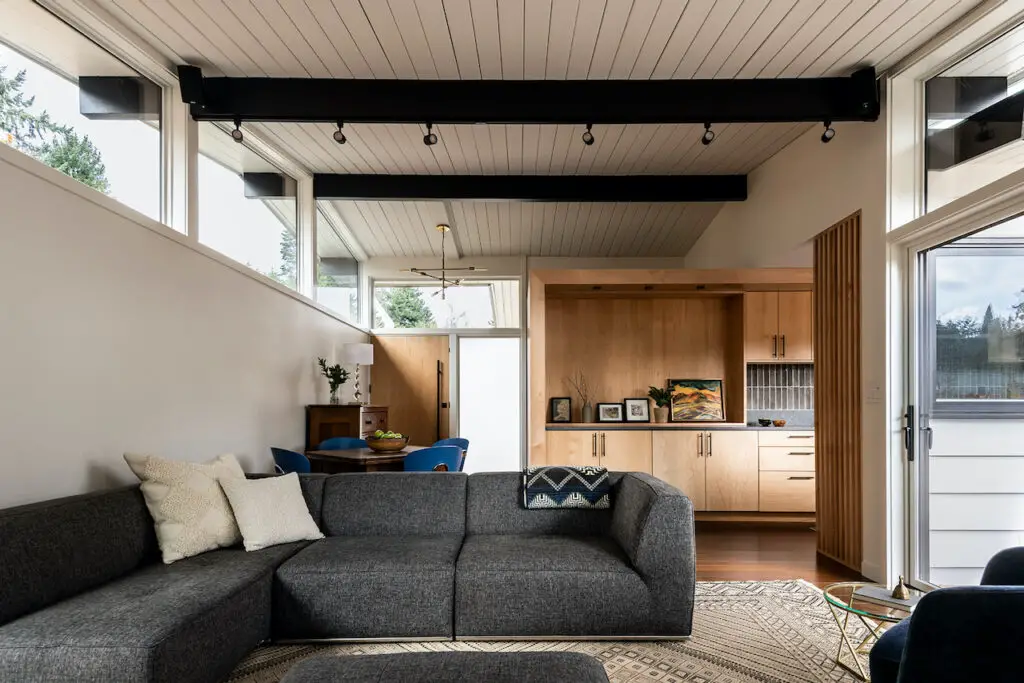 We spoke with Cast Architecture to find out more about this project.
What do you think was so special about the midcentury period in American design?
"We love the open floor plans, sweeping glass walls, distinctive post-and-beam structures – that all encourage gathering while bringing in the outdoors." 
What were your challenges for this project?
"The home's modest scale required careful planning in order to add additional programming without diminishing the openness and flow. A small addition and surgical shifting of interior partitioning made for a more spacious kitchen while adding a second bathroom and new laundry room.
What was the house like previously?
"The home was modest in scale and had really good bones. While the plan was simple and intelligent there was room for a few improvements to make it a better fit for the client's needs and contemporary ideas about living."
Lastly, what in your opinion are the best features of the home?
"There is tons of natural light, abundant wood, the midcentury vibes were preserved and enhanced and finally the south-facing windows that connect to the back yard deck and landscaping."
Photos by Andrew Giammarco, Owner: Woodworth Built
Contractor: Carrig Construction