This is a stunning mid-century classic designed and built by renowned Case Study architect Thornton Abellin in 1959.
It really feels you are stepping in the 60s as you enter this home. Thanks to its architect, Tony Unruh, it has been restored almost exactly to its original mid-century style condition in honour of Abell's vision. As with most homes of this mid-century period, it is a single storey high. But it was the dramatic zig-zagged roofline that really captured our attention.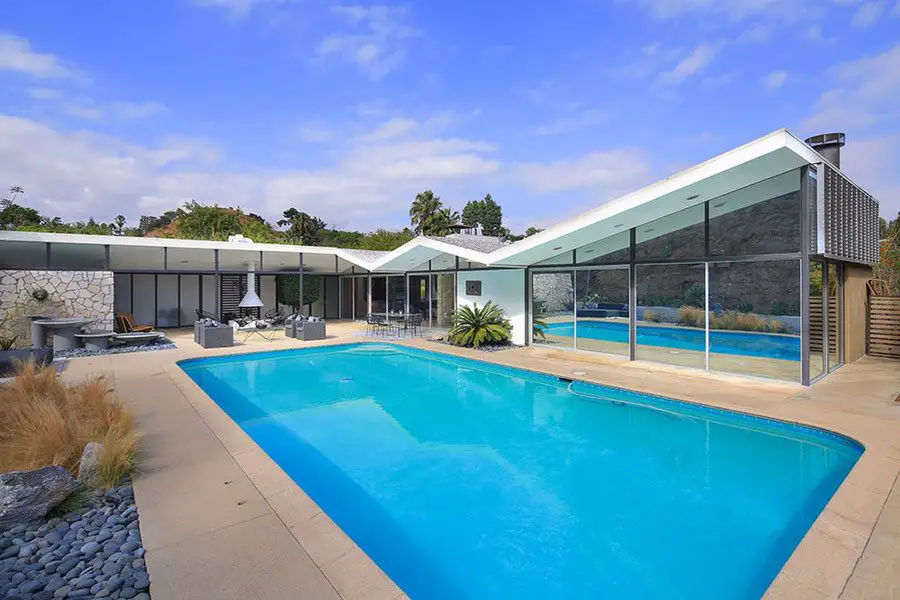 You can see that no stone was left unturned when it came to interior furnishings. One of our favourite elements has to be the indoor beach installation in the hallway, which includes a sandy floor, succulents and a palm tree. This is just one of many kitsch details that make this house so enjoyable.
Floor-to-ceiling windows enclose the house on all sides, allowing the house to bathe in unlimited sunlight. Even the master bedroom is fully surrounded on two sides by glass walls, overlooking the vast swimming pool outside. The master bedroom is also equipped with a sizeable stone fireplace, an en-suite bathroom with a glass ceiling, and a walk-in closet, all qualities that evoke a real sense of luxury and glamour.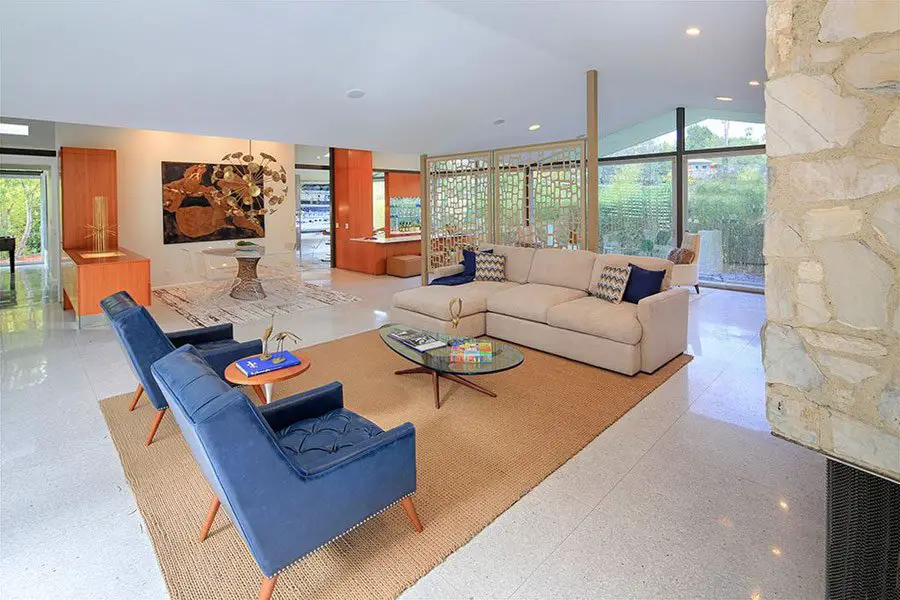 Standout features around the rest of the house include original stonework walls and custom-made divider screens which provide a sense of structure to the otherwise open plan communal living space. Vast abstract artworks fill the walls and the kitchen floor is lined with an almost reflective plastic surface. It's intense but fun.
In southern California, where outdoor living is commonplace, the house has been designed in such a way that it feels inverted, where indoors is outdoors and vice versa. This house is a real product of its location and climate. The rooms are all exceedingly spacious too which, paired with the amount of light pouring into the house, envelops the interior space in a serene glow.
Surrounding the pool outside are three separate seating areas, one of which centres around a rather elaborate white retro fireplace, and two few further areas containing tables and chairs to lounge around the pool in.
Overall, this house is a bit like stepping into a time machine. With all those charming original mid-century features we all crave, it's no wonder this house was sold for over 3,000,000 USD!