This contemporary style home was completed in 2017 in Wilson, Wyoming following an invitation for Carney Logan Burke to design a modern compound for a young family.
The collaboration between the architecture team, interior team and clients brought the impressive 5,300 square-foot residence into being. Aside from the primary residence, a guest house and gear barn including a pond, waterfall and landscaping were included in the package.
The clients wanted a home in the midst of the aspen-conifer forest surrounded by mountain views, however, the town located close by posed a bit of an inconvenience. The ideal outcome envisioned by the clients was to have the benefit of enjoying the idyllic landscape while keeping noise from the roads to a minimum and other residential areas as much out of sight as possible.
READ ALSO: Privacy Comes First in This Modernist House
They had set their heart on the home overlooking a pond, which had to be constructed to look as natural as possible due to the lack of an existing one. The end result is simply stunning.
The primary residence is built into two connecting blocks. The lower flat, one story compartment accommodates the open plan kitchen/living room/dining. Transparency is largely created by floor-to-ceiling windows, which deliver a dramatic view of the surroundings, a typical feature for modern contemporary homes.
READ ALSO: This Modernist House has Unrivalled Views of Dry Creek Valley
Another typical feature is the bridging of interior with the exterior. In this case indoor and outdoor living spaces are placed side by side, providing the benefit of easily passing through from one room to another, from inside to outside or vice versa.
The second and larger block of the primary residence gives room to the master suite. Large windows were implanted into the sides of the master suite to ensure maximum exposure to the surrounding landscape and a floating bridge above the main entrance to the house connects to the children's bedrooms. More bedrooms and utilities are found downstairs of the second unit.
READ ALSO: When Concrete Perfectly Integrates With Nature: The Residência Itamambuca by Gui Mattos
As luck would have it, the client's mother is a retired interior designer and so mother and daughter joined forces with CLB architecture to bring the interior into existence. Hemlock ceilings and elegant walnut floors enhance the look of the contemporary home, paired with beech veneer and Frontier sandstone. Both interior and exterior are largely defined by wood, giving the building nature-inspired aesthetic while maintaining a very stylish modern appearance thanks to details such as flat rooflines, box-like shapes and the blatant use of clad in zinc panels.
READ ALSO: Wild Lilac by Walker Workshop: Deceptively Site-Sensitive
The obstacles the site originally posed were overcome and a ravishing modern home stands enclosed by mountain view landscape as a result of the collaborative approach.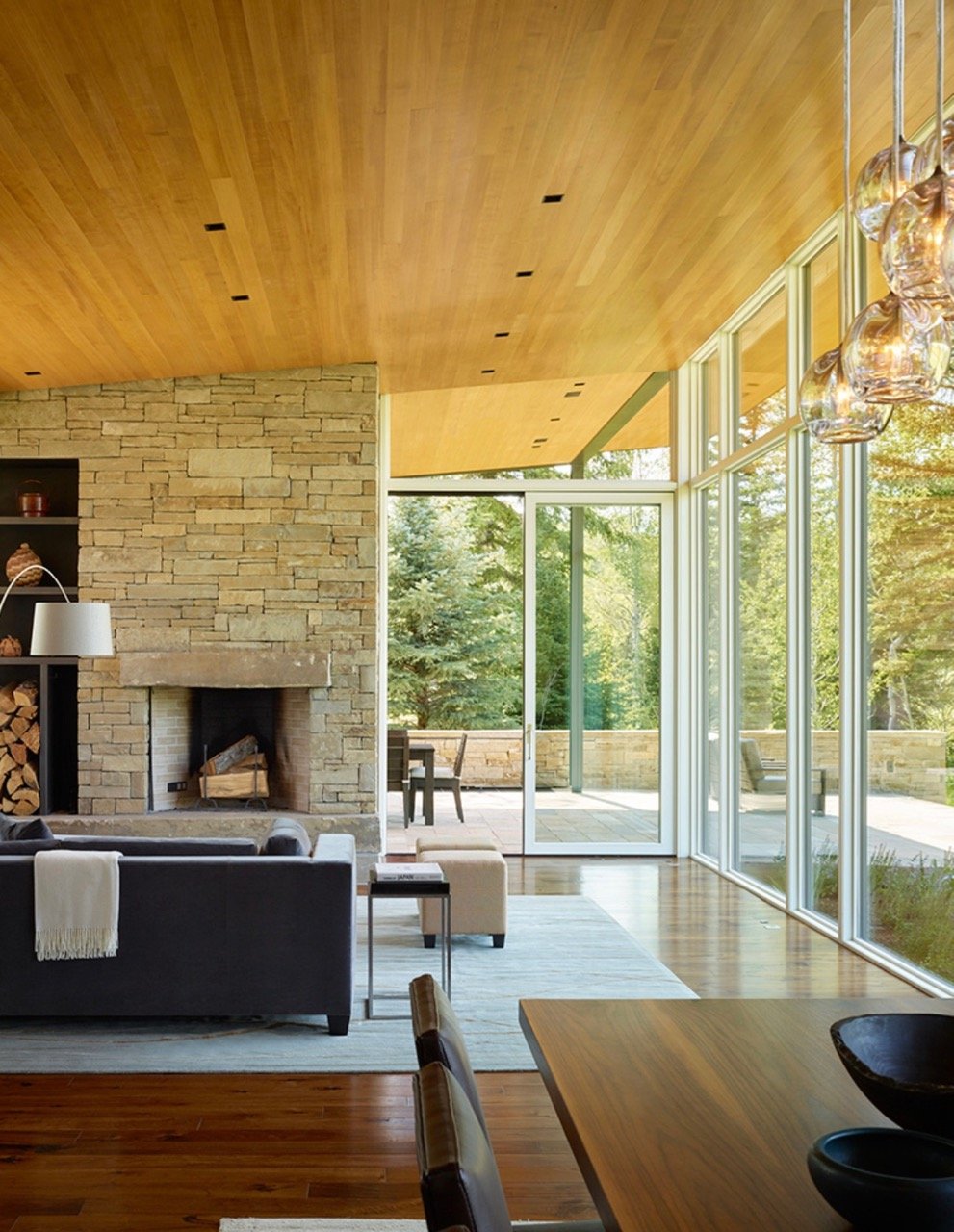 Photos by Matthew Millman via Carney Logan Burke Architects