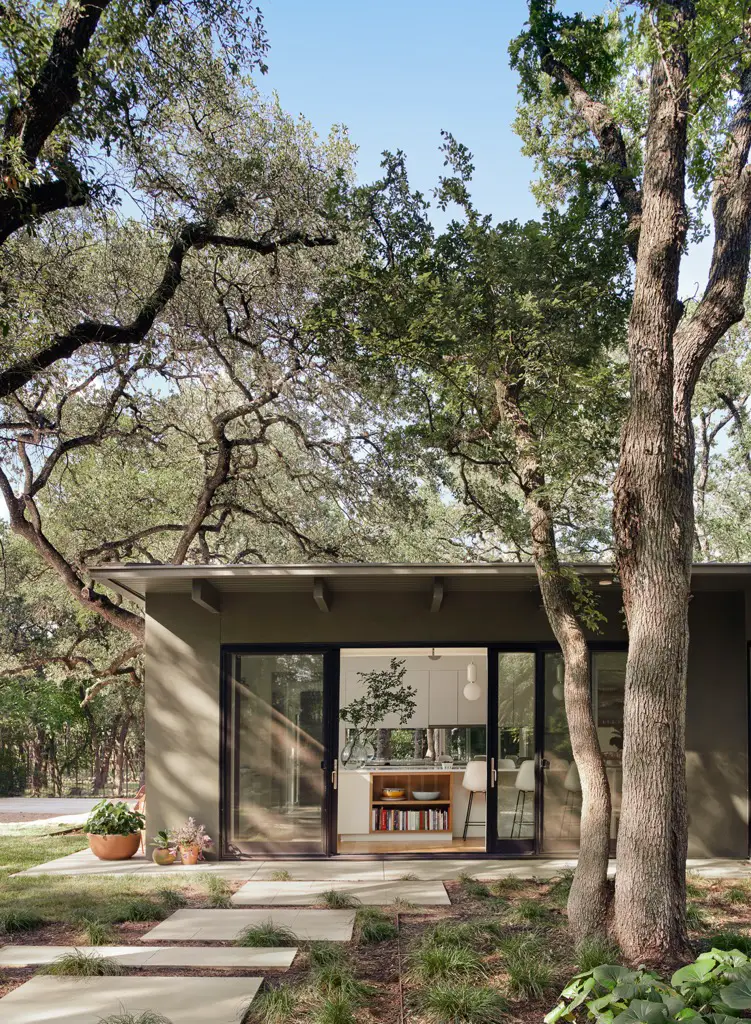 When the clients approached the Side Angle Side Architects team with their 1960's mid-century home nestled in central Austin, they were greeted with a mesmerizing sight—a stunning lot adorned with majestic oak trees. Though the house boasted solid structural foundations and a classic mid-century design, it fell short in terms of functionality for the family of four.
Their primary concern lay in the lack of a seamless connection to the backyard, prompting them to seek professional assistance in transforming their living space. The clients envisioned an open and flowing layout that would embrace the outdoors while incorporating additional space for a larger kitchen, a playroom, a home office, a carport, and improved storage facilities.
The architectural team embarked on a mission that would strike a delicate balance between modern functionality and the preservation of the home's cherished mid-century character. A crucial decision was made to retain the original front façade, allowing the unique charm of the mid-century aesthetic to shine through.
Subtle changes were implemented, such as window replacements and a fresh coat of paint, breathing new life into the front of the house while maintaining its historical integrity. The distinct stone veneer, a defining element of the home's character, remained untouched—a testament to the team's commitment to preserving its mid-century essence.
While the architects faced limited information about the original designers, Pringle and Talley, the homeowner managed to uncover snippets of their work. The plans bore the signature of M.LT., offering a glimpse into the minds behind the original design. This newfound knowledge added an extra layer of appreciation and respect for the home's architectural heritage.
Prior to the renovation, the house had experienced previous modifications, leaving an array of challenges for the architects to address. The enclosed rear porch, once a prominent feature encircling the back of the house, had been removed to expand the living room.
Additionally, the original carport had undergone a significant transformation. To restore balance and functionality to the space, the architectural team carefully studied the original plans, incorporating their insights to honor the home's historical significance while modernizing it for contemporary living.
One of the primary obstacles faced during the project was the low roofline, a characteristic feature of mid-century architecture. The architects aimed to create higher ceilings in the addition, allowing for a more spacious and light-filled environment without compromising the overall scale and coherence with the existing structure. Striking the delicate balance between preservation and transformation was key to the project's success.
Among the standout features of the revitalized home, the bright white kitchen takes center stage. Bathed in natural light, the kitchen boasts expansive windows above the sink, offering picturesque views of the newly installed pool. To seamlessly merge indoor and outdoor spaces, a wall of sliding doors opens the room up to the sprawling backyard, creating a harmonious flow between nature and the interior.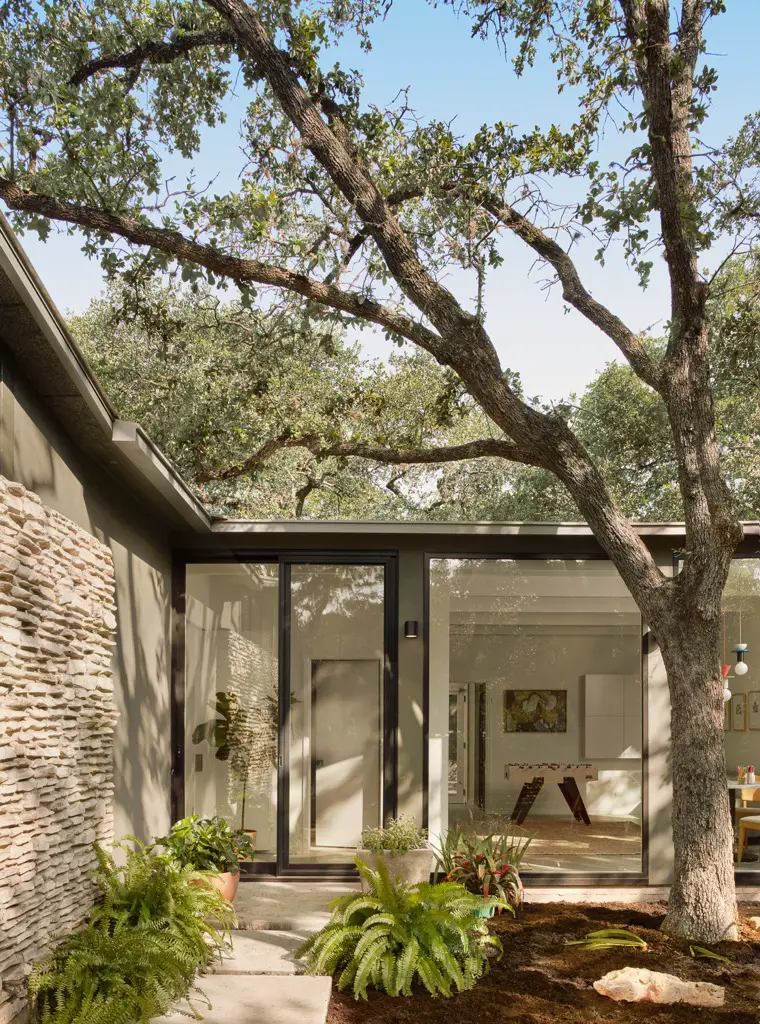 Photos by Casey Dunn