Richard Neutra's Pitcairn House is a very private, hidden masterpiece set on 10 conserved acres. Surrounding the property is the Pennypack Preserve, a nature conservancy with 812 acres of trails and woods.
Follow the quarter mile driveway to the top of a ravine overlooking the Pennypack Creek and groves of oak, beech, maple, and poplar.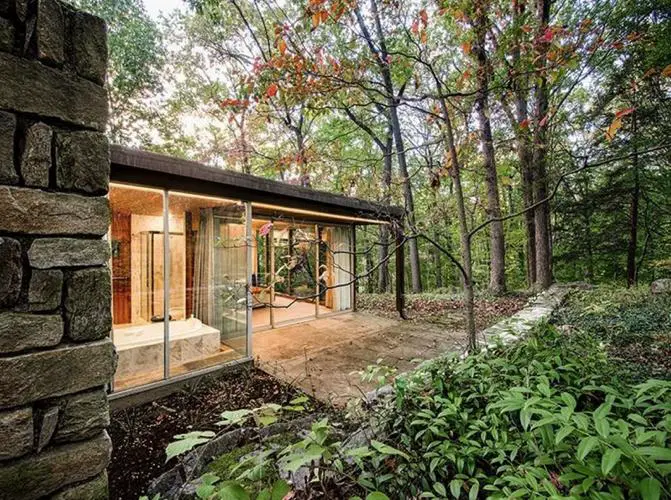 Completed in 1962 this quintessential Richard Neutra house in the woods is superbly built. Sculptural elements define its spaces.
The driveway approaches an invisibly set stone wall separating the family entrance from the front door. A white minimalist wall interrupts the front facade, marking the front door and hiding the deck behind it.
Massive triangular supports pin the deck to the bedrock. A cantilevered staircase, set above a swimming place indoor pool beckons the visitors to the Pitcairn House living areas.
The inside/outside connection to nature is a Richard Neutra designed principle also visible in the Pitcairn House.
Floor to ceiling double-pained windows run along all sides of the living area and throughout the house, affording views of the woods from every vantage point. Triangular tresses support the sloped roof.
A custom designed kitchen, overlooks a dining area and wall of windows. The kitchen corner window, a meeting of the glass walls of the living and family room, overlooks a courtyard.
A very private master suite is hidden behind the stone wall on the far side. Look into the woods from the master bedroom, through the floor to ceiling windows and enjoy the view in all seasons.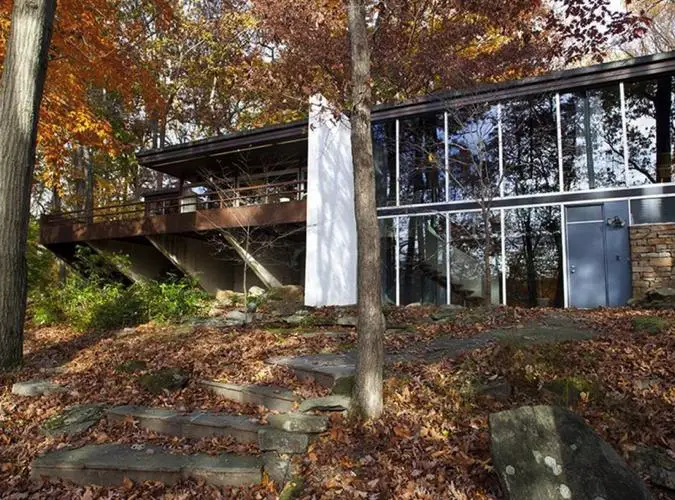 The abstract facade of the Richard Neutra Pitcairn House ends with another sculptural shape, the wooden side of the staircase from the deck which points to the wooded landscape and ravine below.
"You see more clearly in moonlight," said Neutra, when he selected the wonderful building site at night in 1959. Clearly, the extraordinary design of the Pitcairn House has stood the test of time.