This home really becomes part of the park it is built next to, which was the initial idea of the architect.
When Arnau Vergés i Tejero, founder of Arnau Estudi d'arquitectura, was approached with the request to "build a simple, discreet house… and practical, very practical" in Bosc De Tosca, Spain, he could not help but steer his focus toward the park next to the lot in question.
The Park House is a dynamic contemporary style home that makes the most of out clean open spaces on the inside, while dissolving into its beautiful park terrain outside.
Completed in 2018, The Park House stretches over 182 square meters. The bottom as well as the flat top of the building are made of two massive horizontal planes of concrete. In between the concrete planes, wood siding material fills up the space together with expanses of glass along the sides of the building.
On the south side, large windows of the bedrooms allow plenty of natural light to flood into the home, while the sliding glass doors from the open plan kitchen, dining and living areas lead out to a garden, which extends and disappears into the park.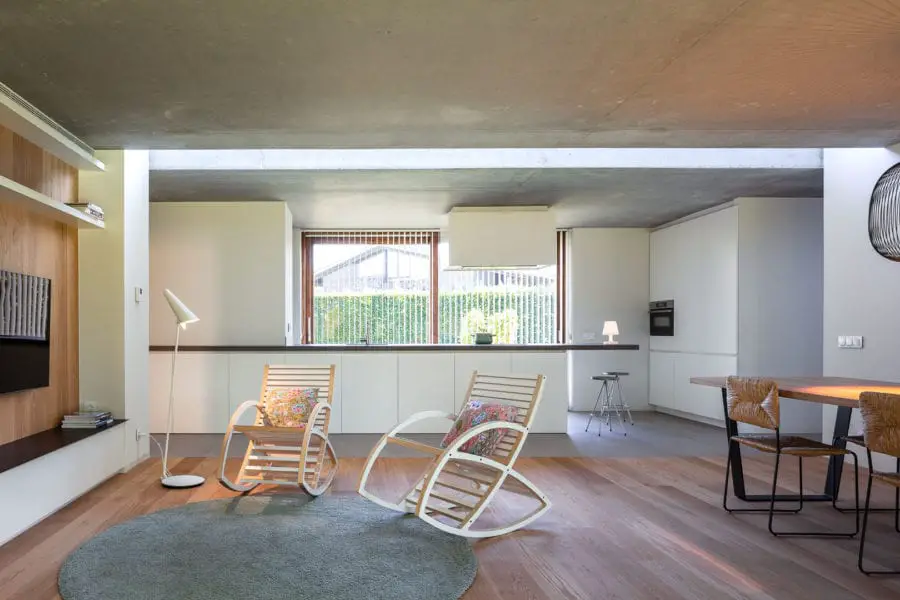 To the north of the house, tinted windows provide privacy from the outside, which is occupied by a large open stretch of land, including an orchard.
A hole in the upper concrete plane, by the entrance of the house, makes room for a tree to grow through the roof. This feature seems like a tactful nod from the architect to the park's close proximity, while at the same time allowing natural light to enter the space from a different angle.
The concrete is visible on the inside as well, catering an industrial feel. This is softened up by pairing the concrete with light wooden floors in parts of the home. Clean white walls throughout the home's interiors lighten as well as soften up the spaces.
The interior design is kept to a bare minimum, maximizing the effect of uncluttered and exposed spaces. A clean and natural color palette of light shaded wood, crisp white and grey from the concrete follows through the entire home, inside and out.