Specializing in sustainable and residential design, Australian firm Alter Eco once again shines in the Cole House project. This contemporary house was not always so. In fact, the house was built in the 19th century and posed multiple challenges and opportunities for its renovation architects.
Named after its location in Cole Street, this home is also known as Bluestone Terrace Pavilion for its beautiful bluestone terrace.
The architects were given a design brief to work with the original existing Bluestone Terrace house while adjusting it to contemporary needs. This meant that they had to create daily living spaces that not only established connections with the landscaping in the backyard, but also capitalized and appreciated this vicinity to lush greenery.
Alter Eco Architects opted to approach the project delicately so as to be able to preserve the Bluestone.
Bluestone is a building stone variety common and present in multiple parts of Australia. The renovation architects aimed to preserve and celebrate it as they transformed the Cole House.
With this goal, Alter Eco had to ensure that they would have minimal contact and impact on the Bluestone wall. In order to do so, they had to create a small incision in an existing brickwood. This became a door portal – a threshold – between the old and new, serving both spatial and symbolic purposes for the Cole House.
To invite copious amounts of natural sun into the interiors of the space, north facing windows are double hung sash windows and fixed directly to the solid timber posts.
This allows for the elimination of additional frames which creates for unobstructed views to the outdoors. Furthermore, the windows showcase and boast the garden's expansive greenwall.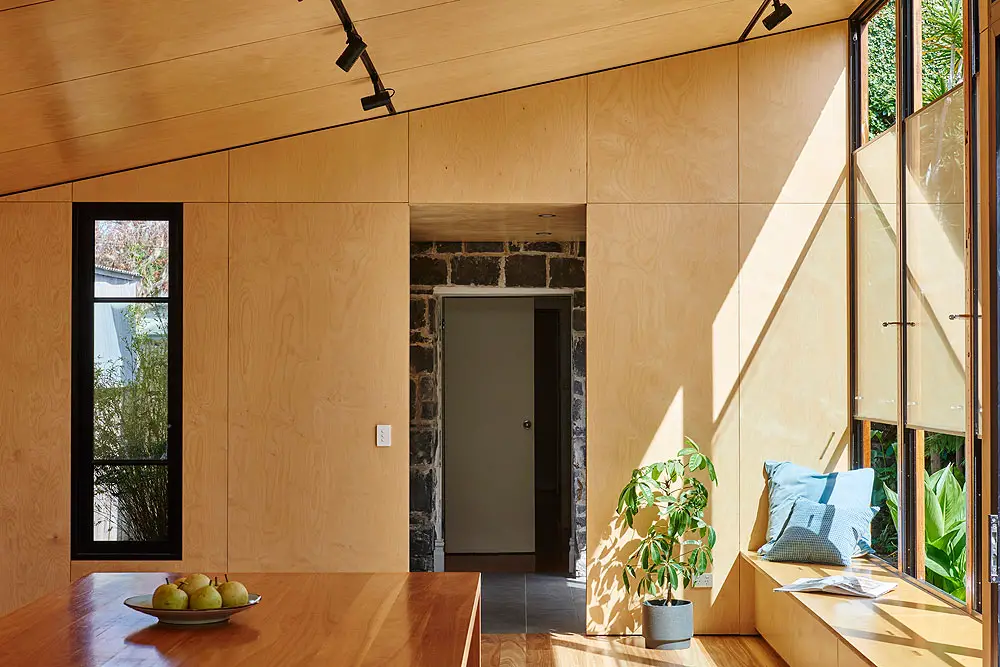 This creates an instantly uplifting effect to all that visits the Cole House. With the property so close to the sea, the large windows also allow for natural ventilation to come into the house. As such, Alter Eco maximized its vicinity to the sea and ensured that the clients and inhabitants would enjoy fresh air even when indoors.
Alter Eco had to overcome a few challenges when working with an over century old house. First, working with deteriorating stonework proved to be tricky and delicate.
They explained that, "The rear terrace was made out of Bluestone rubble which was breaking off in bits and pieces." As such, part of their agenda was to minimize their impact on the vegetation. They were able to do so by working with the owner who was a landscape gardener.
They recount, "there was a very established green wall that we had to work around and respect. We wanted to provide as much light as possible and an outlook to the established landscaping and green wall without making it simply a glass box." And so they did. The effect of these design decisions is a house that preserves and celebrates its heritage.