Architect Walter Greaves had a particular penchant for timber. This is clear from looking at the Modernist house he designed for his family in Runcton, a small village located two miles south of Chichester, close to the West Sussex coast.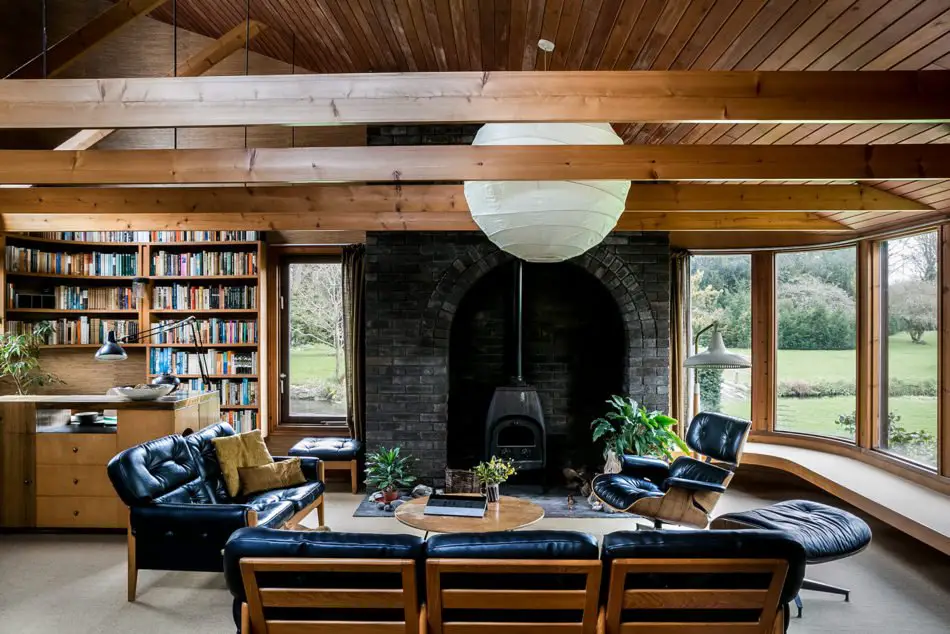 Situated down a quiet lane, in an environment of conspicuous calm, the entire home is clad in beautiful cedar. This material, which is not something we see so often on a modernist house facade, is made to work in really interesting ways by Greaves' structure.
Curving smoothly around the corners of the house, stopping abruptly at the flat mono-pitched roofs, and then occasionally following a sharp right-angle, the cedar's natural variation in texture ensures that this structure needs no other adornment.
READ ALSO: Dynamic Estate by Wilmington Gordon Really Lives Up to its Name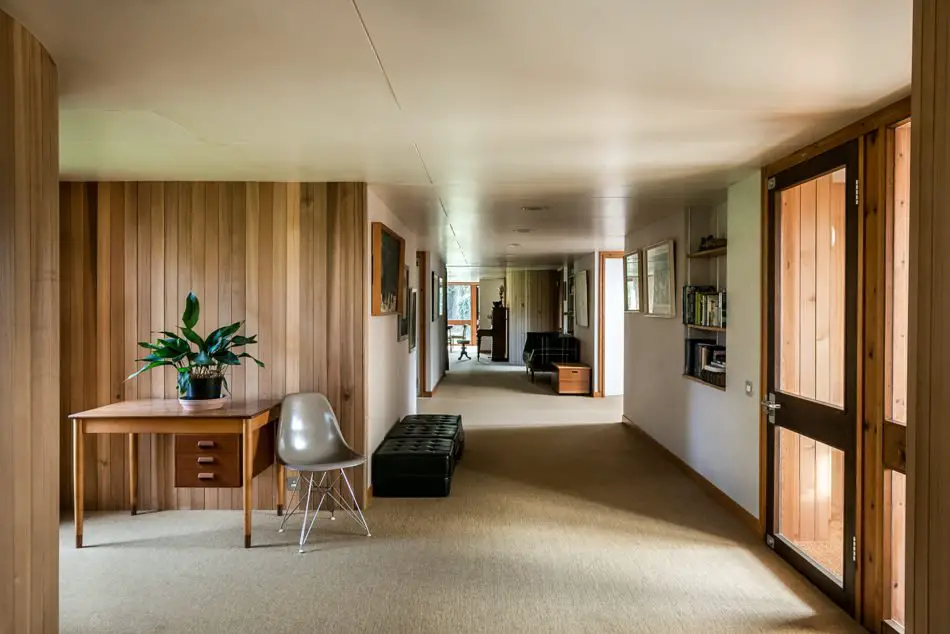 Greaves established himself as an architect working on the Royal Festival Hall on London's Southbank. You can see the sustained influence of this early experience in his own home, with the bold, block form and play of shapes. But by this point Greaves had established a renowned practice mostly designing private homes. As such, there's also an understated tranquillity which is very much his own style.
Moving to the interior, wood continues to be the main event. Greaves introduced custom-made built-in furniture and furnishings, ensuring that the wood tones fully complement each other as you move through the house.
The use of this material in such an interesting way also ensures that the house is difficult to place in a particular period, something which is also helped by the fact that all the cladding was recently replaced in a dutiful renovation.
We were especially impressed by the design of the kitchen. Here, the shelves and the worktop follow the curve of the structure, in turn, the curve is repeated in the kitchen cabinets' stainless-steel handles, which also feature in cupboards throughout the house. It's these little features that really underline the quality of the contemporary home design.
READ ALSO: Nonzero Architects Apply Modernist Principles to Contemporary Architecture
The garden, which Greaves' collaborated with his wife on, is also worthy of special mention. It was designed around a small river which cuts through the property. The couple knew the site well, since it formed part of the garden of the architect's previous home, and you can see they went to a lot of length to allow its natural beauty to speak for itself, with only the most necessary interference.
Originally completed in 1980, it is one of the newest modern homes to receive Grade II* listing by Historic England. In their description of the house, the listing organisation emphasise that it is "a particularly finely-executed example of post-war architecture". Finely-executed is a very good word for it.