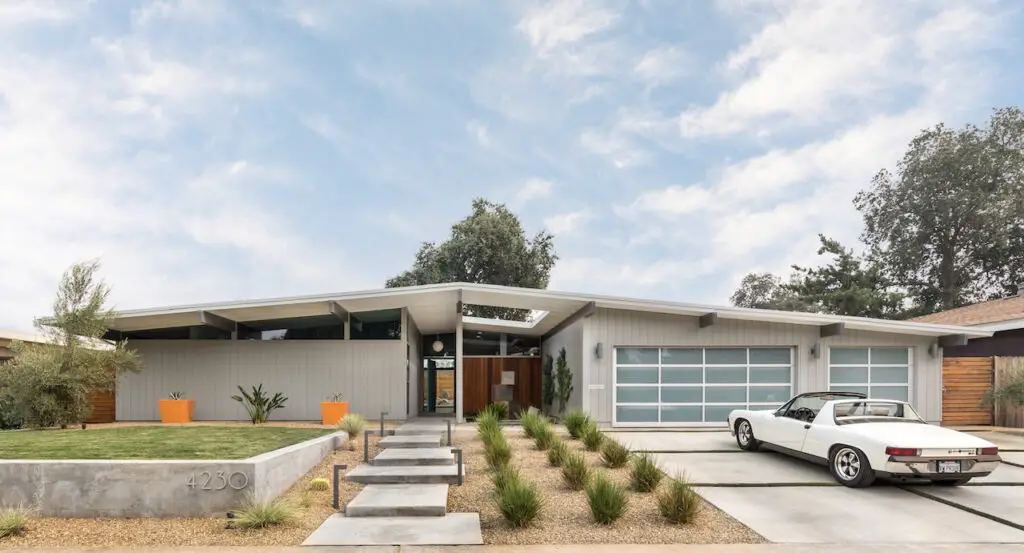 Text by Benning Design Construction
"Mid Century Modern Resto-vation" best describes the why and the what for this iconic original Carter Sparks designed and Streng Brothers built transformation, located on the American River in Sacramento, CA.
The scope of this project for Benning Design Construction was a complete transformation that included a down to the studs fresh start with energy efficient infrastructures, entirely new finishes, full landscaping and a swimming pool; all within a budget of $500,000. With the use of ArchiCAD, we re-envisioned the space plan and added square footage to the entire rear of the home.
The owner of this home also owns the interior design and build firm that executed the transformation. The project was a personal passion that balances renovation and restoration.
Existing light fixtures, cabinet hardware, and other items were restored and reused in key locations. The redesign inspiration was to honor the architecture and style but incorporate modern materials and features that were not available at the time the home was built.
The use of large format porcelain slabs as flooring, shower walls and the floating fireplace hearth that morphs into bench seating are just a few examples of modern elements.
There are colorful accents such as the geometric backsplash in the kitchen, blue pivot door and whimsical pool tile throughout the inside and outside of the home. The use of classic walnut cabinetry with a modern horizontal grain, and iconic furnishings integrated with new pieces bridge the gap from past to present.
The entire home embodies indoor-outdoor living. The pivoting four-foot entry door leads you
through the open floor plan, straight to the backyard. Details such as the ceiling treatments,
flooring, continuous siding and Ipe` wood cladding extend the inside out and pull the outside in.
Photos by Kat Alves