[tie_slideshow]
[tie_slide]
[/tie_slide]
[tie_slide]
[/tie_slide]
[tie_slide]

[/tie_slide]
[tie_slide]
[/tie_slide]
[tie_slide]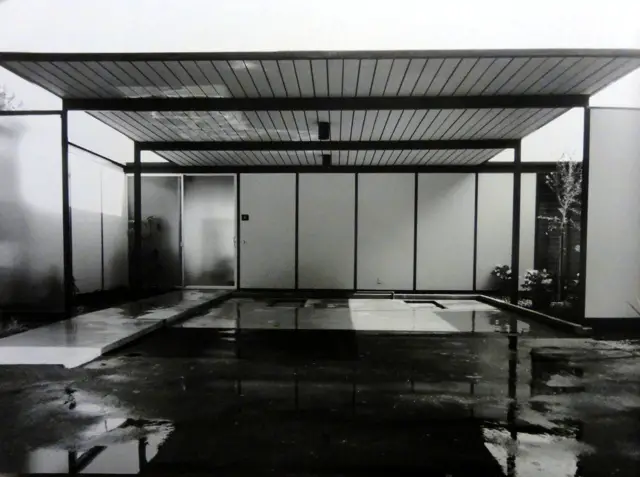 [/tie_slide]
[tie_slide]
[/tie_slide]
[tie_slide]
[/tie_slide]
[tie_slide]
[/tie_slide]
[tie_slide]
[/tie_slide]
[/tie_slideshow]
Craig Ellwood's series of Case Study Houses was seen most successfully in the Case Study House 18, otherwise known as Fields House, that introduced many design enhancements on previous models.
The no. 18 was built in Beverly Hills, Los Angeles, which provided sweeping views of the surrounding hills from a prime location.
One of the most significant progressions of the Case Study House 18, was to prefabricate its frame in a factory to which were later added fixtures such as walls, floors and tiling.
Ellwood kept the design for the Case Study House 18, basic. He divided the rectangular shaped plan in two separate sections: the bedrooms, the lounge and the music room were on one side while the kitchen, the entrance hall and the covered entryway on the other.
A translucent glass wall protects the house from the street-view but makes the light to filter through while offering privacy to the people inside. The inside-outside continuity was guaranteed by sliding doors connecting the living room with the terrace.
As other Case Study Houses, the no. 18 had many inclusions such as a swimming pool, modern appliances and a central vacuum system. Also, Ellwood placed many electrical outlets around the house to help its owners to tailor the spaces as they liked. Over time this made the original design almost unrecognisable.
The glass and beams prefabricated structure together with a flexible open plan, made the Case Study House 18 the perfect example of what the Case Study Houses Program was trying to achieve: an architectural model for affordable and modern housing.
SEE MORE Case study Houses
READ MORE