Situated on a sloping site, the Mornington Peninsula house by architect Turco and Associates is surrounded by lush vegetation with extensive views to the Port Phillip Bay.
Though the site provided plenty of design opportunities, it likewise posed challenges such as a single storey covenant and the risk for bushfires. At 700 sqm, the architects capitalized on the expansive space available to them to build this midcentury modern inspired home.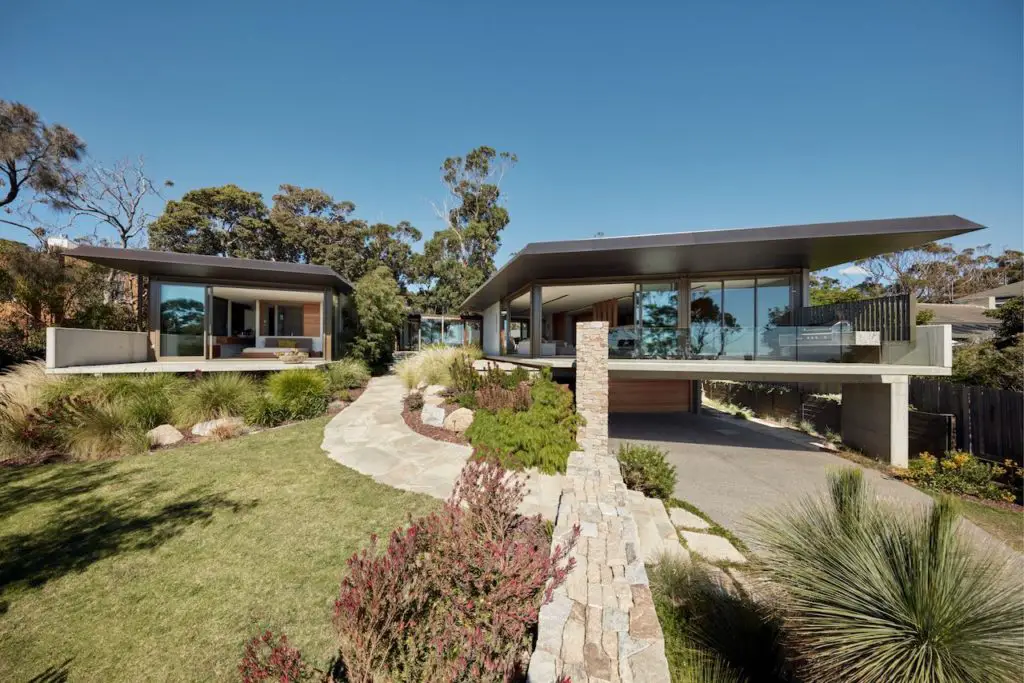 The grand house contains extensive amenities such as a gym, theatre, meditation room, reading room, sauna and large garage. Instead of creating a large mass to house all these amenities in a single building, Turco and Associates opted to break down these programs into two volumes.
The effect is an enhancement of the views, solar access and connections to the outdoors from all the rooms within the Mornington Peninsula house. This division of program also paralleled the privacy that the family client hoped to achieve by internalizing the outlooks from within the rooms
A courtyard was formed around the two formidable Eucalyptus trees that existed at the center of the site. These trees function as a center point for the series of courtyards that flow in and out through the two forms.
The two areas – the primary sleeping quarters and the living areas in the southern building, are connected by a pair of glazed bridge links that likewise immerse the inhabitants of the house with nature as they circulate through its spaces. . 
The form and the volumes of the house were a response to the desire to maximize the views to the bay and lush surroundings. As such, the result was a pair of angular forms.
A dark metal cladding at the back of the building starts from the ground to become the angular and cantilevered roof form. The two resulting cantilever eaves also function to provide shading for the decks below.
These elevated decks are strategically located to allow expansive views to Port Phillip Bay across whilst shielding the interior spaces from the views from the street. 
The palette of the Mornington Peninsula House is inundated by natural raw materials and earth tones in order to create connections and highlight the surrounding bushlands.
The industrial look of precast concrete juxtaposes with the organic nature of the planting and existing vegetation. To provide warmth to the internal spaces, the architects opted to use local sandstone in the landscaping with feature joinery items and Australian hardwood timber.
The collection of landscapes spaces define the two buildings which are likewise connected by a water feature that runs beneath the bridge.
The successful implementation of the landscaping required a close working relationship between Turco and Associates and the landscape architect. An arborist was also part of the team to ensure the "harmonious integration between the architecture and the landscape and to retain as much of the existing vegetation as possible."