If you love mid century architecture as I do, probably is very easy to picture Palm Springs as the perfect place to visit amazing mid century homes and villas. But back to the 50s and 60s, it was mainly known as the Hollywood stars and rich people's favorite location to spend a weekend playing golf and having fun.
Probably its playful and relaxed atmosphere -in the late 40s- attracted the Kaufmanns to Palm Springs. They decided to build here their weekend playhouse; choosing Richard Neutra to design it…definitely a wise decision.
Few years ago the (ex)Kaufmann house has been bought by another family that was looking for  an intimate weekend retirement. Fortunately the new owners were aware of the historical and architectural value of their house.
They decided to bring it back to the original magnificence restoring the mid century modern interiors while giving a personal touch combining classic mid century modern furniture with rich colours and warm textures.
They chose architects and preservationists to restore the house and landscape designers to bring back the original Joshua trees, cholla Cacti, palms, yucca and jojoba plants  in the desertic garden.
During the five years long restoration, the new owners came over every other weekend to check the workmen revealing all the original house's symmetries and features.
Probably its main feature is the perfect harmony between the desertic landscape and the typically mid century modern inner
open floor plan
.
Neutra helped the different areas to communicate perfectly thanks to sliding glass doors that can be pulled aside to be rotated to shield the outdoor living area from the desert's heat and frequent sandstorms.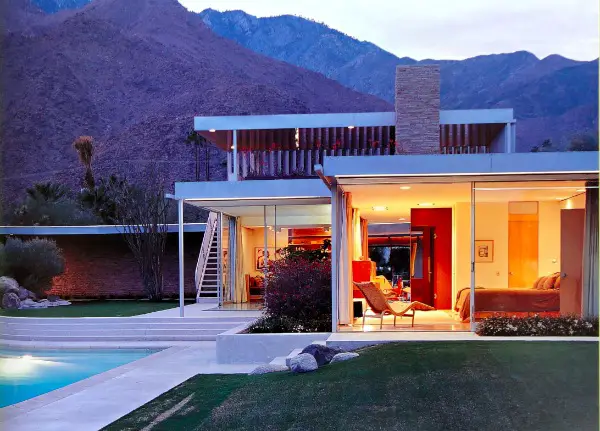 The owners also restored the swimming pool and changed the original clubhouse into a poolhouse with a sauna and small gym.
The (ex)Kaufmann house restoration goal was clearly an homage to Richard Neutra's values but also contributes to highlight the importance of Palm Springs as capital of mid century modern.
I hope you found interesting this update on one of the most iconic example of mid century architecture.
LET ME KNOW YOUR THOUGHTS IN THE COMMENT BELOW!
All the pics in this post come from one of the best books abut mid century modern I read so far Mid-Century Modern: Interiors, Furniture, Design Details.
Not only the pics but also the detailed story of the mid century modern design period makes this book a must have for all the enthusiasts of post war interiors. You can find it here. Check it out now!
[ois skin="Mailing List Bottom Posts"]