The current owner of the famous and iconic John Lautner Garcia house talks about the difficult, but fulfilling, process of renovating a Modernist masterpiece.
In certain free moments while attending college in California, a young John McIlwee would ride his motorcycle up and down Mullholland drive, curiously looking up at a peculiar arching structure that sits atop a hillside in the Santa Monica Mountains. He knew nothing about the structure's purpose or what architect might have designed it, but those early days were enough to spark a curiosity in McIlwee that would one day lead to him owning and renovating John Lautner's Garcia House.
Originally built in 1962 for Russ and Rina Garcia, the structure's iconic, curved roofline (some may even recognize the house from the film Lethal Weapon 2) is supported by two strong V-shaped supports.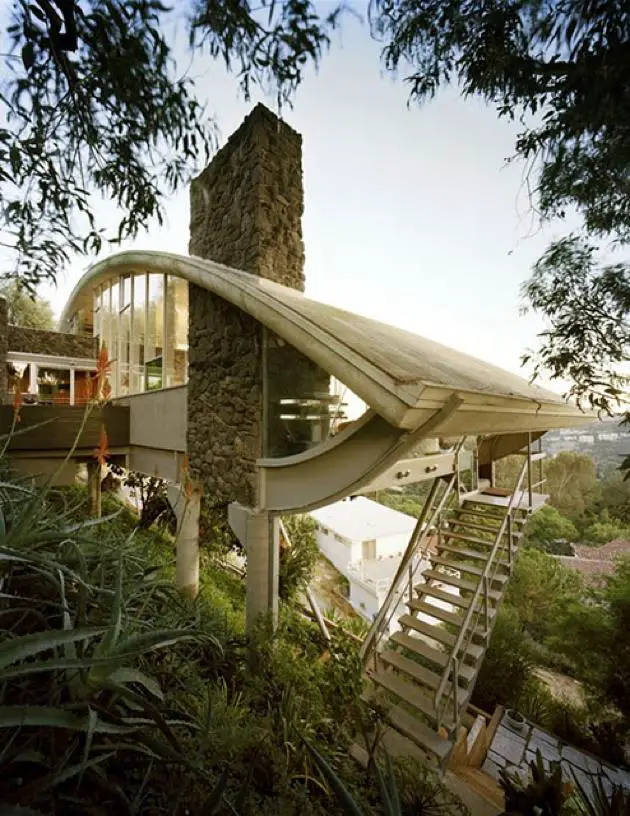 Once inside the house, the inhabitant or guest is treated to panoramic views of Hollywood through the vast walls of clear and colored glass. It is these breathtaking views of California that caused McIlwee to fall in love with the house. 
Many years after McIlwee's leisurely motorcycle rides, he would come to view the Garcia House out of a simple curiosity rather than a desire to buy it. "We came to see it, had no intentions of buying it. I just wanted to see what it was. And when you're in the structure, it's absolutely the most spectacular feeling you get with the indoor/outdoor. And we just went for it. So we bought it."
Subsequent to buying Lautner's Garcia House, McIlwee was delighted to realize that the core elements were still in good shape. "The structure was intact, it was virtually perfect, completely structurally sound. He (Lautner) over-built everything." However, the new residences of the home were still unsure as to what possessed the architect to embark on such a complicated and extravagant domestic design.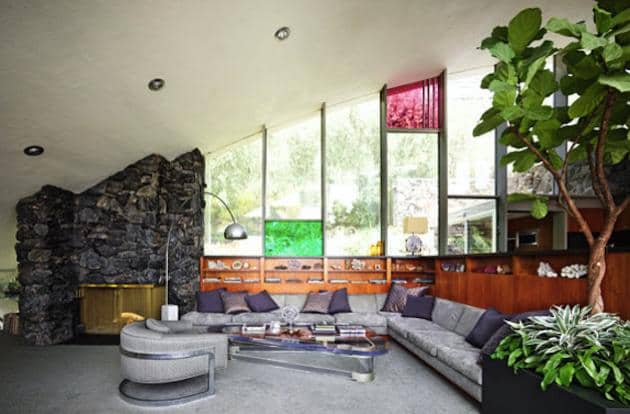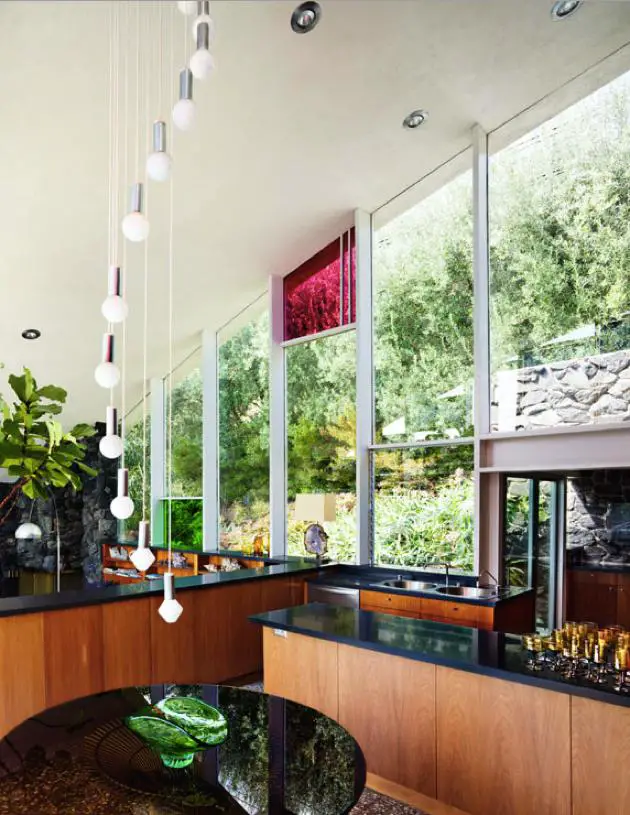 In a stroke of good fortune, McIlwee was given the opportunity to discuss the famous home with its first owners: "We were fortunate enough to meet Russ and Gina Garcia, who he built the house for. When we moved back in, they had stopped by and we were outside so we invited them in and asked them every question we could possibly want answered. And I said, you know, "What could you have possibly told John Lautner to build, as a directive, to build this house?"
And the directive was, Russ Garcia was a musician so we had to create music. And his wife is a big entertainer and she would often have parties with a 150, 200 people. He had to be able to compose music while she was having a party and not be bothered."
And so Lautner was tasked with incredible feat of building a hillside house that simultaneously enabled silence and privacy and large scale social events. It is for this reason that the unique house is split into two completely separate wings.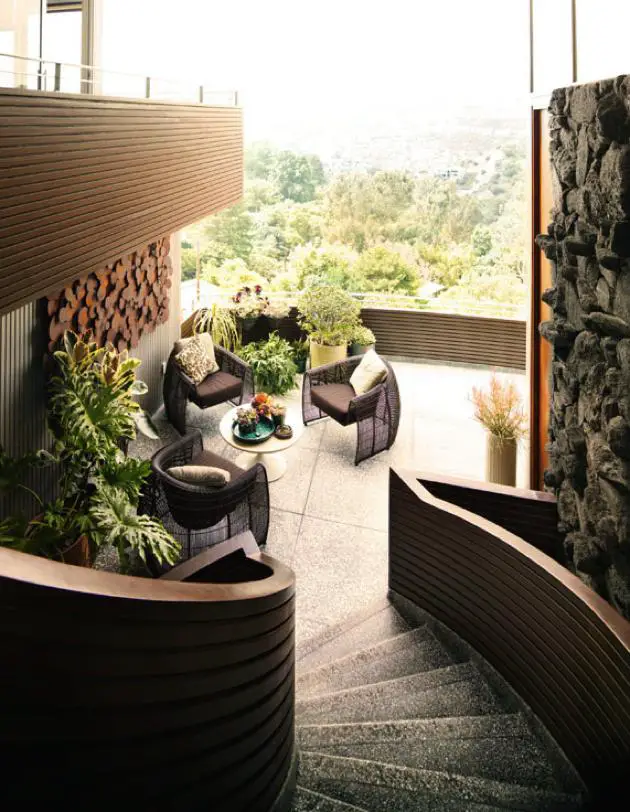 McIlwee soon learned that, although the house was structurally sound and intact, many of the original interior features had been removed or altered by previous inhabitants. "In the 80s, one of the owners that owned this place ripped out everything that was reminiscent of the original design – cabinets, load-bearing walls, faucets. There was basically nothing left that was original and they replaced it with an 80s feel. Mirror, formica, it was actually atrocious."
Not only had the house undergone a drastic change with regards to its interior design, but difficulty completing various maintenance tasks compounded the already gargantuan job  of effectively renovating John Lautner's Garcia house.
"John Lautner was both a blessing and a curse … he built these incredibly unique structures, which are for the most part completely custom … so simple things like changing a light bulb become monumental tasks."
Over the years, simple maintenance tasks became so difficult to complete that the house's various inhabitants could not complete them. When McIlwee came to own the house, a section of the roof was leaking and parts of the decking were cracked as the house, due to the complicity and custom nature of its design, was extremely difficult to maintain. In order to restore this masterpiece to its former glory, McIlwee had to take drastic measures – "It was those kind of maintenance items that we had to basically address and effectively we stripped the thing down to the bare bones in order to rebuild it."
McIlwee commissioned the Los Angeles architecture firm Marmol Radziner with the task of renovating the Garcia house. "Marmol Radziner was the best. We did a lot of research on the architects, and they did the Kaufmann House in Palm Springs. And they really knew what they were doing. They have a design build, they had a wood shop, they had a metal shop."
Marmol Radziner were perfectly suited to and well-equipped to impart a new lease of life on McIlwee's new home. "They researched and designed all the new cabinetry, all the surfaces in the bathrooms. The things that were left when we had the house, we had the kitchen sink, we had a magazine rack and a toothbrush holder. It was the only actual things that were left. Everybody else had ripped everything out."
Throughout the remodeling process, McIlwee never believed that he must doggedly resurrect the structure's original interior design. "I'm not a purist so when something is ripped out or removed, I think you have an opportunity to take liberties to make something better. And Lautner was the person that believed in if there's better technology, when you are able to do something, he wanted you to do it." Trusting Lautner's directive that, if a method whereby you could improve your home in the future arises, you should embrace it and utilize it, McIlwee took it upon himself to tweak certain aspects of the design.
"Because the whole part of the floor plan had been removed and reconfigured, we then said, "Okay, we're going to put it back. But what makes the most sense to put it back?" So we kind of took a little bit of liberties on the master's side in terms of living space. But it really serves our purposes and I think it's made the house much better."
Having lived through the process of lovingly and frustratingly renovating such a distinctive mid-century home, McIlwee now understands the importance of protecting and maintaining America's iconic domestic architecture. "I really believe that these structures, they have to be protected because so much of our history has been lost, especially in a city like this, that houses were the iconic structures. It isn't big monuments or other buildings, it's the houses."
(photos via AD Magazine)
John Lautner's Garcia house and many others like it have a certain unique ability to enrich the lives of those fortunate enough to own or visit them.
By bringing avant-garde architecture out of the city and imparting it into the domestic sphere, these homes will continue to influence the lives of people like John McIlwee. ". It's changed our lives … It's made me particularly a bigger thinker. It has opened the world of architecture and art, and just interesting people that never would have come across our path unless we didn't have this place."
Photos via AD