The Joel E. Ferris II House is a superb example of how Mid-century Modern architecture can integrate people and nature.
The house was designed for Mary Jean and Joel E. Ferris II by architect Bruce Walker in 1954 and built in Spokane, WA. The Ferris House is surrounded by 50-year old mature trees that guarantee a total privacy to its dwellers; something that the first owners strongly desired. This Mid-century Modern architecture gem, and time capsule, also won an AIA First Honor award in 1960.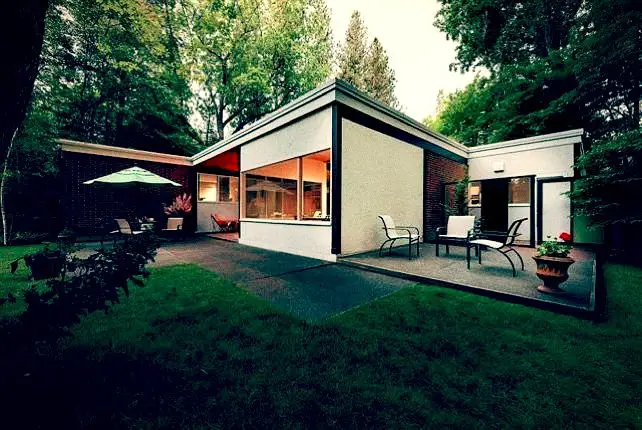 Several aspects of the house contribute to its natural character. Firstly, there's the Bacchus Marsh stone used for both the external and internal walls. Boyd had originally intended to use concrete but instead went with these lovely stone walls. These feature throughout the house and provide a lovely combination of difference and repetition.
Boyd had also originally intended to have the ceiling plastered. Again, he eventually went with the more distinctive natural option, employing a thatched ceiling. The ceiling is quite unlike anything we normally see in a modernist house, but it fits right in.
Sam Ferris, the last of the Ferris family to live in the house, told us the story of his house and what it meant to grow up in an environment so appreciative of Mid-century Modern architecture and design.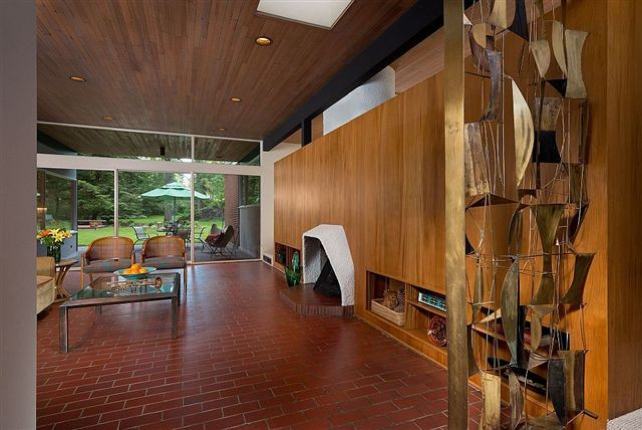 Tell us a bit about yourself and the story of the Ferris House. It was owned by your family for a long time.
My parents, Joel and Mary Jean Ferris, started a business called Joel, Inc. on November  6, 1950 in Spokane, Washington.  It was one of the first stores in the United States selling Mid-century modern furniture, decorative accessories, tableware and gifts.  The store was open 55 years.
It is nearly impossible to comprehend how different these modern objects were in the 1950's.  Now they are considered icons, and many are in museum design collections.  The little store grew, and so did the Ferris family.
In 1954 Joel and Mary Jean hired architect Bruce Walker and landscape architect Lawrence Halprin to create a home in the modern style they loved.  Walker and Halprin were both trained at the Harvard Graduate School of Design which was led by Bauhaus founder Walter Gropius.
The house was completed in 1955, and there were three additions between 1960 and 1983.  If I had to choose one word to describe our home, it is timeless.
What are the three biggest advantages living in an Mid-century modern House? And the three biggest challenges?
The advantages far outweigh any challenges, and I honestly can't think of three challenges.  At this point – it is a matter of balancing preservation and the realities of daily life.  We recently replaced the old oil furnace with a very efficient natural gas furnace.
In hindsight – we should have done this ten years earlier. We are still using the original Thermador ovens and cooktop, white formica and butcher block counters.  Some people would be tempted to "update" the kitchen.
It has worked so well for so long, I can't imagine why. You could say the relatively compact size of most Mid-century homes including ours is a disadvantage.
They were typically designed to be affordable for young families in the 50's.
Our home was designed in a way that allowed later additions without compromising the architecture.  Although it was not anticipated – the single level (three steps up to the bedroom wing) was very helpful when my parents were in their 80's.
Which architectural features of the house do you enjoy the most?
The use of brick inside and out makes you feel safe, warm and grounded.  The ceiling is the same height throughout the house, and many interior walls do not reach the ceiling.
This feature creates a sense of lightness. Many windows and skylights connect you with the park like grounds which are serene and magical.  I like that there is both a feeling of solidness and lightness.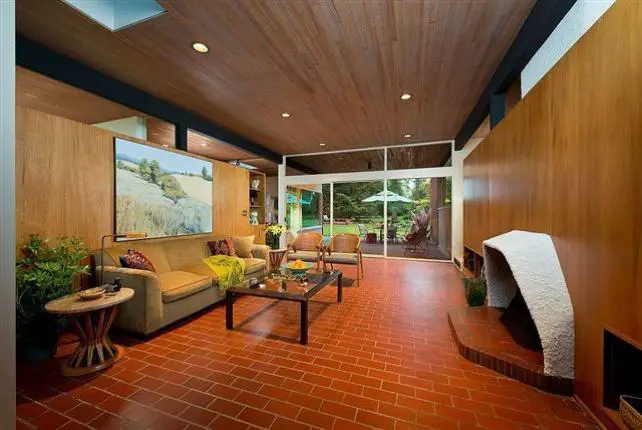 The Ferris House has also been listed as a building of historical value. Was it  difficult to reach? How long did it take and what are the advantages?
No – it was not difficult.  The historic preservation officer was very helpful and encouraging.  It would have been easier but less educational if we had hired a consultant.  The process took about 3 ½ months, and the research involved gave me a new appreciation of the designer's ability to visualize the completed space.
Our family's greatest concern offering the property for sale was to protect the integrity of the house and landscape. Listing on the Spokane Register of Historic Places creates a management agreement binding the owner to a review process for changes affecting important architectural and landscape elements.
Approved rehabilitation costs can reduce the property tax liability over ten years.
Is there a specific designer from the Mid-century period that inspired you or your family for the interior decor?
Edward Wormley designed many handsome pieces of furniture for Dunbar.  The master bedroom and living room contained his designs. We still have the two original travertine top tables with stylized wheat sheaf base as well as two lounge chairs with cane back, ash frame and brass feet.
Walter Lamb designed a series of outdoor furniture in tubular bronze and rope which we used for many decades. Both designers are important to our family and not as well known.
Harold Balazs (a local artist) created a bronze screen separating the entry hall from the living room.  My parents sold jewelry he designed in the 1950's.  They were an encouraging influence in his early career. Balazs is well known as a painter and sculptor and has many large pieces of art in public spaces throughout the northwest United States.
If you had an unlimited budget, which design piece would you like to buy?
The Aalto vase from iittala.  It is a timeless object by a brilliant architect (Alvar Aalto).  The vase looks just as beautiful empty as when it is filled with flowers.  It makes me happy.  If it happened to break, I could easily replace it.