Capturing the laidback lifestyle in the heart of Clifton Hill, this modern home in Victoria is a product of a close collaboration between the clients and Australian architect Julie Firkin. Situated just a short stroll from the Yarra river, the Fenwick Street House sits at an inner suburban setting near the parklands and Merri Creek Trail. Completed in 2014, this private residence covers an oddly-shaped 1,130 square feet area at a corner block.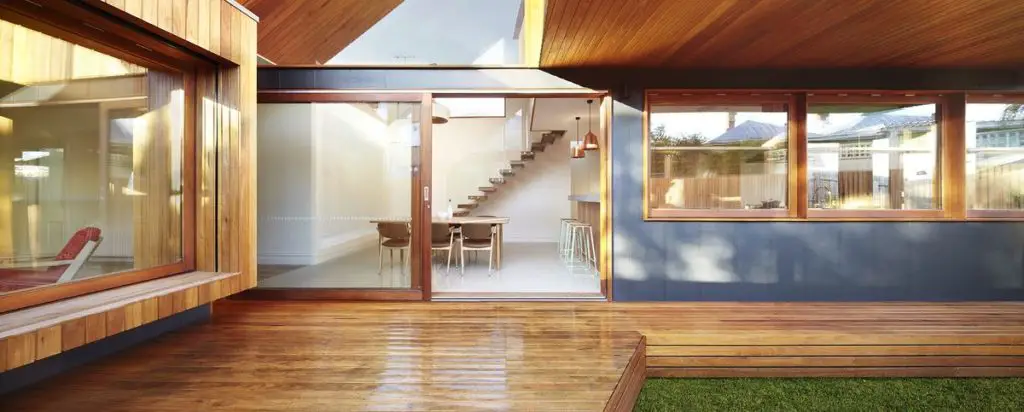 The renovation aimed to maintain the connection between the original weatherboard cottage and the street. Navigating the irregular lot perimeter, Firkin explored a variety of plans that respond to the obtuse and acute angles that define the site. The resulting layout is an amalgamation of orthogonal and oblique lines. The new addition to the existing cottage tapers "in form with a crisp, cleanly detailed facade". Spatially, the variety of volumes is achieved through relatively small architectural gestures.
The clients hoped to expand the square footage of this modest modern home. Julie Firkin Architects responded by introducing a new two-storey addition at the rear. The addition provides Fenwick House with a new kitchen, dining areas and a master bedroom. The double height dining room is a playful exploration of elevation, resulting into a well-lit interaction space within the house. A pendant light breaks the void to create a more intimate space.
The interior maximizes space by playing with both layout and height. The house is separated into two zones: public and private. The street facing public spaces orient to a small yet usable backyard. The private area features the bedrooms and an upper storey lounge. The two zones are connected through a floating staircase that tapers the dining room wall. The upper story has a clerestory window that looks into the outside and invites natural sunlight into the lounge.
The clients wanted to maximize both light and space; as such, large windows envelope the house to invite natural daylight and ventilation. However, the transparent facade exposes the interior to the public street. To provide the clients with privacy, the Fenwick House is wrapped in a height-level wooden fence.
The effect is a deliberate and stark expression of the natural character of the timber. This materiality is continued across the Fenwick House, which is overwhelmingly made of natural timber interrupted with concrete and metal. The furnishings extend this materiality, blending furniture and house seamlessly into an integrated whole. Through this, the Fenwick House pays homage to the character of its cottage predecessor.